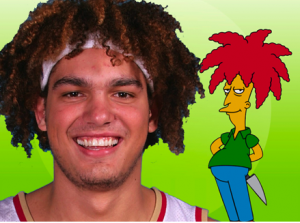 Mmmmmmmhm!  That was one of the more enjoyable Cavs games this season, and not just because it was a win.  Except for a few bad apples (Razor Ramon, anyone?) the team was firing on all cylinders on both sides of the ball, and really did a great job of holding New York's "big three" in check.  Granted, that might be because they're really not such a big three, but whatever, it was a good win, and you really can't ask for more.
Before we get to the good, the bad, and the rest, I want to lay out one point in mathematical terms…
Anderson Varejao >>>>>>>> Everyone else.
Really, I could end this recap here and anyone who watched the game would understand exactly what I meant.  But alas, you're not that lucky.
The Good
Andy – The good absolutely has to start with Andy.  He was simply amazing on D.  Not only did Andy do his regular disruption act near the basket, he had two blocks and four steals to boot.  Furthermore, by the end of the game he was clearly starting to get into Tyson Chandler's head.  Chandler, who thrives on muscling himself inside the basket without the ball, and then receiving a pass to slam it home, was having a hard time getting Andy out of the way.   And it wasn't just Andy's D that was great.  Varejao added 16(!!!) rebounds (8 on O, 8 on D) and 10 points.  Andy did have 5 TOs, but that's forgivable considering how many second chances and extra possesions he was able to get the team.  This was the prototypical Andy game, and really showed what the Cavs were missing last year with him out.
Antawn Jamison – Every time we start to bitch about this guy, he pulls one of these games out and makes us (or at least me) double check myself a bit.  Sure, he's usually pretty worthless on D, and shoots waaaaay too much, but on nights like this it's actually great having him on the team.  Jamison scored a team high 15 points on 6-15 shooting (3-4 from downtown) and played passable D for most of the game.  He started hot and slowed down, so his shooting % isn't great, but I really think he was the catalyst to this game, and we owe a large chunk of this win to him.
Alonzo Gee's defense – he really did a good job of keeping Melo in check.  Whenever he was on the court, Melo was noticeably less comfortable taking shots.  On the whole, the entire second unit really did a decent job on D (minus Razor Ramon.  We'll get to him in a minute.)
Kyrie Irving's game management – I railed Irving two days ago for turning the ball over a lot and generally looking out of sorts while moving the ball around the court.  I have to say he did a great job of slowing the game down a bit and making smart passes.  His 7 assists (a bunch of those inside to Andy) were really smart, good passes.  He even managed to turn the ball over just two times.  But other than his game management, he had a forgettable game (more on that in a sec).
Omri Casspi's dunk.  Seriously, damn.  He saw what Gee did last night and obviously decided "Hey, I think I could do that, but with my left hand!"  Result: awesome.
(and note – Casspi played pretty dang well himself tonight.  13 points and some decent D on Melo – I'll take it)
The Bad –
Ramon Sessions – This has to be the low point, right?  1-5 shooting (he hit a WIDE open 3.  But my heart stopped when he took the shot anyway), two turnovers, and some seriously awful D.  He let Mike Bibby hit a shot.  MIKE BIBBY!!!!  If you watched close, you could see Ramon fail on defending the P&R, lagging way too far off his man, and completely blowing his assignment.  He had 5 assists, but that's probably because he realized he can't shoot anymore, and just started dishing it inside to Andy.
Kyrie Irving game minus his game management – He had his worst shooting day since his first game as a pro and kept getting pulled out of position on D.  Did anyone else notice how often Kyrie ended up underneath the basket, guarding Chandler, with his guy completely open on the wing?  I counted that happening at least 3 times.  There's no way 6-2 Irving should ever defend 7-1 unless it's as a circus act.
The Rest
I don't really want to call it good, because the sample size was pretty small, but Ryan Hollins is actually starting to look like a real NBA player!  He shot 4-4 for 9 points and played some nice D on Chandler.  If he hadn't picked up 4 fouls in just over 11 minutes (!!!) we might be able to say he could win some playing time…
Again, I don't really think he's worthy of a good (3-7 shooting isn't very good) but Samuels had another decent game off the bench.  If Samuels and Hollins can become reliable second unit bigs we could see ourselves staying competitive in a lot more games.
This isn't about the Cavs, but was I the only one who saw the 10ish minutes that Melo decided to play point forward/distributer?  He did a pretty nice job, and ended up with 6 assists.  Other than that, and the fact that Amare pretty much had his way on offense, the Knicks stunk pretty bad.  I'm really tired of hearing Shumpert's name (I do live in NYC, though…) and the big 3 definitely don't look so big.
The next game is the lowly Nets.  Maybe we can get ourselves a nice little winning streak.
Until then, enjoy!