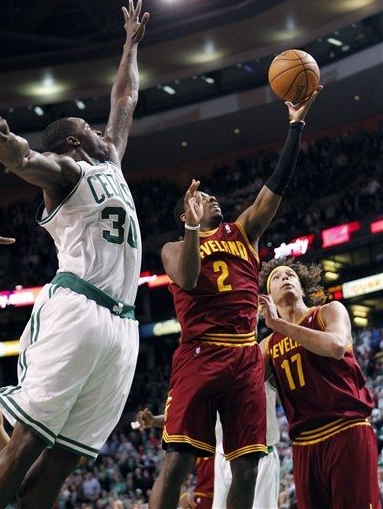 Due to a scheduling snafu at Cavs:the Blog, this will be a short re-cap.
To me, this win officially marks the start of legitimately talking about the Cavs making the playoffs this year.  The Cavs are currently tied for the 8th seed in the East, coming off of victories against two of their likely competitors for that spot.   Cleveland, Boston, New York, Milwaukee, and Toronto appear destined to duke-it-out for the privelege of being the two least-bad eastern conference teams.  Ten of the Cavs' next twelve games are at home, including one each against Boston and Milwaukee.  That stretch also features home games against Sacremento, Detroit and New Orleans; assuming the big three  (Irving, Varejao and Jamison) are healthy, it's realistic for the Cavs to win five or six more games by the all-star break and hit the half-way point looking at the #8 seed.  I won't delve into the pros and cons of being the #8 seed, except to say that nothing would be worse than being #9.  Please finish #8 or #12.  Really, if the Cavs are to make the playoffs, winning now is important.  The sixteen games in 24 day stretch looms at the end of the season, and that will probably be ugly.
Really exciting game for Kyrie last night; having his dad in the stands makes for a great story line.  23 points on 75% true shooting, 6 assists to 3 turnovers.  In the comments section of Friday's game, I noted how  Cavs fans were close to an epic "remember the time that Kyrie…" moment.  Well, that sentiment was two days off.  Six points and an assist in the final four minutes to spearhead an improbable come from behind victory at the Boston Garden; that's fun stuff from a 19 year old.  Games and moments like this will really resonate with ROY voters.
Varejao notched a season high with 18 points.  Alonzo Gee matched his second-best with 14 points to go with 4 steals and another very nice defensive effort against an elite eastern conference wing.  For those keeping score at home, in one week, the Cavs held Lebron, Carmelo and Paul Pierce to 17 points per game on 44% field goal shooting.  Not too shabby against that crew.  There was even a Mychel Thompson appearance…and he played a mistake free 12 minutes as the Cavs outscored the Celtics by 9 points.
I'm not going to dwell on any negatives.  The next four games are a tough stretch before the long homestand, let's see if the Cavs can acquit themselves well.