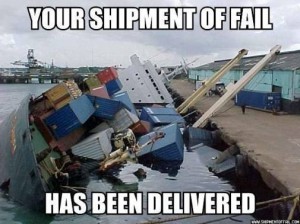 The Cavs were crushed by the Hawks on Saturday night. It was a joyless drubbing. I'm gonna rely on the Twitterverse to describe this one.
1st Quarter
"Ball's in the air. The building is half empty." [PD Cavs Insider]
"Jamison had a nice defensive stance there. He looked really good as Teague blew by him." [realcavsfans]
"Does the city of Atlanta know its team is 11-5, or has the malaise of mediocrity taken hold?" [Eric Knappenberger]
2nd Quarter
"Yeah, stop leaving VladRad open." [Conrad Kaczmarek]
"Hawks timeout skit included a "Cavs" fan in a LeBron jersey. Real #Cavs didn't look amused." [Jason Lloyd]
3rd Quarter
"My, that escalated quickly. #Cavs" [Scott Sargent]
"In the past 8:22 — spanning second and third quarters — the Cavs have been outscored 32-10." [PD Cavs Insider]
"#Cavs have exactly 2 offensive rebounds. Yikes." [Jason Lloyd]
4th Quarter
"Boredom warrants a Christian Eyenga update… shooting 40% from the field, 10% from three and 64% from the line in 8 games with Canton." [Eric Knappenberger]
"Willie Green just caught an alley oop. I think we're done here." [Conrad Kaczmarek]
"What a boring loss!" [Colin McGowan]
Okay, we're done here. Miami on Tuesday. Enjoy the rest of your weekend.