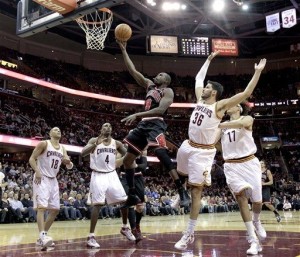 When you're a team with a 19 year old PG and your wings are a combination of undersized, unathletic & undrafted and your starting power forward is a floor bound 35 year old…well, occasionally you run into a team that's better than you.  And sometimes you epically crap the bed.  Tonight was the latter.
The game started with the Cavs leading 16 – 15 behind three Irving darts from long range.  And everything was massively downhill from there.
I planned on handling this recap similarly to my previous entry, offering a summary of interesting early season trends, and how it related to the game that was played.  Really I don't want to talk about the game that was played, but there's probably some worthwhile stuff below.  The general format works for me for a few reasons:
Many of my posts are about the draft or future considerations; the occasional recap is my clearinghouse of present day Cavs related thoughts.
I'm a stats guy and this is a good format for communicating some of those.
I have a 6 week old, am kind of on her schedule, and watched the game with her.  It helps to have the bulk of the writing done ahead of time.
With that, here are some early season trends in italics, followed by how things played out tonight.  The coverage of tonight is pretty limited, but I probably hit most of the low points.
Kyrie Irving's pretty good – Most of what can be said has been: 18 points and 5 assists in 28 minutes a games, 48/38/84 shooting, too many turnovers, not enough defense…you know the drill.
What's there to say?  Kyrie was the 2nd best player on the team tonight?  Not exactly a compliment this time, but it's the best I've got.  13 points on 11 shots and 3 assists against 2 turnovers.  The Cavs were only minus 9 in his 22 minutes.
Varejao, too – Varejao's rebounding is the season's other recurring theme.  His rebounding rate is 4th best in the league, which is a leap from prior seasons.  Part of this can be attributed to his switch to center, but he's been playing at a high level.
Andy's 14 points brought him back to averaging a double-double for the season.  Sometimes, we as fans, need to focus on the moral victories.
The whole team is rebounding – Cleveland is the NBA's 4th best rebounding team so far this season.  Tristan Thompson has stepped up his defensive rebounding and is currently 14th of 78 power forwards for rebounding rate (keep up the great board work, Mr. T!).  Sessions and Irving are the 3rd and 13th best rebounding PG's, respectively.
How do I make a big "thumbs down" on the computer?  Unfortunately, Chicago rebounds better than everyone else.  The Cavs were outrebounded 54 to 38.  Thompson had 1 defensive rebound in 17 minutes.  Maybe I jinxed them by typing this before the game.
Jamison the key to victory? – In games where Jamison has true shooting over 50%, the Cavs are 5 – 1.  When his true shooting is below 50, 1 – 6.  This may be indicative of how soft the opposing D is, but if Jamison can operate as an effective second scorer, the Cavs are pretty good.
Well…he, ummm…Jamison lead the team in minutes (18% true shooting).
Changing of the guard (er, small forward?) – After a start to the season that left Cavs fans cursing, Omri Casspi had put in three decent games in a row.  In similar minutes; Casspi is averaging 13 points, 6 rebounds, 2 assists and 1 turnover against LA, Charlotte and Golden State, while Gee has lagged at 6 points, 3 rebounds and 3 turnovers.  The Cavs are +1 during Casspi's minutes and -13 for Gee.
Casspi was minus 8, compared to Gee's minus 26.  I'm not going to infer that this means anything; everyone sucked tonight.  The Cavs did go three minutes without Gee or Casspi on the floor tonight, but alas the Irving / Sessions / Gibson lineup also sucked (outscored 7 to 2 in 3 minutes)
Concerned about Thompson? – I only mean concerned depending on what you think his ceiling is.  TT is scoring on 48% of his field goal attempts and 37% on free throws.  That's not good, but even worse, is that in January those numbers are 46 and 31 (31!).  This summer, I posted a goofy series called Diamond in the Rough.  In the Luke Harangody piece, I noted that only 30 PF's in the last 9 years had played 500 minutes and posted a true shooting percentage under 46.  Of those, only four ever had a modicum of success after that season: Tyler Hansbrough, Darrell Arthur, Kris Humphries and Jared Jeffries.  Tristan's walking that line (47.3% true shooting to date), where no one has recently climbed out of the abyss to be more than a borderline starter.  It's only been 13 games, but we need to start seeing a little more offensive effectiveness from TT.
Thompson was generally overwhelmed by the Bulls' super-defensive subs: Taj Gibson and Omer Asik.  His 2 of 10 shooting and 0 of 2 from the line probably drops him below my totally arbitrary 46% true shooting line.  He can be a bit of a ball-stopper on offense, and needs to let the offense come to him.
They pull the trigger on the right looks – Per possession, the Cavs were taking the 3rd least amount of shots from 3 to 23 feet in the NBA.  This is important, because those are the worst shots in the game.  Across the NBA, teams convert 63% at the rim, 51 (efg%) on 3's, but right around 37% for all ranges from 3 – 23 feet.  The Cav making the smartest shot selection is Casspi, with 67 combined shots at the rim plus three point attempts, versus only 21 shots from "mid-range".   Others playing this way include Irving with 100 / 79, Gibson at 61 / 26, Gee at 46 / 21 and Parker with 46/33.
Except for Sessions and Jamison – Through the Golden State game, Jamison had taken 117 shots between 3 and 23 ft.  As shown above, all four wings have taken 101 combined.  Sessions' ratio is 40 / 62.
I thought this was kind of interesting, but it didn't matter tonight.  Everyone was chucking hot cans of garbage at the basket (Sessions 3 of 12, Gibson 2 of 10).
Semih Erden fouls too much – That's my obvious statement of the night.  But to show how frequently he's fouling; out of 337 players with 10+ minutes per game, his 21 fouls in 79 minutes outpaces anyone else in the league by 2 fouls per 40 minutes.
There was a Samardo Samuels and a Luke Harangody sighting tonight!  That's all I have to say about that.
Summary: This game was a miserable experience and I look forward to going to sleep now.  Hopefully a much better performance is on the horizon tomorrow in Atlanta.