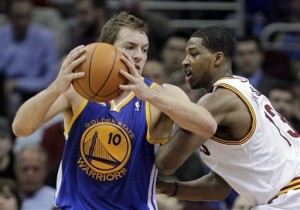 The Cavs lost their seventh game this season to the Golden State Warriors in a game that featured very little defense, some ugly stretches of play, and an avalanche of turnovers.
–The Cavaliers set a new season high for turnovers in this one. They surrendered the ball without a shot on 25possessions. Kyrie Irving had 6; Andy Varejao had 4; and several other Cavs had 3. For some reason, coming off a tumultuous 7-game road trip, this team decided it should try to run with the frenetic Warriors. The result was a lot of ill-advised passes, reckless drives to the hoop, and a general lack of focus on the offensive end.
–Kyrie Irving was okay. As mentioned above, he turned the ball over way too much. He had 18 points, 8 rebounds, and 5 assists, but he put these numbers up rather quietly. He was aggressive going to the rack, and got to the line six times, but other than that, he was merely of the better players on a team that put up a lot of forgettable performances tonight.
–There was an instance in the first quarter when, after an extended stretch of up-and-down play, Irving didn't have numbers in semi-transition, but decided to take the ball into the paint anyway, which resulted in a turnover. I like his aggressiveness, and it wasn't necessarily a bad play in a vacuum, but as he evolves as a floor general, he's going to need to gain a better sense of when to push the ball and when to slow the pace. The Warriors, at the time, were forcing the Cavs to play their run'n'gun style of basketball, and it would have been prudent for Irving to hold the ball up and help the Cavaliers dictate the pace of the game rather than looking for a quick bucket.
–Semih Erden put up 14 points and 3 rebounds in 16 minutes of play. When he checked into the game in the first quarter, I said aloud to myself "I dunno if he's an NBA player," but he might be playing himself into the backup center role, where the Cavs could use some help. He played like a seven-footer tonight, using his strength and length to get himself easy buckets. It helped that Irving dropped a couple simple lay-ins into his lap.
–I appreciate that Casspi is running hard in transition in an attempt to get himself high-percentage shots at the rim, but he blew a few of those lay-ups tonight. I'm ready for the Alonzo Gee Era whenever Byron Scott is, and even readier for the Michael Kidd-Gilchrist or Harrison Barnes Era next season.
–The Cavs had no answer for David Lee, who put up 29 points on 13-20 shooting and 9 rebounds. He carried the Warriors offense in the fourth quarter and sealed the win by putting a few slick post moves on Varejao and Jamison in the game's final minutes. I'm glad he's finally fully recovered from the chlamydia of the elbow he suffered after being inadvertently bitten by Wilson Chandler last season, though I'd prefer he put up these kind of numbers against, say, the Lakers.
–Nice to see Andris Biedriņš (I insist upon proper diacritical marks) rocking that modified Manfred von Richthofen coif. It beats the over-gelled Johnny Unitas thing he's been doing for the past couple of years. Oh, and he was 1-1 with 11 rebounds and a +18 on the night. He's a sentient seven-foot question mark.
The Cavs have a few nights off before they meet the Bulls at the Q on Friday night. Hopefully they'll take these couple of days to rest their weary bones and come out fresh for a game against one of the best teams in the league.