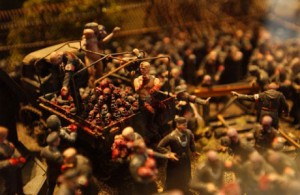 Like when the trees sprout small green buds and the first spores of pollen inflame ever so slightly the inside of an allergic's nose, causing him to sneeze, I feel dread. I know the sentiment is expressed only in cautious murmurs at the moment, but let me address the thimble-sized elephant in the room: if the Cavs slip into the playoffs this season, the slate that Chris Grant scrubbed clean following LeBron's departure last summer will begin to yellow.
This sounds counterintuitive, but in the NBA, Purgatory is not unlike Hell. The difference is Hell comes with a catapult. A .500 record and an eight seed afford a team the ability to draft Rodney Stuckeys and Robin Lopezes: players who can contribute to a good team, but should not, under any circumstances, be tasked with shouldering a team's scoring load or playing 37 minutes a game. The problem is most .500 teams aren't a Rodney Stuckey away from competing for a championship. The Cavaliers certainly aren't. Which is why they need another year with access to Hell's catapult. They need a selection in the top five of the upcoming NBA Draft.
I argue this because I subscribe to the theory that it's incredibly difficult to compete for a championship without a superstar. This is based on what I've seen transpire over the last decade in the NBA. Here's a list of the best (and, yes, in a couple cases one can quibble over my choices, but bear with me for a moment) player on each of the last 20 teams to make the NBA Finals, with the winning team on the left and the losers on the right:
2001-02: Shaquille O'Neal (Lakers) v. Jason Kidd (Nets)
2002-03: Tim Duncan (Spurs) v. Jason Kidd (Nets)
2003-04: Chauncey Billups (Pistons) v. Shaquille O'Neal (Lakers)
2004-05: Tim Duncan (Spurs) v. Chauncey Billups (Pistons)
2005-06: Dwyane Wade (Heat) v. Dirk Nowitzki (Mavs)
2006-07: Tim Duncan (Spurs) v. LeBron James (Cavs)
2007-08: Kevin Garnett (Celtics) v. Kobe Bryant (Lakers)
2008-09: Kobe Bryant (Lakers) v. Dwight Howard (Magic)
2009-10: Kobe Bryant (Lakers) v. Rajon Rondo (Celtics)
2010-11: Dirk Nowitzki (Mavs) v. LeBron James (Heat)
Most of these squads were well-constructed teams with good coaches, talented role players, and even multiple All-Stars, but they also, with the exception of the Pistons teams that made back-to-back Finals in 2004 and 2005 and the 2009-10 Boston Celtics, had at least one of the five best players in the league. I don't think the data lies here: a team needs an elite talent to have more than a slim chance of making the NBA Finals.
The question, then, if we accept that point, is whether or not we think Kyrie Irving will become an elite talent. Predicting with any certainty what level Irving will be playing at in three or four years is like predicting the finds of a spelunking expedition without much knowledge beyond "it's a big cave." It's imprudent to assume any rookie will grow into the next Chris Paul or Dwyane Wade, and a team can't really know if they have a franchise player on their roster until he becomes one. For every Derrick Rose, there are even more Chris Boshes and Pau Gasols—players who, at a young age, exhibit the potential to become superstars, but instead become excellent second and third options. There's no shame in being Russell Westbrook-ish, but there's also no reason for the Cavs to assume a 19 year-old who's looked promising in 13 professional games is a savior.
And if the ceiling for Irving ranges from "pretty darn good" to "transcendent," then Tristan Thompson hopscotches through the rubric. Right now, he's a baby-faced stalk of thunder without name. He has immense athleticism and toughness, but little skill. He might emerge from the gym a few summers from now with a face-up game and a 17-footer, start posting 15-9, and anchor a Cavalier defense that ranks sixth in the league. He might finish right behind Dwight Howard in the Defensive Player of the Year voting. He might never figure it out. He might be an eighth man. He might make me start disliking Canada. (It would be all his fault.) He will probably be something else entirely. A combination between Serge Ibaka and a marmoset that breaks my vocabulary.
My point is you can't bank on players who imbibe illegally. Reality can take flame to projections. If the success of a small-market team depends principally on luck in the draft, and if a player who imprints himself upon the NBA landscape like a meteor comes along only once every couple of years, then teams like Cleveland, Sacramento, and Milwaukee should want two shots at picking in the top five.
Here's a (subjective) list of players drafted over the last decade who are capable of being the best player on a championship contender* and their draft position:
LeBron James (2003, 1st overall)
Carmelo Anthony (2003, 3rd overall)
Dwyane Wade (2003, 5th overall)
Dwight Howard (2004, 1st overall)
Deron Williams (2005, 3rd overall)
Chris Paul (2005, 4th overall)
Kevin Durant (2007, 2nd overall)
Derrick Rose (2008, 1st overall)
And that's it. That's the list. Anyone else needs either an outstanding supporting cast (like Rondo had in 2009-10) or to play alongside a superstar (like Blake Griffin is with CP3) to have legitimate title hopes. LaMarcus Aldrige is one of my favorite non-Cavaliers in the NBA, and the Blazers are a talented team, but his chances of playing in the NBA Finals dipped significantly the moment Brandon Roy's (6th overall, by the way) knees started expressing contempt for everyone who enjoyed watching Roy play basketball.
It's important to note that none of the guys listed above were drafted outside the top 5. Plenty of good players get drafted later, obviously: Amare Stoudemire (9th), Joe Johnson (10th), Rudy Gay (8th), Rajon Rondo (21st), et al. But the ones who act as the keystones on championship squads are almost always drafted in that first handful of selections. Having more ping pong balls means a better chance at landing Carmelo, not Amare; Durant, not Gay—players between which the distinctions are crucial.
So, I propose a strange rally cry: continue bottoming out, Cavaliers! Flip Andy Varejao for assets. Flip Antawn Jamison into Lake Erie. Flip off. Let's party. Let the young guys run around. Free Skyenga! (Then probably cut Skyenga.) Accumulate "moral victories." Build camaraderie through misery. Lose entertainingly. Lose spectacularly. Dominate a game and then forfeit with eight seconds left. Go stupidly into that good night. Binge drink on badness.
Then, after the smell of burnt hair dissipates, sober up. Assemble a table of People Who Know What They're Doing. Pore over scouting reports. Hold workouts. Scrutinize. (It's very important that you scrutinize.) Watch game tape. Interview dudes. Sweat over ping pong balls. Watch more game tape. Scrutinize again. Consult college coaches. Consult scouts. Take other smart people out to dinner and consult them. Assemble your war room. Field trade offers. Don't waver. Then make the pick. Make sure you believe in it.
It sounds exhausting. I'm sorry it sounds so exhausting. But you're building a skyscraper. Those things take time and steel. The Cavaliers have plenty of one.
———————
*The way that I did this, in my head, was by looking at the Kobe-led Lakers of 2008-09, and asking the question: "If you replaced Kobe with [Player X], would that Laker team still make it to the Finals?" So, for example, I think if you replaced 2008-09 Kobe with present-day Derrick Rose, that Laker team still makes the Finals. If you replace 2008-09 Kobe with present-day Russell Westbrook? I think LA falls a little bit short. For someone like Dwight Howard, who isn't a guard, I plugged Howard into the center slot, took Andrew Bynum off the team, and replaced Kobe's shooting guard spot with a 2008-09 Bynum-level shooting guard (so, like, Kevin Martin or whomever). It's a little convoluted and obviously subjective, but I think it works pretty well.