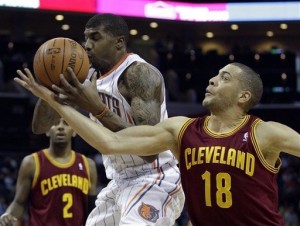 The Cavs beat the Bobcats 102-94 in a sloppy, entertaining game. The Cavs climbed out from beneath a double-digit deficit in the second half, outscoring the 'Cats 33-20 in the third quarter and 23-17 in the fourth.
–Kyrie Irving had one of those games the box score can't quite explain. His numbers look great: 25 points on 9-16 shooting, 7 assists, and 3 turnovers, but the quality of his play fluctuated throughout the game. Let's dissect it in bullet form.
–Irving was torched by D.J. Augustin (D.J. Augustin!) in the first half, who had accumulated 19 points by the time the teams headed for the locker room. Twice in the second quarter, Irving helped off of Augustin when he didn't need to, which led to two relatively uncontested threes for D.J. I think this problem of over-helping stems from the way Irving was taught to defend at Duke. Many superior college programs (Duke included) play a high-pressure defensive system that involves a lot of trapping and doubling, which, when employed against collegiate perimeter players, is very effective in terms of forcing turnovers. Against NBA competition: not so much. Irving has to become a better decision-maker in terms of when to help (hint: don't help on a Gerald Henderson drive that starts 19 feet from the bucket), and when to stick to his man. He also has to a.) take another half-step off of speedier point guards, b.) direct penetration toward the help behind him, and c.) react a half-second sooner on drives. I hope Byron Scott will drill that into his head, and we'll see him grow into a more competent defender.
–Irving disappeared for awhile in the third quarter while Ramon Sessions dominated the ball. We're only about 20 minutes into the Irving/Sessions backcourt experiment, but I don't think it's going to work. Both players need the ball. When Sessions was running the point, Irving just drifted to the corner, and waited while the shot clock ticked down. He's not really a spot-up shooter, and he doesn't move particularly well of the ball. Neither does Sessions. Plus, they're both sub-par defenders. Parker, Gibson, and Gee are all better fits for the 2-guard spot.
–Kyrie Irving won the Cavaliers a basketball game in the fourth quarter. He was aggressive, crafty around the rim, and wanted to take the tough shots required to put the Cavs up for good. The moves he exhibited going toward the basket in the final period (that lay-up around B.J. Mullens!) are why GMs salivate over bigger point guards: Irving can absorb contact in the paint and still lay the ball in from a variety of angles. I know the Cavs don't really have anyone else besides Jamison who can dependably score the ball by himself, but it's been encouraging to see Irving accept the challenge of being the the Cavs number one option in crunch time.
–TT was relatively quiet in this game (8 points, 2 rebounds), but I'm coming around on him. He has such an ugly game (not a lot of post-up moves, no face-up game, no jumper), but he uses his strength and quickness to get shots up from right next to the rim, and he gets a couple of easy dunks every game via putbacks and solid point guard play. He reminds me of a more athletic Tyler Hansbrough, which is a hybrid compliment/concern. Also: free throws, but you already knew that.
–Jamison threw a hard eight tonight. 9-16 for 20 points. I tip my cap.
–Casspi kept his starting job for another day. He nabbed a handful of hustle points, sprinting down the floor after Bobcats buckets, and laying the ball in before the defense could get set. Casspi might need to start doing more of this, since he's been struggling from beyond the arc.
The Cavs are now 6-6 and return from their seven-game road trip for a game against the Golden State Warriors tomorrow.