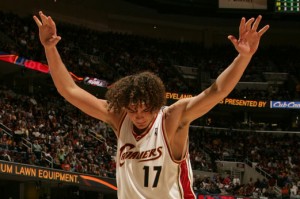 It's been nearly a year since Kendrick Perkins switched teams, but if you canted your ear toward New England last night, you could hear, as the 7-footer ducked under the hoop and converted a nifty reverse lay-in to put OKC up eight over Memphis, some dude named Sully slurring curse words into his whiskey. These drunk expletives aren't birthed solely from a bitterness over the fact that the Thunder are a thriving young squad that will compete for a championship this season, and that fruition of the Celtics' fragile title aspirations depend upon the rapidly-disintegrating knees of Kevin Garnett. Jeff Green's failure to rise to the occasion in last year's playoffs and the subsequent revelations about a heart problem that might prematurely end his career (get well soon, Jeff) has something to do with it, but Sully and Celtic Nation mutter rancorously to themselves whenever Perkins's scowling mug appears on a television screen mostly because it's painful to watch an errant son carry on without them. Ask any Celts fan: Perkins's departure hurt because he was as close to family as athletes get. They watched him grow from an 18 year-old man-child who would have been better served to spend a few years at a major college program into one of the most crucial components of the best defense in the league. Trading for big names and acquiring all-stars via free agency is exhilarating—it's not like Clippers fans are complaining about how they got CP3—but the best-loved players on a team are often those plucked directly from the amateur ranks and developed over a half-decade. I don't agree with many arguments that say LeBron should have stayed a Cavalier, but it's true that no fanbase will ever adore him like Cleveland did.
Of the rubble LBJ left behind, Andy Varejao is Cleveland's best-loved relic. He's a player, like Perkins, with whom one has to spend time to appreciate. Most NBA analysts and commentators characterize Varejao, whose physique resembles a long, tanned stalk of broccoli, as either an energy guy or an irritant. They mean this as a compliment—media types always have a twinkle in their eye when they talk about player who accumulates a lot of floor burns—but it casts the lanky Brazilian as an archetype that's not altogether accurate. While Varejao has always shown hard on pick and rolls, taken his share of charges, and competed relentlessly for rebounds, he was the second-best player on a series of championship contenders because he's made of more than grit. Beneath that shock of undulating hair is one of the better minds in basketball. Few big men know when and at what angle to cut to the basket better than Varejao, and he can finish with either hand once he gets to the rim. Though often overmatched physically in the post, the Cavs have trusted him over the years to play some of the league's best forwards and centers one-on-one without fouling himself onto the bench.
The player I describe is, of course, suited perfectly to help transform a contender into a champion, sort of like what Tyson Chandler did for the Mavs last season but with less handsomeness and more panache. The Perkins-for-Green trade was met with such outrage in New England because Perk was already where he belonged: alongside his mentor Garnett and his best friend Rajon Rondo, on a team where the talent around him maximized his own unique skills. Varejao was once in the same perfect situation—LeBron James's court vision got him 2 to 4 easy buckets a night, and all he was required to do each game was play hard on both ends of the floor—but on a young, inconsistent team, he doesn't quite belong. He warms the hearts of Cavalier fans with his effort and serves as a sterling example for Cleveland's young roster, but he, like all great glue guys, deserves to play with exceptional talent around him. Anderson Varejao should leave Cleveland.
The logistics of that move are unclear at the moment. The Clippers would be a logical fit, but the Cavs just drafted their starting point guard for the next five-to-twelve years, and Eric Bledsoe, despite possessing a shooting guard's skill set, is listed at 6'1″. The Celtics, Heat, and Lakers don't have any assets, and neither do the Knicks or Spurs unless one possesses an irrational love of Landry Fields or Kawhi Leonard. The Grizzlies have O.J. Mayo, Josh Selby, and Rudy Gay. Portland has Wesley Matthews and Nic Batum, though I don't know why they would trade either of them for frontcourt depth. Chicago already has a Varejao of their own in Joakim Noah, and Dallas is hoarding cap space to go after Dwight Howard or Deron Williams this summer. Regardless, as the hours tick down toward the trade deadline, I think a contender will find a way to secure Varejao. Some team that realizes either that its window is right now (the Celtics or Lakers) or that it's one good player away from a title shot (the Clips or the Grizz) will finagle an overly-complicated three or four-teamer that involves draft picks, expiring contracts, and access to Warren Buffet's secret archipelago off the coast of French Guiana. Or it will happen in the offseason, when teams have more cap flexibility and newly-drafted rookies.
It will happen, is my point. Anderson Varejao will leave Cleveland, and I will miss him. My favorite Andy Moment—even more than the head-punching against Orlando or the "Chosen 2″ Sharpie tattoo—is also my favorite Delonte West moment. (Together, these two composed the goofy core of the most fun team I've ever rooted for.) In West's internet-famous stint as a correspondent for Jim Rome is Burning, he rolls into a team photo shoot with fried chicken and Tahitian Treat ("how player is that?") and clowns then-rookie J.J. Hickson ("you betta have my donuts!"), but the best part of the clip comes when he and Varejao go fake Bruce Lee on one another before cracking up and breaking into a bro-hug. It makes me smile every time to see the gigantic Varejao and tatted-up West—both of whom seer with intensity when they're on the court—goofing off like a pair of jungle cats on holiday.
The only remaining players from the days when the Cavs were miming pre-game family photos and winning 60 games a season are boringly nice guys: Anthony Parker, Antawn Jamison, and Boobie Gibson. While they're all consummate professionals, I wonder how invested one can be as a veteran on a rebuilding team that, by the time the rebuild is complete, probably won't need you anymore. It has to be like playing basketball aboard a slowly sinking ship. Either mutinous thoughts grow in your brainpan or you have accepted your fate. Then there's Andy Varejao, writhing on the deck like a lightning-struck marlin. He doesn't know any other way. God bless him.