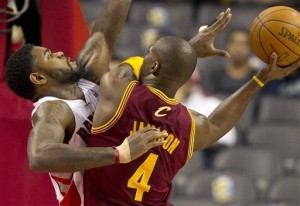 Here's a lengthy feature on Kyrie Irving from Dime. It's a good read if you're interested in getting a sense of who Irving is on and off the court in more detail than the "good guy" sentiments espoused by Cavs management and Coach K can connote.
Christian Eyenga has been sent down to the Cavs' D-League affiliate in Canton. This will be good for him. He needs minutes, and it seems he won't log many as a Cavalier in the near future. I do, however, worry Eyenga's never going to amount to much, which is a shame because he's a mesmerizing athlete.
Samardo Samuels didn't play last night in Toronto because he wasn't with the team. He couldn't travel into Canada due to the fact that he has misplaced his passport. We now know who to blame for having to watch Ryan Hollins attempt to play basketball for 17 minutes.