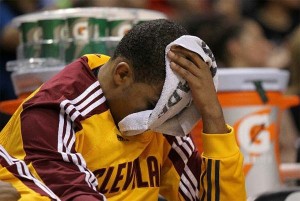 Mama said there'd be days like this. The Cavs lost handedly to the Toronto Raptors at the Air Canada Centre on the back end of their first back-to-back of the season, shooting a paltry 29.6% from the floor and mustering just 12 points in the third quarter, when the Raps opened up a double digit lead and never looked back.
— Well, Kyrie Irving came back to Earth with a vengeance. The rook put up 12 points on 13 shots and mustered only four assists. This game was reminiscent of his debut: Irving was outplayed by Jose Calderon, stopped at the rim by Toronto's bigs, and took a handful of ill-advised shots. I'm not concerned—he just completed his sixth NBA game, after all—but this game serves as a reminder of how inconsistent the Cavs offense will be this season. With a young man not yet of legal drinking age playing the role of floor general for 25 to 35 minutes a game, there will be some nights when the Cavaliers don't break 85.
— Watching Contract Year Jamison this season is going to be like standing at the peripheries of a dice game after ingesting a bag of hallucinogens. One dude stands in the middle, chucking dice against a wall ad infinitum. Some people are cheering. Some people are groaning. The cigarette smoke forms anthropomorphic bananas that whisper John Keats poems. You check to make sure you're still wearing pants. (You are.) The whole time, you feel black-green dread ballooning in your throat. You'd rather the whole thing end as soon as possible. (Or you think Jamison's fine. Whatever.)
— TT was a non-factor. He only played 16 minutes after a negligibly impactful first half appearance and took a couple of shots—whirling into defenders, tossing the ball at the rim—that had absolutely no chance of going in. I'm sure Byron Scott will remind Thompson he needs to play to his strengths on the offensive end and look for higher-percentage buckets.
— Andrea Bargnani isn't this good, except when he is. He was unstoppable tonight: hitting threes, going hard to the basket, and playing something resembling defense. It's near-impossible to defend a seven-footer when he's on fire like Bargs was.
— Luke "The Decatur Decapitator" Harangody straight killed it in garbage time. 5 points on 2-2 shooting. You cannot stop him, you can only hope that it's a close game because he will certainly not be playing in that scenario.
— I can't pull up the stat right now, but did the Cavs score a single second-chance point? They had 13 offensive rebounds, but squandered most, if not all, of those additional opportunities, which is emblematic of what a miserable offensive performance they turned in tonight.
The Cavs got whooped because they couldn't score while their opponents did so with alacrity. It's going to happen from time-to-time this season. The boys travel to Minnesota for a game against Catalan heartthrob Ricky Rubio and the T-Wolves on Friday. In the meantime, it's time for TT and Kyrie Irving to do what rookies do best: get yelled at, get better.