In the second installment of Cavs: the Blog's look at potential lottery picks, Harrison Barnes will be overviewed. These posts are envisioned as a look at potential future Cavs over the course of another re-building season. Barnes would be a long term solution at small forward.
Since deciding to return to North Carolina for his sophomore year, Barnes has been regarded as a top 3 pick in the 2012 NBA draft. He was the consensus #1 player in his high school class, and NBA teams are excited about his combination of size, offensive skill and maturity. I think he's a tad overrated.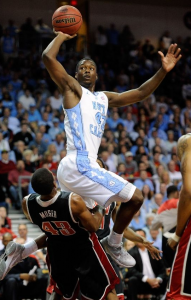 Let's start with the promising aspects of his game. Barnes is a talented offensive player, leading a team of future first round draft picks in scoring. In only 26 minutes per game, he's registering 17 points behind 57% true shooting and blistering 49% three point shooting. He's young but already solidly built; at 6'-8" tall and 220+ pounds, he has ideal size for an NBA small forward. Playing with a high level of skill, he exhibits great footwork and a variety of step back and turnaround jumpers. He's strong and can put the ball on the floor and finish at the basket. There's little doubt that he brings the necessary size and abilities to find a way to get the ball in the basket in the NBA.
Some concerns about Barnes include the limitations to his offensive game. He's a good athlete, but not particularly explosive with his jumping or first step. His ball handling is not extremely advanced. This combination can lead to him becoming primarily a jump shooter. His rebounding is down from last year, at only 4.7 per game. Gathering only 9.6% of available defensive rebounds isn't going to get it done for a 6' 8" forward. He has ideal character and temperament, but some are starting to question whether he has the disposition to be a star or if he's better suited as a 2nd or 3rd option.
Finally, despite reports describing him as a defender with good fundamentals and intensity, it's possible there's weakness here. For more on this, let's look at three recent UNC games.
11/11/2011 against Michigan State
Barnes finished with 17 points on 60% true shooting with 5 rebounds and 2 assists in 32 minutes, with UNC winning by a score of 67 – 55. This was just another day at the office; efficient scoring without a lot of additional box score filler. There weren't tons of definitive moments for him offensively; he showed off well-practiced footwork with a long turnaround jump shot early in the game. On the downside, he had a couple of poor box-outs that lead to MSU putbacks (UNC was terrible on the defensive glass as MSU had 19 offensive boards). Two of Barnes' shots got blocked, but on the bright side, after getting one turnaround jump shot blocked by a help defender, Barnes raced down the court and swatted a transition jumper. It would have been refreshing to see more of this defensive intensity throughout the game.
11/30/2011 against Wisconsin
In this 60 – 57 UNC triumph, 20 points came from Barnes on 66% true shooting with 3 rebounds, 0 assists, a steal and 3 turnovers. The game was a tale of two halves, as at times Barnes was nearly invisible in the first half. UNC has so many blue-chip players that their offense can occasionally exclude any given player. He missed a couple of jumpers, had a layup blocked, and was also frequently away from the action on the defensive end, as he spent much of the half guarding Josh Gasser. Barnes started the game guarding Ryan Evans, Wisconsin's 6' 6" forward and third leading scorer. After Barnes' first trip to the bench though, he was switched onto Gasser, a 6' 3" guard who is Wisconsin's least involved offensive player (average of 7 points in 32 minutes per game). This made for a relatively uneventful half of Harrison Barnes watching.
The second half featured several highlights from Barnes as UNC pulled out the victory. These twenty minutes started out rough; a poor boxout lead to an opponent putback, then later he dribbled the ball off an defender's foot. He was sent to the bench three and a half minutes in, and Roy Williams' pep talk worked as Barnes' defensive intensity was noticeably better when he returned. His array of offensive abilities was on display; he made a three off a screen, hit an 18 footer off a shot-fake / step-fake / one-dribble move, and drilled a spot up three. A couple of nice passes didn't result in assists. He spent much of the half guarding Evans, but was again switched to Gasser during crunch time. Negatives included his couple of times in the post; on two possessions, he got his shot blocked once and had the ball stripped the other time.
12/21/2011 against Texas
Barnes had his best game of the season statistically; tallying 26 points on 70% true shooting with 10 rebounds, 1 assist and 2 steals. There are a few reasons to not overvalue this though. Texas is very young and very small; five of their top seven minutes earners are freshman. Their starters are 6'-1", 6'-1", 6'-3", 6'-7" and 6'7", with only one player on their team taller than Barnes. For much of the game Barnes was guarded by J'Covan Brown, who is 7" shorter. The other question mark was Barnes' defense. Towards the end of the first half, Barnes appears to have been benched in order to get a defensive pep talk. He checked into the game with 4:20 remaining and was guarding Jonathan Holmes, the Longhorns fourth leading scorer. Holmes hit a couple of jumpers, including one play where he lost Barnes around a couple of screens…Barnes sat back on the bench after playing less than two minutes and didn't return for the rest of the half. To start the second half, Texas ran pick & rolls against Barnes on their first three possessions and a few minutes later called two straight plays for Sheldon McClellan while being guarded by Barnes. Barnes didn't handle one pick & roll well and McClellan got two looks from long distance (hitting one). Maybe I'm making something out of nothing; but did Texas view Harrison Barnes as a defensive liability? Barnes had two fouls in the first half, maybe Texas was just trying to get him in foul trouble. The sequence of events in the Texas game, combined with UNC's decision to have Barnes guard Gasser in the Wisconsin game, certainly left me unsure about Barnes' defense. He was never faced with a tough matchup in these three games, and it was a stark contrast to watching Michael Kidd-Gilchrist guard the opponent's best perimeter offensive players.
I've belabored that enough; Barnes was very effective offensively against Texas and showed his range of skills as UNC won easily. He flashed good strength around the basket, finishing two and-ones and also making at least three other shots through contact, but with no foul called. He hit a couple of pull-up threes and made some nifty passes that didn't lead to assists. He scored on a turn-around jumper on a post move, too.
_______________________________________________________________________
In summary, Barnes is a well-rounded offensive player. He is not an explosive athlete or a highly adept ball handler, which can limit his upside. Recently ESPN reported that an NBA GM described Barnes' floor as Danny Granger. I'll take this a little further; Barnes' ceiling is 2008 – 2009 Danny Granger, scoring about 25 points on 58% true shooting with 5.5 rebounds and 3 assists per game. His floor is 2010 – 2011 Danny Granger, contributing 20 points a game with efficiency slightly above league average (55% TS). Either way, he is a quality NBA player that doesn't project as the best player on a contender.
I lean towards the comparison with the latter Danny Granger and through two draft prospect reviews, my ratings (always subject to change) are:
1. Michael Kidd-Gilchrist – I liked him before, and his recent 24 point, 19 rebound outing against Louisville didn't hurt his cause. His ceiling is higher than all but a couple of players in the draft.
2. Harrison Barnes – For what it's worth, there are a lot worse things to be than 2010 – 2011 Danny Granger.
Tags: Draft Profiles, Harrison Barnes