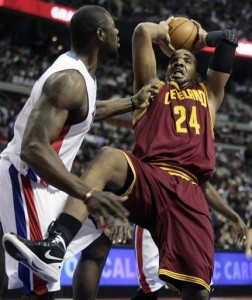 A lot of you were probably wondering why Samardo Samuels, before putting up 17 points in 25 minutes last night, was a DNP-CD for the first game of the season. According to Byron Scott, Samuels showed up to training camp out of shape. It makes sense that this problem irked Scott, who, when he took over as head coach last summer, conducted a brutal training camp with the goal of developing the Cavs into a squad that could run up and down the floor for the full 48 minutes. Scott has also said Samuels is working himself back into shape, and I can't see, with Samuels performance last night and Ryan Hollins' incompetence, how Scott keeps the Jamaican-born forward out of the rotation.
"The first quarter featured a young Cavalier team trading largely in slop, ultimately resulting in double-digit turnovers and a few head-scratching moments vis a vis extra, perhaps unnecessary pass attempts. But once this ten-man rotation had even more time to gel, perhaps aided by a post-first quarter pep talk from Scott, fans were graced with flashes of what the Wine and Gold can become on the offensive end.  With roughly seven minutes to go in the third frame, the team's first unit – on a night that was largely dominated by the "reserves" – flawlessly executed back-to-back plays that included nary a dribble." [Scott Sargent]
"After a shaky NBA debut, Kyrie Irving flashed his potential with a tantalizing first half that included 12 points and five assists. But the league's No. 1 overall pick spent the game's final 17-plus minutes on the sidelines enthusiastically cheering Tristan Thompson's blocked shots, Ramon Sessions' 3-pointers and Samardo Samuels' bruising work in the low blocks." [Tom Reed]
WFNY is tracking the top 15 or so college prospects this year. You can see their latest Not-So-Big-Board here.