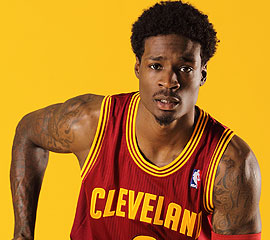 From Tom Reed at the Plain Dealer:
The Cavaliers released Harris and guard Kenny Hayes on Thursday, leaving the roster at 15 players. That means camp invitee Mychel Thompson will make the club assuming the Cavaliers don't claim another player off waivers.
This one hurts. I was a big fan of Manny Harris despite the fact that he isn't very good at basketball. In my mind, he was going to develop into a cross between Kevin Martin and Tyreke Evans. Yet, in reality, he's probably a career end-of-the-bench bookend. Fare thee well, Manny. You're in heaven now, looking overmatched against NBA competition with the angels.