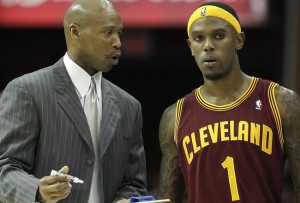 At this point, you've probably heard the talking heads on your favorite pundit show mention it at least five quadrillion times: the NBA schedule is going to be brutal this year. To put things in perspective, a normal NBA season—tumultuous in its own right—is 82 games over roughly six months. That's about 13.5 games every thirty days. This season, NBA teams will cram 66 games into four months, which comes out to 16.5 games per month. This means more back-to-backs (which, especially when both games are on the road, are incredibly taxing), less practice time (many coaches will elect to rest guys over drilling them, especially during particularly hectic weeks), and, inevitably, more injuries. Here, we'll take a look at the Cavaliers' compact schedule, focusing on strings of games that will determine whether their record this season will be abysmal or something closer to .500 (baby steps, you guys).
The Cavs begin the season like this:
vs. Toronto (Dec 26th)
@  Detroit (Dec 28th)
@  Indiana (Dec 30th)
vs. New Jersey (Jan 1st)
vs. Charlotte (Jan 3rd)
@  Toronto (Jan 4th)
@  Minnesota (Jan 6th)
Last season, when the Cavaliers were at their fan-demoralizing worst, I would scan the schedule for bad teams that might help the Cavs snap their losing streak. Because the team was too horrible to entertain the idea that they could beat a championship contender like Boston or even an okay team like Atlanta. It just wasn't happening. All I can say to about this opening slate of games is: where the hell was this stretch of schedule last season???
This swath of games—all winnable except for a tilt in Indianapolis against a Pacers team that I think is going to be quite good—is something of a double-edged sword. Yes, the Cavs have a chance to start the season 5-2 or 4-3 against some sub-par teams, and they only have one set of back-to-back games to deal with, but they need to come out of the gate strong because by the middle of January into February, the schedule becomes unrelenting. From January 20th to February 8th, the schedule looks like this:
vs. Chicago (Jan 20th)
@  Atlanta (Jan 21st)
@  Miami (Jan 24th)
vs. New York (Jan 25th)
vs. New Jersey (Jan 27th)
@  Boston (Jan 29th)
vs. Boston (Jan 31st)
@  Orlando (Feb 3rd)
vs. Dallas (Feb 4th)
@  Miami (Feb 7th)
vs. LA Clippers (Feb 8th)
All of those teams are either good or great with the exception of New Jersey, so it's possible the Cavs will lose all of those games. Throughout the rest of February and March, the team plays a more balanced schedule, until this oasis of bad teams in the beginning of April:
@ Milwaukee (Apr 4th)
@ Toronto (Apr 6th)
@ New Jersey (Apr 8th)
vs. Charlotte (Apr 10th)
If the Cavaliers are going to establish any kind of winning momentum, it's going to happen on these nights because the team concludes the season, starting with the Charlotte game on the 10th, with 12 games in 16 nights, a stretch of schedule that an exceptional team like the Thunder or Bulls would have problems with, let alone a rebuilding Cavs squad.
Recap
I mean, I'm not sure how much of an impact this condensed schedule will have the on the Cavaliers' record at the end of the season. They're a young, undermanned team that will likely finish with one of the league's worst records. More importantly, the compact schedule might begin to wear on Kyrie Irving and Tristan Thompson by March. Cavs fans will want to keep an eye on how the rookies hold up against the grind of playing so many NBA games in a short amount of time. I think Byron Scott will limit their minutes later in the season if they start to break down. He knows (he has to know, right?) that this year is about improvement, not wins, and so there's no point in running these guys into the ground just because they're two of the best seven players on the team, and he's hungry for a couple extra Ws.
Also, a caveat: I have no idea what's going to happen on a game-to-game basis, which makes it difficult to figure out what the Cavaliers' win total will be this season. That probably seems obvious, but the level of unpredictability in this season is going to be higher than in others. Games are going to be disjointed and sloppy for a few weeks as players knock the rust off and teams learn how to integrate rookies, free agents, and trade acquisitions. A couple of teams' seasons are going to be completely murdered by injuries; other squads (the Spurs will probably do this) are going to take it easy, rest their starters as much as possible, and try to squeak into the playoffs with the healthiest roster they can assemble. Those games against Boston I said the Cavs were going to lose? The Celtics are talented, but their rotation is incredibly shallow, so perhaps Kevin Garnett's knees will need a night off or Paul Pierce will be nursing a knock he picked up a week ago in his fourth game in six nights, and the Cavaliers will have a better shot at victory. I honestly have no clue. It's going to be a weird season. I advise you to watch the rookies develop, root for entertaining losses, and watch a little college ball to keep your spirits up. Life seems a little less bleak when every outstanding college player is a hypothetical Cavalier.
And we'll be with you all season. I'll have news and some longform-y stuff each week, and we're gonna gangtackle this schedule so we have recaps of every game for you. Kevin has plans to write a series about the Cavs' outlook moving into the 2012 and 2013 seasons. And there'll be other stuff, I'm sure. We're a bit like a busy kitchen at the moment—pans clattering, audible obscenities, a splotch of tomato sauce in our hair—but we'll figure it out.
Happy holidays. Go Cavs. One.