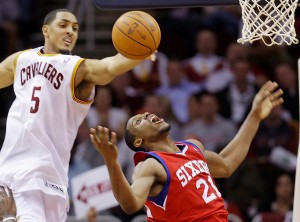 Mary Schmitt Boyer thinks that the Cavs bench is going to be an area of concern this season, especially Ryan Hollins, who had a lousy (albeit very short) preseason.
"Irving probably wasn't as impressive in Tuesday's 90-89 loss to visiting Detroit as he was in the first preseason game (or the Wine & Gold Scrimmage, for that matter). But one thing I've noticed about the kid is when he's on the floor, the entire atmosphere changes for both teams. The Cavs just ran a little smoother and the Pistons were forced to defend a little harder." [Sam Amico]
"The Cavaliers view Christian Eyenga as a wild card. At some point, the second-year swingman could evolve into a devastating and arguably the most athletic defender in the NBA. Or, he could drift into oblivion and return overseas once his current contract expires. The 6-foot-7 1/4, 210-pounder clearly doesn't always get "it." He's jovial, fun to be around and always has a smile on his face. However, he seems to live in his own little world at times." [Bob Finnan]
I'm very concerned about Eyenga, and this Finnan article confirms my fears. I wrote yesterday that I think he's the eight-most minutes on the team, but that's probably wrong. I like him a lot, and I keep hoping he'll put it together, so if I were the coach of the Cavs, I would give him some run and see what he can do. But Byron Scott will likely keep him on a short leash; if Eyenga can't get his head straightened out on the defensive side of the ball, Alonzo Gee will get the bulk of his minutes. If I absolutely had to make a prediction, I would say Eyenga's playing in Europe sometime in the next three years. Fortunately, I'm not a psychic, so we'll see. But potential is only potential for so long before you have to admit the 6'7″ guy who can jump out of the gym doesn't belong in the NBA.
Oh, by the way: be on the lookout for part 2 of our Cavs season preview. Mallory will be posting his portion of the preview this afternoon.