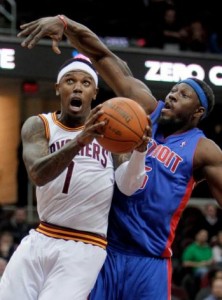 You can read mine and Kevin's recaps of last night's preseason loss to the Pistons below, but Doc Rostov over at FTS has some thoughts of his own.
"Jamison has the strangest array of awkward but effective underhanded flip shots in the league, and he has particularly enjoyed using them lately against the rookie in practice. Every time Thompson goes right for the block, Jamison goes underhanded to his left. He said that whenever it happens, Thompson pauses for a moment with a bewildered look on his face." [Jason Lloyd]
"With [Anderson Varejao] in the lineup, the Cavs held the Pistons to 33.3 percent shooting in the third quarter while building a 12-point lead. With him on the bench, the Cavs gave up a 10-0 run in the fourth quarter as the Pistons got back into the game, eventually winning on Austin Daye's two free throws with 3.1 seconds left." [Mary Schmitt Boyer]
"These are very early returns, but it appears the Cavs do have two rookies worth watching in Kyrie Irving andTristan Thompson. Fans have heard a lot about Irving, the top player in the draft and in position at the point where it is very easy to show his skills. His ability to create a shot when covered and the 24-second clock is ticking down is critical, because the Cavs remain weak at the two most athletic spots in the NBA — small forward and shooting guard." [Terry Pluto]
Manny Harris's weird freezer burn-like injury is going to keep him out until January. And Kyrie Irving is going to put his first NBA paycheck in the bank. (What a super-pleasant, intelligent guy Irving seems to be. Dude puts a smile on my face.)
Part one of a Cavaliers season preview coming this afternoon. Stay tuned.