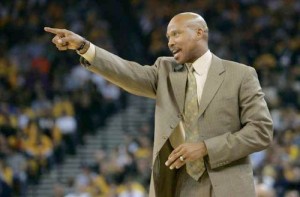 And so it begins. Or it begins, like, soon. On December 26th, the Cavs will open the season at the Q against the Raptors, then play another 65 games in the span of four months. We are not clairvoyants or wizards, so we can't predict win totals or PPG averages or whether Byron Scott will grow his compact facial hair into a sweet handlebar 'stache and start wearing searsuckers on the sidelines (do it!), but we can offer some writerly analysis of the upcoming Cavaliers season. Today, we'll take a look at the Cavs' roster.
The Starters
I'm going to ignore whatever the Cavs starting lineup is on opening night against Toronto. Byron Scott seems like the sort of coach who will have Tristan Thompson and Kyrie Irving come off the bench initially to prove a point to them that their place in the starting lineup must be earned. You can debate the merits of that approach (and if it's enacted, we here at CtB probably will), but I think it will be irrelevant some ten, twenty, thirty games into the season. Irving and Thompson will log significant minutes for the Cavs because A.) They need the reps and B.) Even as rookies, they might be two of the best players on the team. By February the starting lineup will probably look something like this:
PG: Kyrie Irving (at Duke, playing 27.5 MPG in 11 games: 17.5 PPG on 53%/46%/90% and 4.3 APG)
SG: Anthony Parker (playing 29 MPG in 72 games: 8.3 PPG on 40%/38%/78% and 3 APG)
SF: Omri Casspi (playing 24 MPG in 71 games: 8.6 PPG on 41%/37%/67% and 4.3 RPG)
PF: Tristan Thompson (at Texas, playing 31 MPG in 36 games: 13.1 PPG on 54%/49% with 7.8 RPG and 2.5 BPG)
C: Anderson Varejao (playing 32 MPG in 31 games: 9.1 PPG on 53%/67% and 9.7 RPG)
Those numbers in parentheses are, as you can probably tell, statistics from last season. Looking at this lineup and thinking about where these guys fit together on the offensive end, the key to success is going to be Irving, as if he doesn't have enough pressure on him already. Casspi and Parker are most useful as spot-up shooters at the three-point line, and the bigs are both players who make their living cutting to the basket and cleaning up the offensive glass. Irving will need to penetrate, draw defenders, and kick the ball out to the perimeter to maximize the talents of Casspi and Parker; and he needs to keep his head up and practice his bounce-passes to find Thompson and Varejao slashing through the paint. If he can do that, along with creating some shots for himself off the dribble, the Cavs' starting unit will be reasonably effective.
This probably won't happen right away or with much consistency in Irving's rookie season, but my point is that it needs to happen if the Cavs are going to be respectable on the offensive end of the floor. Which essentially means that, some nights, the Cavs won't be respectable on the offensive end of the floor, especially against teams with point guards who can pester Irving and force him into turnovers. What we can look for is how often and with how much consistency Irving puts it together and animates the Cavs' offense. If, once or twice a week, he puts up 13-7 with only a turnover or two, he'll have assembled quite a rookie season for himself.
On defense, the Cavaliers have the potential to be tremendous inside. Thompson will need some time to learn how to play help defense in the NBA, and he might need to add some bulk to guard stronger PFs, but between Varejao's quick feet and Thompson's athleticism and shot-blocking ability, the Cleveland paint, especially for penetrating guards, could become a hazardous area. On the perimeter, Parker is above average; Casspi, though he tries hard, is pretty awful; and Kyrie Irving will be solid, but no one will confuse him with Rajon Rondo. I think Varejao and Thompson (after he grows into his role) will be able to compensate capably when Casspi guards athletic 3s who can get around him easily, and the guards will provide a decent enough defensive presence that the Cavs won't get torched by exceptional backcourts.
One area in which the Cavs need to improve is defending the three-point line. Any team that played the Cavs last season put up Anthony "I Don't Miss" Morrow numbers from beyond the arc (41%!). I would be more concerned about this problem if it didn't seem, at least in the midst of last season's unrelentingly depressing losing streak, to be an issue of effort. I don't think we'll see as many poor closeouts or wide-open opponents this season if only because two rookies—who Scott can pull of the floor if their defensive effort wanes—will be playing big minutes, Casspi and Varejao are extremely hard workers, and even the most fervent pessimist can't anticipate the Cavs will suffer another losing streak that numbers in the twenties and demoralizes every single person who roots for, is employed by, or has heard of the Cleveland Cavaliers. But, y'know, getting that opponent 3FG% down to a respectable number (is 35% doable?) would help this team stay in some games.
The Bench
Again, I'm sort of projecting what Byron Scott's rotation is going to be by mid-season, but suppose the bench looks something like this:
6. Antawn Jamison (PF/SF, 6'9-235, scorer)
7. Ramon Sessions (PG/SG, 6'3-190, sparkplug)
8. Daniel Gibson (SG/PG, 6'2-200, 3-pt specialist)
9. Christian Eyenga (SG/SF 6'7-210, athletic freak)
10. Samardo Samuels (PF, 6'9-260, rebounder, foul-drawer)
11. Ryan Hollins (C, 7′-230, tall)
12. Alonzo Gee (SF/SG, 6'6-220, perimeter defender, maybe?)
13. Semih Erden (C; 6'11-240; tall, but in a European way)
14. Luke Harangody (SF/PF 6'7-250, hustler)
15. Manny Harris (SG/PG, 6'5-185, rooting interest)
16. Colin McGowan (PG, 6'1-165, all-around dynamo)
There is good news and bad news here. (And the worse news is I got cut from the team, despite the fact that I would make a much better token white guy than Luke Harangody. C'mon, B-Scott! I was gonna make everyone on the team personalized highlight reels set to Just Blaze beats. I've been rehearsing a series of exaggerated "holy crap, I can't believe he made that shot!" reactions for months. I was going to be Brian Cardinal 2.0! You'll regret this while Harangody sits stoically at his locker before games, singing "Satellite" to himself beneath his breath, not even bothering to map step-by-step diagrams of the awesome handshakes he plans to execute with his beloved teammates as they walk to the bench after a timeout. This is an outrage.)
The good news: this bench is deep. The Cavs have 10 to 12 (depending on how you feel about Gee and Hollins) capable NBA players on their roster. In this compact season that's going to feature a lot of games in a short amount of time, every NBA coach is going to plumb the depths of his bench for able-bodied basketball players, due either to fatigue or injury. Byron Scott, at the very least, knows what he's getting from the Cavs' bench, since many of these guys played big minutes last season due to a massive injury bug that struck the team around January.
The bad news: This bench isn't very good. I think both Gibson and Sessions can be effective off the bench—the former as a spot-up shooter and increasingly capable defender, the latter as a guy who flies around for 15-18 minutes a game—but the problem is that if Scott plays both of them together, or pairs one of them with Irving, the Cavalier backcourt becomes incredibly small. This problem is exacerbated by the fact that Sessions is pretty dismal on the defensive end.
Beyond the backcourt subs, the Cavs have Jamison (low-efficiency scorer, below average defender), Eyenga (incredibly raw, apparently in B-Scott's doghouse), and a bunch of guys who are good at either one or two things or nothing at all. So, while there are a lot of bodies—guys who can step onto the hardwood and not completely embarrass themselves—I'm not sure how much winning basketball Scott can wring from those bodies.
Big Picture
It seems to me that Scott is going to have to do a better job this year in getting the team to play smart, active defense for four quarters. Because the Cavalier offense is going to struggle. The two guys who be doing the majority of the offense-orchestrating are A.) a rookie and B.) A guy who is sometimes prone to put his head down, drive to the hoop without a plan, and clank the ball against the underside of the rim. So, Jamison, who completely checked out last year, is going to have to adjust his mindset (he has said during training camp that this is going to be a focus for him this season); Thompson is going to have to learn quickly when to rotate, when to double, when to stay at home; and the backcourt, which will sometimes be quite undersized, is going to need to move their feet, know where help is, and do the best they can on nights when the opposing team's shooting guard is 6'6″.
And a Shameless Plug
Well, sort of. John and I participated in ESPN.com's 5-on-5 feature last week. We talked Irving, Thompson, the impact of a shortened season, and the Cavs' lineup deficiencies. We also managed to use the term "rookie wall" gratuitously. You can read that here.
Tomorrow, Mallory will handle part two of our preview. He'll be profiling Cavalier newcomers Kyrie Irving and Tristan Thompson. And Friday, I'll be back with a look at the Cavs' schedule.