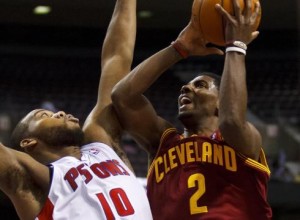 For those of you who missed it, the Cavs defeated the Pistons 91-87 on Friday night in the first of two preseason games. I didn't watch, but Conrad Kaczmarek over at FTS did, and you can read his recap here.
The Cavs also played their Wine vs. Gold scrimmage on Sunday. Tom Reed discusses Kyrie Irving and Tristan Thompson's performances in the game over at the Plain Dealer.
In other news, Byron Scott is particularly pleased with newcomer Omri Casspi's contributions to the team. He characterizes Casspi as a "pitbull," and thinks his tenacity will help the Cavaliers remain mentally tough throughout the upcoming season.
Fear the Sword has a survey of the guards who will come off the bench for the Cavs this season.
Baron Davis cleared amnesty waivers and will reportedly join the Knicks, so any of you worried about him helping the Heat capture a championship this year can exhale.
And the guys over at Ball Don't Lie have an excellent, entertaining Cavs season preview for you. Enjoy it, since, if this season goes like I think it will, BDL likely won't have much to say about the mediocre-to-awful (but promising!) Cavaliers.