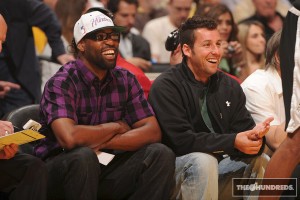 Slow news day unless you wanna read nine separate reports about Baron Davis being waived via the new CBA's amnesty clause, but here's a story detailing the bulging disk from which BD is currently suffering. It appears he's going to be on the bench for awhile, which makes him a perfect fit to play 20-30 regular season games before helping a contender during a deep playoff run, no? (Provided he's not 438 pounds by February.)
Also, Manny Harris has a strange, freezer-burn type mark on his right foot that's going to sideline him for approximately two weeks. I wonder if this is going to hurt his ability to make the team. And Omri Casspi is day-to-day with a sprained knee. He might not play in the Cavs' exhibition opener against Detroit.
And for anyone who missed it, here are Davis's very nice tweets upon learning that he is no longer a Cavalier.
I haven't read anything about what the Cavaliers' front office will do with the cap space (about $8 mil) created by Davis's departure, but if Chris Grant does anything in the next couple of days, I'll make sure to pass it along.