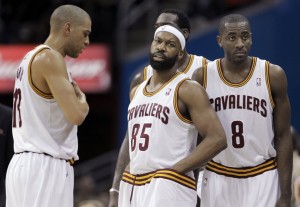 The Cleveland Cavaliers have waived guard Baron Davis and designated him as the team's amnesty player, Cavaliers General Manager Chris Grant announced today from Cleveland Clinic Courts.

"We would like to thank Baron for his contributions to the team during his time in Cleveland," said General Manager Chris Grant. "He has been an absolute professional since the day he joined the Cavs and we now wish him the best in the future."
Well, I suppose that answers a lot of questions. Have fun playing in Contending City X, Baron.
And for any of you wondering what effect this move has on the Cavaliers' cap, our old friend Brian Windhorst explains:
By using amnesty on Baron Davis, Cavs are now about $8 million under salary cap and will be approx. $20 million under next summer.
What the Cavs will do with that cap room remains to be seen. I don't think Chris Grant, who has preached patience throughout the rebuilding process, will now feel empowered to bid on, say, Arron Afflalo or whomever in the next 48 hours. But we're about to find out. I'll keep you guys posted as any additional news becomes available.