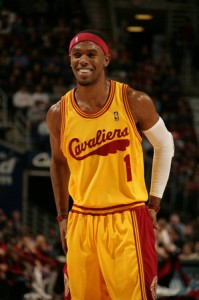 WFNY has some tidbits from media day. Apparently, Manny Harris spent the offseason traveling, playing pickup games with NBA players, and working with Ben Gordon on his jumpshot. I may only like Manny because of his cool name and the one terrific game he had against Phoenix last year, but I'm rooting for him.
"You know it's Cavaliers media day when Ryan Hollins is toting around a FOX Sports Ohio microphone and conducting interviews on his own. Hollins is the Cavs backup center and an aspiring sports broadcaster. He even spent part of the lockout providing analysis for telecasts of UCLA games.On Monday, he played the role of reporter, seeking out the inside scoop involving everyone from Cavs veteran big man Anderson Varejao to rookie guard Kyrie Irving." [Sam Amico]
Here are various Cavaliers' thoughts on Kyrie Irving. Unsurprisingly, his teammates and coaches think he has a lot of potential. I'm not sure how candid Byron Scott will be about Irving's development this season—Scott tends to give pretty blandly positive answers in interviews—but it will be interesting to see how Scott aids that development, since he played with Magic Johnson and has coached Chris Paul and Jason Kidd.
"Two seasons ago, the Cavaliers had a future Hall of Famer as their starting center and a two-time All-Star as his backup. Shaquille O'Neal and Zydrunas Ilgauskas were both past their primes, but each was a legitimate center, a large presence for whom defenses had to account. The Cavaliers will start this season with Anderson Varejao in the pivot, even though his coach concedes the converted power forward would ideally be best coming off the bench." [Tom Reed]
And here's a media day interview with Varejao, who talks about the upcoming season, Tristan Thompson, and why Big Z was such an invaluable teammate when Andy was a rookie who barely spoke English.