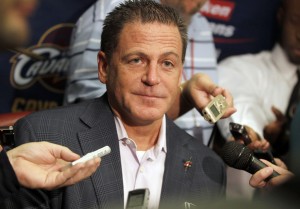 I cannot remember ever seeing a trade where a team got by far the best player in the trade and saved over $40 million in the process. And it doesn't appear that they would give up any draft picks, which might allow to later make a trade for Dwight Howard. (They would also get a large trade exception that would help them improve their team and/or eventually trade for Howard.) When the Lakers got Pau Gasol (at the time considered an extremely lopsided trade) they took on tens of millions in additional salary and luxury tax and they gave up a number of prospects (one in Marc Gasol who may become a max-salary player).
You can click the link for the full thing. I'm not sure how much influence this e-mail had on David Stern's decision (certainly, he wouldn't cancel a trade based solely on Dan Gilbert's whinging), but Gilbert seems to be speaking for the small market owners who—depending on who you believe—were the motivating force behind the veto.
My thoughts are as follows:
-From an integrity standpoint, this whole fiasco is a joke. The league can enact whatever measures it desires to try in vain to serve some vague notion of "competitive balance," but Chris Paul isn't staying in New Orleans; big-ticket free agents aren't signing with the Timberwolves; and the Lakers, Bulls, Celtics, and Knicks are always going to have the inside track on acquiring superstars. Let it go, owners of teams in Sacramento, Charlotte, and Cleveland.
-As an NBA fan, I wanted this trade to happen. The Lakers either a.) assembled a team that's treacherously thin, but has two of the best 10 players in the league or b.) by keeping Andrew Bynum, set themselves up to land Howard if Orlando panics and decides they need to at least get something for a player who's set to leave for free this summer. (By the way, I think Scenario A would have been most likely; it would have been fascinating to see if Bynum could stay healthy, put it all together, and be the third best player on a championship team.) But regardless: Chris Paul on the Lakers! What non-New Orleans resident isn't excited by that prospect?
-The trade was far from lopsided. The Lakers had to sacrifice their frontcourt depth (the primary strength of their team, the Rockets got one of the best fifteen players in the league, and New Orleans got three starters and something like the 20th pick in the 2012 draft. New Orleans got 85 cents on the dollar with very little leverage. Dell Demps should be commended for that deal; instead, he's bitterly swilling bourbon and chucking darts at a photo of Stern's face.
-As a Cleveland fan, I give Dan Gilbert a lot of credit for his willingness to spend whatever it takes to make the Cavs competitive, but he seems, as a person, to be an irredeemable prick. I imagine when he's eating lunch at a cafe and spots an attractive couple having a conversation in the corner, he mutters "I don't know why the hell she's dating him…" to himself, and then complains to the waitress that the frilly toothpicks in his club sandwich are the wrong color. What a miserable human being.
If you want something more substantive, I recommend these pieces by Bethlehem Shoals over at the Classical, Bill Simmons' take on Grantland, and ESPN's 5-on-5 feature.