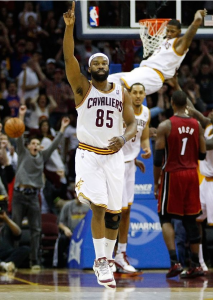 The new NBA collective bargaining agreement contains a provision that allows every NBA team to "amnesty" one player's contract. This would allow the team to waive the player, and the player's salary would not count towards salary cap or luxury tax thresholds. The team would still need to pay the player, and the player would be a free agent capable of signing with another team.
(Edit: A couple of astute readers have pointed out a mis-understanding of the amnesty provision. If a player is amnestied, then all teams under the salary cap can place a bid on the player. If an under-the-cap team places a high bid to pay Davis $5 million per year, the Cavs are only responsible for the balance of his contract. If no team bids on the player, then he becomes a free agent. Despite that realization, I stand by the rest of the post. Thank you HoopsDogg and Daniel for pointing out my error.)
The consensus among the national NBA media has been that the Cavs will amnesty Baron Davis. Until recently, this has been treated as obvious, a slam dunk…but I don't agree with making the move. Recent rumors are that the Cavs are also leaning away from it. Given that a team still needs to pay the player, there appear to be two main reasons for amnesty; to avoid the luxury tax, or to free cap space for additional free agents. Neither of these reasons seems to be compelling for the Cavs to drop Davis. The Cavs position as it relates to the luxury tax is solid. The Cavs have 14 players under contract this season for $65 million, while the estimated luxury tax level is $70 million (both numbers are representative of an 82 game season). For 2012 – 2013, the Cavs will have eight players under contract for approximately $45 million (this includes several million for another lottery pick). There is no cause for concern about the luxury tax.
As far as freeing cap space to sign an expensive free agent, there doesn't seem to be a rationale for doing that. The Cavs have positioned themselves well for a rebuilding project. They just drafted Kyrie Irving and Tristan Thompson in the high lottery and have seven more first round picks in the next four drafts. Other than Irving and Thompson, only Anderson Varejao has a guaranteed contract beyond 2012 – 2013. Draft picks and flexibility are exactly what a re-building team needs; why would the Cavs add a new long-term free agent piece to the puzzle, before having a chance to evaluate how Irving and Thompson fit? It doesn't make sense.
This post isn't focusing on Baron Davis' basketball talent or his motivation; but when he wants to play, Baron Davis is a really good basketball player. Most reports indicate that Davis has been working very hard this off-season. Why should the Cavs pay him $30 million for the next two years to play for the Heat or Lakers? If Davis plays well this season, his talent combined with his expiring contract could be valuable in a trade next year. If he isn't motivated and doesn't play well, the amnesty can still be used next summer. With amnestying next summer, the Cavs would have $30 million in cap space going into 2012 – 2013. Players under contract would be Irving, Thompson, a 2012 lottery pick, Anderson Varejao, Omri Casspi, Ramon Sessions, and Christian Eyenga. Those players with that cap space isn't a bad re-building base. As a "worst case" non-amnestying scenario; Davis plays for the Cavs for two years, and the Cavs enter 2013 – 2014 with Irving, Thompson, a 2012 lottery pick, a 2013 Cavs first round pick, a 2013 Heat first round pick, Varejao, Casspi, Eyenga, and $30 million to sign free agents. "Worst case" is used lightly; having Baron Davis around for two years while accumulating young talent and maintaining cap flexibility could be the best case scenario. Letting a young core start to define itself prior to attempting to add a high-profile acquisition makes sense; this allows the Cavs to target the appropriate free agents or trades that fit the roster.
Obviously the Cavs' 2011 -2012 roster is a little nonsensical; it can be argued that the best six players are point guards and power forwards. I'd like to see the Cavs play the following unit for 15 – 18 minutes every game.
• PG – Irving
• SG – Eyenga / Manny Harris
• SF – Casspi
• PF – Thompson
• C – Varejao
The Cavs can see how the young guys play with each other, as these players have the only contracts that extend past 2012 – 2013. This season is as good as any to start figuring out what works and what doesn't. This is also a reasonable group where Irving can play as the PG in a "traditional" lineup. With Davis & Sessions around, it will be important to give Irving opportunities to lead as undisputed PG. The other 30 minutes a game in 2011- 2012 can be spread amongst a variety of two point guard, two (or three) power forward lineups.
In summary, I see no reason to pay Baron Davis to play basketball for someone else this season. If everyone is healthy; a Cavs team including Davis, Irving, Varejao, Antawn Jamison, etc could be interesting. Keeping Davis now helps maintain flexibility later. Seems like an easy decision to me.
Tags: Baron Davis