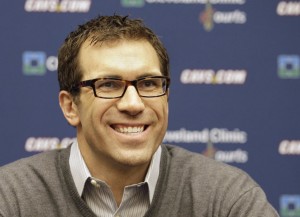 Chris Grant spoke to the media yesterday afternoon. He wasn't able to answer much because NBA front offices are not yet allowed to talk to players, but both Mary Schmitt Boyer and Scott Sargent were there to provide their insights on the press conference:
"Grant met with the media on Thursday afternoon for the first time since the NBA lockout began on July 1. He acknowledged that Anderson Varejao, Ramon Sessions, Manny Harris and Samardo Samuels had worked out at the Cavs practice facility earlier Thursday, although he, coach Byron Scott and any of the other coaches were unable to speak to them. That was a privilege afforded to the medical and training staff and selected media relations people only. But in spite of all the restrictions and the unknowns, Grant looked like a happy man." [Mary Schmitt Boyer]
"While Anderson Varejao, Ramon Sessions, Manny Harris and Samardo Samuels would be on the premises, no one who receives a check from the Cavaliers outside of the communications staff is allowed to speak with them until the season starts one week from today. While fans have a lot of questions – How's Kyrie Irving's foot? Is Ramon Sessions going to be traded? – it will be at least a week until we are all provided response, be they canned or candid." [Scott Sargent]
Our colleagues over at Fear the Sword have been doing player profiles the past couple of days to help us get reacquainted with the Cavs roster. Today's profile is on sophomore guard Manny Harris.
According to Marc Stein, the NBAPA and the league are meeting today to hammer out the minor, final details of the new CBA.
On the Twitters
"NBA releases Xmas sked: 12pm: BOS/NYK on TNT, 2:30pm: MIA/DAL on ABC, 5pm: CHI/LAL on ABC, 8pm: ORL/OKC on ESPN, 10:30pm: LAC/GSW on ESPN." [Mary Schmitt Boyer]
"When asked if it was his intention to re-sign with the #Cavs, Anthony Parker replied: 'We'll see.' Hmmm. Interesting." [Bob Finnan]