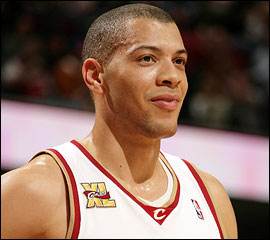 Cavalier players will finally be allowed to use team facilities for the first time in months:
"While the NBA's owners and players continue the process of finalizing a labor agreement, business is slowly returning to normal. Agents and teams were allowed to speak again Wednesday for the first time since the lockout began and teams will open their facilities to players beginning today." [Jason Lloyd]
According to WFNY, the Cavs are looking into re-signing Anthony Parker:
"With the National Basketball League set to tip off in 24 days, free agency rumors are abound.  With the Cavaliers looking to build through the draft while developing and coaching up younger talent, one of the men who could be tasked with a mentor-based role in 2011-12 is veteran shooting gaurd Anthony Parker who the team is reportedly looking to lock up for at least another two seasons." [Scott Sargent]
CBS Sports has a quick refresher on what the Cavaliers roster looks like at present. It doesn't appear the current roster will look much different from the roster we see on opening night, as I haven't happened across any reports of the Cavs looking to sign any free agents other than Parker.
Marc Stein and Chad Ford on the possibility of a Baron Davis amnesty-ing:
"Sources with knowledge of Davis' thinking maintain that owner Dan Gilbert's fears that Davis will join Miami if he was released through amnesty and went unclaimed in the subsequent waiver process are unfounded, because Davis prefers at least three destinations (Knicks, Lakers, and Bobcats in a Charlotte reunion with former coach Paul Silas) to South Beach. But the Cavs are known to have little interest in cap space — aiming to stockpile trade assets and future draft picks instead — and are thus exploring every other option with Davis apart from amnesty." [Stein and Ford]
On the Twitters
"Add Anthony Parker and Michael Redd to the list of free agents #Knicks have inquired about so far. Always looking for shooters. #fb" [Alan Hahn]
"Chris Grant will be speaking today. Will be good to hear from a guy who's finally able to talk about basketball once again." [Scott Sargent]
"Byron Scott is on hand NOT watching Varejao, Sessions, Manny Harris and Samardo Samuels." [CavsPDInsider]