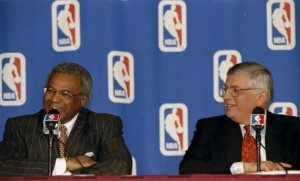 The two sides agreed Monday to resume talks for the first time in nearly two weeks, according to sources close to the situation, with discussions commencing Tuesday and continuing Wednesday aimed at resolving lawsuits recently filed by the players. Talks are expected to resume Friday after a break for Thanksgiving, with almost no wiggle room left to get a deal done in time for Christmas.

The primary push for the talks, according to The New York Times, is a desire to try to finally end to the five-month impasse in time to start the season on Dec. 25, which has historically marked the start of the NBA's annual introduction to the national network TV schedule. But the latest talks are considered part of settlement talks relating to the litigation as opposed to outright negotiations, according to the Times.
This is unequivocally the last round of talks in which the Players' Association and the NBA will attempt to save Christmas Day games. So if you find yourself having to actually talk to relatives on December 25th, send a mental "eff you" to Hunter and Stern while your annoying cousin recounts to you every detail of his first semester at Grinnell.