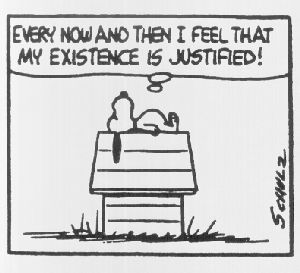 Ed note: A world without NBA basketball is a world in which Colin does not want to exist. Fortunately, he has at his disposal a strong ability to self-delude and a word processing program. Until the NBA lockout concludes and professional basketball starts happening in the corporeal realm, he will be recapping the Cavaliers games that happen in his head.
It's difficult to determine whether the Cavs won or lost out there tonight. You would think a team of world-class athletes playing against an abstract concept would be a bloodbath, but then you would be forgetting that Existential Dread renders all outcomes—of basketball games, of wars, of love affairs, of relationships with your father that just seem unfixable at this point in your life—meaningless. Let's break it down.
The Cavaliers started strong, burying uncontested layup after uncontested layup with gleeful ease. Anderson Varejao racked up 14 points in the early going; his cuts to the bucket went largely unchecked for much of the first quarter. Baron Davis's outside shot was also working the in the opening period. He went 4-5 from beyond the arc. "It's like there wasn't anyone on the court with us early in the game," Davis said of his first quarter sharpshooting.
"And then suddenly," he added, his smile dissolving into a nervous wince. "There was."
After a stellar opening run of play, the wheels came off for the Cavaliers. As Kyrie Irving dribbled the ball some 30 feet away from the basket and began to call out a play with 8:25 remaining in the second quarter, he curiously picked up his dribble, shuddered the shudder of a man who has seen his entire family perish in a terrible naval accident, set the ball down, and hollered out "Am I alive?!" before splaying out on the floor of the Q and sobbing for what seemed like hours.
"Classic rookie mistake," said 13-year NBA veteran Antawn Jamison of the incident. "Soon enough, he'll learn not to make simple mental errors like that. It's all part of learning to be a professional."
Irving wasn't the only one who made mistakes tonight. In the second half, Existential Dread effectively took over. The Cavaliers began to unravel, performing alley-oops on their own basket and loudly reciting excerpts from Jean-Paul Sartre's "Being and Nothingness." Christian Eyenga, who started dribbling with his elbows late in the third quarter, couldn't provide a coherent reason for his bizarre behavior. "I just thought," the lanky Congolese forward stammered "that it would just, y'know, change things." When asked to clarify his statement, he began speaking in tongues.
In an attempt to calm his panicked squad early in the fourth quarter, Byron Scott called timeouts on five consecutive possessions, forgetting, as he gestured toward the referee for the fifth time in two minutes, that he was out of TOs. This violation, as per NBA regulations, resulted in a technical foul against the Cavaliers. The referees conferenced at the scorer's table for a moment before head official Joey Crawford walked toward Existential Dread's end of the floor placed the ball adjacent the empty free throw line. The crowd and players stood frozen. Their breath puddled at their feet and they felt its cold oil between their toes. They saw a flash, then a billowing miasma of olive-green gas. The Q stunk of sulfur and sounded of nothing. From somewhere within this timeless ether, a buzzer sounded. Fans and players streamed out of the arena onto the streets, some high-fiving each other and murmuring about the Cavs ostensible victory, others walking more stoically, murmuring beneath their breath about the end of days.
"That was an incredible 'basketball game,'" said starting guard Boobie Gibson, using scare quotes in a way best characterized as "disturbing." "We really got a 'great' 'win' and everyone 'contributed' out there tonight." Asked if he was happy about the "win," Gibson took a drag from a cigarette and replied "I feel like a Drake song right now. One of the particularly melancholy ones."
Reached for comment after the "game" by C:TB, Byron Scott, who remains committed to speaking only in dadaist riddles, proclaimed, "You can't just put a lightbulb in the cat food, and call it a champion!"
I don't know who or where the Cavs will be playing next week. I haven't made that part up yet.