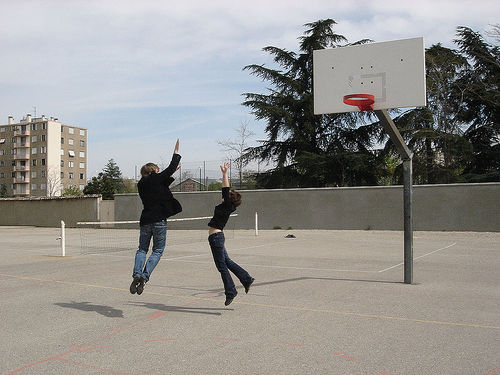 Ed note: A world without NBA basketball is a world in which Colin does not want to exist. Fortunately, he has at his disposal a strong ability to self-delude and a word processing program. Until the NBA lockout concludes and professional basketball starts happening in the corporeal realm, he will be recapping the Cavaliers games that happen in his head.
Woof. That home win against the Bucks was apparently a misnomer. But to be fair, it's very easy to defeat a team that consists of only one player. For those of you who haven't been following the story, the rest of the Milwaukee Bucks have given up on playing with Corey Maggette, who got into a physical altercation with Brandon Jennings during a training camp scrimmage because Jennings, quote: "Shot the ball. You don't trade for Corey Maggette for Corey Maggette to not take all of the shots." The Milwaukee Maggettes were subsequently crushed by the new-look Cavs on Tuesday night 211-12. After the game, Coach Scott Skiles was quoted as saying, "Why am I still coaching the team? Well, Corey's just a horrible, selfish player, and the only way I know how to express myself is through really dickish rage. I'm never happier than when I'm chewing out a player for putting himself above the team, not hustling, etc. This is gonna be the most gratifying season of my career." This explains why Maggette–despite being the only player on the active roster–spent a majority of the third quarter on the bench next to a livid Skiles while the Cavaliers sat Indian-style in a circle around midcourt and, passing The Speaking Koosh between them, discussed how each player's personal brand was doing.
Thursday night was an entirely different story, as the Cavs lost to the Magic by 15. The story of this game was the Cavaliers' inability to guard the perimeter, as Ryan Anderson went off for 35 points on 10-12 shooting from beyond the arc. Most of this was due to Antawn Jamsion's patently lethargic closeouts. At one point during the third quarter, after Anderson received a skip pass from Gilbert Arenas and rapped the first eight bars of Rick Ross's verse on "2Pac Back" before converting his eighth three-pointer of the night, Austin Carr took a moment to break down Jamison's defense: "Look how he doesn't really even jog toward Anderson as he catches the ball; he just sort of shuffles in Anderson's general direction, as if he's been drunk for three days because a vindictive spouse or girlfriend assassinated his sexual identity, and then he half-heartedly raises his right hand in a manner that makes you think 'I bet after he retires, he's going to attend the opening of a lot of public parks in innercity neighborhoods and deliver speeches about how kids need a safe place to play, and some local journalist will write sort of condescendingly about how 'articulate' and 'gracious' he and 'his beautiful wife Rucker' were at the dedication ceremony.' Antawn Jamison is both a class act and a terrible defender."
But news of the Cavs' struggles defending the perimeter are nothing new. I think Byron Scott summed up this blowout rather eloquently in his post-game press conference when, in response to a reporter's inquiry about how the Cavs could have better defended the three-point line, he replied "Turnips are a fruit!" Scott is, of course, incorrect, as turnips are a root and therefore a vegetable, but starting Center Anderson Varejao explained to the media that this is all part of the three-time NBA Champion's plan to motivate the team by speaking only in dadaist riddles throughout the season. "He's taking a wait-and-see approach with this experimental coaching technique," claims Varejao "We're all pretty excited about it." When reached for comment by Cavs: The Blog regarding his new, unconventional approach, Scott explained, "There are clams in the orange juice, but you can't take the jungle out of a Harvard man." Profound.
I don't know who or where the Cavs will be playing next week. I haven't made that part up yet.