Happy Sunday night/Monday morning Cavs fans!
I had a little bit of a busy week (translation: After September's tense negotiations, I've had a little bit of trouble playing my way into shape), but I promise by next Sunday I'll be back on schedule and come equipped with a killer entry to make up for falling behind.
In the meantime, I've prepared for you a potpourri of lockout-flavored peruseables.
First, a picture: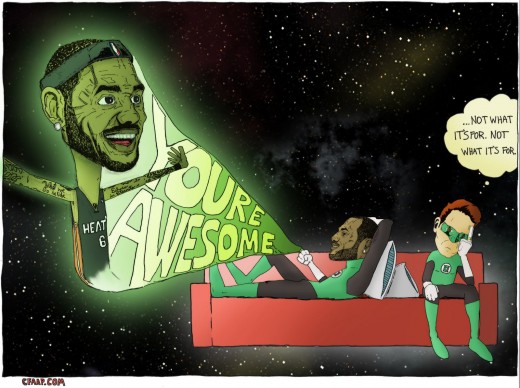 I realize it's borderline sacrilege to stray from the Cavs toward "he who shall not be named," but if it helps at all…I drew this a while ago. In fact, I drew it back when Green Lantern came out, and let me assure you, I think as much of LeBron as I did of that movie.
Okay, let's get this entry back on the Cavalier track.
LeBron "Worst Green Lantern in the history of the World" James has done us one favor of late—that being it looks like he's trying to get our rooks on the court for the second time in a week.
LBJ and his super-friends are hosting a charity game this Saturday, October 8th, and while I could have sworn it was going to be on TV (or at least streamed), I haven't been able to find a link yet, so maybe not… But it's looking like Kyrie and Tristan will be involved.
Here's a link.
The afore-referenced first game for Kyrie and Tristan took place on Saturday night in North Carolina, and while footage was tough to come by, I did manage to find this Bob Leverone shot…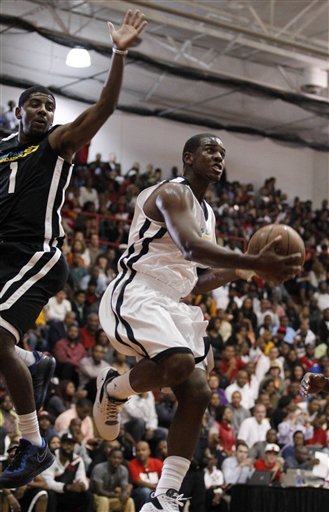 …which I think clearly demonstrates that Kyrie has a higher vertical than Chris Paul, and only that.
…
Okay, actually I found a bit more.
Here are two videos should you be interested:
Kyrie scored 21 points on 9 on 17 shooting, while Tristan added 4 points and 4 rebounds. (Inconsequential side note: Jonas Valanciunas had 44 and 30. Just kidding.)
And, just for the sake of it…
Couple thoughts on a game I didn't see and probably shouldn't be analyzing:
First off, obviously no one is playing defense. That and the "out of bounds" rule seems to be selectively enforced.
I think I like that Kyrie had the chutzpa to put up 17 shots in such a star-studded game. That's provided the LBJs and Chris Pauls of the world didn't take 40, but still…I like that Kyrie sees himself as a viable option in what I'm pretty sure is certifiably an All-Star game.
My analysis on Tristan's 4 and 4? Well, I'm just assuming he played some hellacious defense. (I think he was the only guy to call "out of bounds" when John Wall threw the ball against the backstop.)
Kyrie's clip is brief (starts at 1:47 in video 2), but you can see just the slightest glimpse of that shiftiness (on his second highlight) I think will make him really hard to deal with in a league that doesn't allow hand checking. An awfully optimistic view of a clip that lasts about half a second, but hey… Actually, I have nothing. It's an awfully optimistic view of a clip that lasts a half a second.
John Wall is insane. There's a 85% chance he explodes onto the scene this year with something like a 23, 12, and 5 line. It's easy to forget just how "above and beyond" athletic this guy is…and more than that, it's easy to forget that he was pretty solid last year while playing hobbled. In terms of the league's premier athletes—there's Dwight, there's LeBron, and then there's probably Wall. Even over Blake Griffin, I'd say, in terms of athleticism. All of that mentioned, I'm not sure he's good enough to make Washington significantly better by himself.
LBJ can still get up, even with the weight of the world on his shoulders. I sometimes wonder if he's paying attention.
I know we're all waiting for Dwayne Wade's legs to deteriorate. It's not happened yet.
I'm not buying into the whole summer-league MVP thing, but regardless, Durant is probably the one guy in the NBA who's going to have a legitimate chance to wrestle away the bulk of LeBron's prime. But to do it, he's got to get stronger. The good news is I think he wants to be better than LBJ, and I think he wants to be the guy that beats the Heat. The bad, on the other hand, is that he's one year removed from essentially failing a very potent Thunder team in the playoffs—not because he wasn't trying hard enough, but because he was unable to dictate where he caught the ball against the more physical and disciplined defenses. It happened on occasion in the regular season too, but the sample size then was too small to acknowledge the problem as a consistent reality. Durant's looking good this summer—his ball handling looks like it's improved—but more than anything, KD needs to further learn to use his body before he makes the catch. It's the most important thing missing from his game, and it's not going to be tested on the All-Star circuit. I'm pretty sure we're all hoping he figures this out, spiteful bunch that we are.
Okay, I think that's it, but before I hit the road—because I'm having quite a bit of fun with this post—how about a Kyrie high school mixtape? It'll brighten up your Monday.
Check out CFAAP.com (the website I shamelessly promote all the time and am trying to make huge), though be aware, the top picture on there at current is very NSFW. And not even sports-related.
Go Cavs! (And keep crossing your fingers that we have the opportunity to cheer them on at all this year.)
Tags: Drawings from the Notebook of Chris Grant, Kyrie Irving, lebron