Happy Sunday everyone! (And go Browns, should you be so inclined.)
We're back with the latest entry of Drawings from the Notebook of Chris Grant, and sadly, today marks our third pictorial foray into the NBA lockout ripple effect. (For those keeping track, here are the first two: Barren NBA Website & the lonely NBA ball.)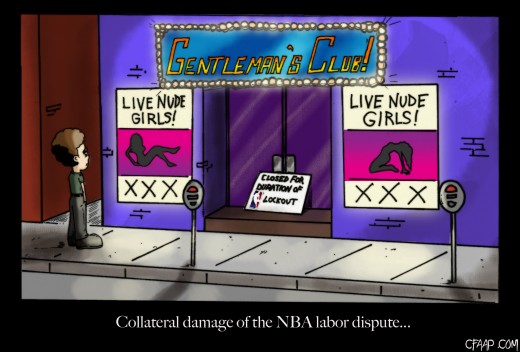 Can we put an end to this already? Kyrie needs practice and the Cavs have to get their money's worth for the one season Jonas Valanciunas is ineligible.
Is 50 games now the most likely scenario here? Even amidst the apparent reality that the NBA would be submarining itself during the upswing of a resurgence?
I honestly have no idea, but Brian Windhorst is tweeting pessimistically.
Not good for two reasons.
One—He's usually right, and two—My birthday's next week and the hottest place still open is Friendly's.
………………..
(Picture by CFAAP.com, colors by AJS.)