Manny Harris played almost 1000 minutes for the Cavs last year, following three years at the University of Michigan. After going undrafted, his skill set with the Cavs was similar to his college performance. He was an inefficient scorer, but a solid rebounder who mixed good passing skills with a propensity for turnovers. Of 78 NBA shooting guards last year, Harris was in the bottom ten for true shooting but was 12th best in rebounding rate.
His comparable NBA players over the previous 8 years are interesting. The most similar include: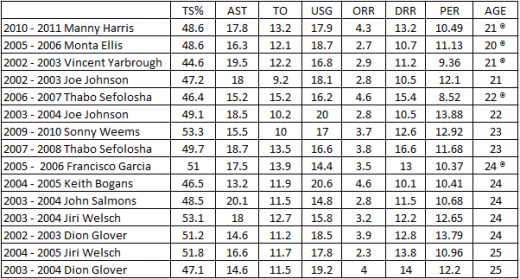 This list features a larger amount of quality players than the results for Samardo Samuels and Luke Harangody. Unfortunately Manny Harris isn't comparable to the more impressive players on the list. Monta Ellis was a rookie drafted straight out of high school. Joe Johnson was the 10th pick in the draft and is 3" taller and 40 lbs heavier than Harris. He shot 44% from three his final year of college; it took him a couple of years to reach his full pro potential. Sefolosha is one of the best defensive guards in the game.
The most encouraging take away, at least for Harris if not for the Cavs, is the number of similar guards who have managed extended NBA careers. Devin Brown doesn't show up on the list above due to his age, but he was undrafted and had a similar career offensive profile to Harris' rookie season. Brown played 9000 minutes in the NBA. Marquis Daniels was also undrafted. His three seasons from age 26 to 28 were very similar to Harris, and Daniels followed those up with a new contract. Same story for Desmond Mason at age 28 & 29; he was able to sign a $10 million contract immediately following his similar seasons. Finally, John Salmons was a late bloomer who didn't have a season with true shooting over 51 until age 27 and didn't improve on his turnovers until age 29. Four of Salmons' first six seasons featured worse turnover rates than Harris.
For Harris to earn a second NBA contract, he will need to improve. This seems like a possibility though, due to the manner in which he struggled last year. Harris made only 27% of his shots ranging 3 to 15 ft from the basket and only 38% of his total two point shots. Regression to the mean seems like it could apply here; Harris was not a good shooter at Michigan, but he did make 49% of two-point shots his junior year. Making more than one-quarter of his shots from 3 – 15 ft is certainly a reasonable improvement to expect. Harris also needs to reduce his turnovers, but this is somewhere he made significant strides every year in college. As he adjusts to the NBA's speed, perhaps he can similarly reduce his turnover rate with the Cavs.
Harris did over-perform in one aspect last year; his 37% three point shooting (eFG% = 55) was much better than expected. If he can keep this from plummeting, while hitting a few more shots from mid-range and making steps to reign in his turnovers; Harris can get a second NBA contract. This all seems possible. Maybe he can stick around for a while and have a big mid-career improvement like John Salmons. That's probably less likely.
Tags: Manny Harris