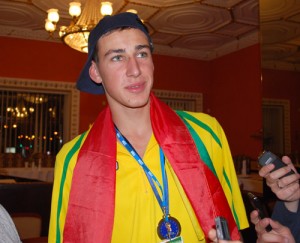 As we inch closer to the 2011 NBA Draft, the Cleveland Cavaliers appear primed to select Lithuanian center Jonas Valanciunas (pronounced YO-nas Val-an-CHOO-nis) with the fourth-overall selection, pairing him with Duke point guard Kyrie Irving.
As folks like WFNY have been attempting to inform and educate on the 19-year-old center, many have questioned the lack of information being put out by the team – no word of workouts, interviews, etc.  Johnathan Givony of Draft Express squelched all of these concerns this morning by reporting the Cavs flew Valanciunas in on Tuesday for a "secret" meeting that consisted of a workout and interview with the player exceeding expectations on both fronts.
I would like to see us trade down a slot or two and pick up an extra asset, but if Chris Grant believes in Valanciunas, taking Big V at four is just alright with me.
Update
As Kevin pointed out in the comments, the Thunder and Spurs have been trying to trade up to somewhere in the #6-#9 territory so they can draft Valanciunas. The Thunder are reportedly shopping Eric Maynor:
Is Thunder point guard Eric Maynor worth a lottery pick? Sources say the Thunder have been quietly gauging interest in Maynor during the past few days in an attempt to move up into the top half of the first round. They've spoken to the Kings (No. 7) and Bobcats (No. 9) in particular in the past few days.

Who are the Thunder after? Like a lot of teams, it seems they are in hot pursuit of Lithuanian big man Jonas Valanciunas.