The draft is this Thursday. It's been fun providing these Draft Profiles and hopefully they've spurred some good discussion of what the Cavs can do in the draft. The remainder of my top 30 are:
14. Nikola Vucevic – Very big, versatile scorer. Anchored PAC-10's best defense.
15. Tobias Harris – Quality offense and rebounding and turns 19 next month.
16. Jan Vesely – I view Vesely as an athletic finisher and energy player
17. Jordan Hamilton – Good offense will help offset disinterested defense.
18. Chris Singleton – Impressive defensive player that would benefit by developing three point range.
19. Jimmy Butler – I like what he brings to the table
20. Klay Thompson – Good shooter but limited as a play maker and defender
21. Reggie Jackson – PER, offensive rating, on-court splits really like Jackson.
22. Marshon Brooks – For some reason I think of Jamal Crawford, a scorer on average teams.
23. Josh Selby – Explosive athlete. A year ago, was considered one of the best in class of 2010.
24. Jon Leuer – Quality Stretch 4
25. Donatas Motiejunas – Disappointing Eurocup season. Lacks defensive intensity.
26. Darius Morris – Big point guard, could play similar to Andre Miller.
27. JaJuan Johnson – Good athlete and mid range shooter, could contribute on offense and defense.
28. Nikola Mirotic – Talented 20 year old European. Would be higher except for contract extension with Real Madrid.
29. Charles Jenkins – Had a great senior season in a surprisingly strong conference (3 tournament teams)
30. Norris Cole – Great pick and roll point guard who has been impressing in workouts.
Regarding my prior rankings, I wouldn't draft Fredette at #13. He is apparently looking very good in workouts, but the later parts of the draft will include Charles Jenkins, Norris Cole, Ben Hansborough and Andrew Goudelock. If a team wants to draft a scoring point guard that is a potential defensive liability; there should be better value than picking Fredette in the top 13.
The following players won't be drafted, however they deserve an "honorable mention" as players to try out in summer leagues or pre-season: Gilbert Brown and Brad Wannamaker from Pittsburg, Josh Harrellson from Kentucky, Damian Saunders from Duquense, Willie Reed from St. Louis, and Jacob Pullen from Kansas State.
Obviously with the #54 pick expectations are low, but without further ado; the players the Cavs should consider: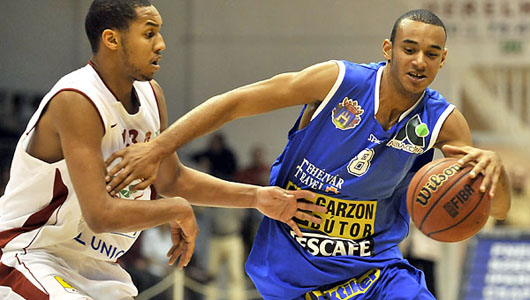 Adam Hanga – Hanga is a 22 year old, 6'7" tall shooting guard from Hungary. He is a good athlete, who last week scored 16 points in the Adidas Eurocamp all-star game. He is a quality shooter and scorer; averaging 17.6 points in the Hungarian League this year with 58% true shooting and 37% three point shooting. He is also disruptive on defense, averaging 2.8 steals per game. He recently signed a two year contract to move up to the Spanish ACB, generally regarded as the best national league in Europe. There are reasons for the Cavs to draft a player that will be in Europe for a few years. The Cavs have 13 players under contract next year. If they sign 3 or 4 players from this draft class, they will need to buy out some existing players. Also in the event of a lockout; it will be beneficial to have a young player developing in a high quality European league, rather than not playing competitive basketball.
Jereme Richmond – Richmond just finished his freshman year at Illinois. He was a McDonald's All-American and the 27th rated player in the class of 2010. He is a 6'7" small forward who is highly athletic, reflected in the fastest ¾ court sprint at the NBA combine. He had a relatively productive season with 7.6 points and 5.0 rebounds in 22 mpg and showed flashes of great defensive potential. He needs to get stronger and is an un-developed offensive player, but he is only 19 and if the Cavs wanted to buy-out Joey Graham and sign Richmond; that seems fine.
Michael Dunigan – Dunigan is a big body (6'10", 240 lbs, 7'3" wingspan) that could find a place in the NBA. He was the 24th rated senior in the class of 2008 and attended Oregon. Following a sophomore season marked by poor conditioning, when he averaged 9 points, 5 rebounds, and 1.3 blocks in 20 minutes per game, Dunigan left Oregon and went to play in Europe. In Europe, Dunigan has improved his conditioning and had a solid season playing for an Estonian team. In the elite division of the Baltic League (the12 best professional Lithuanian, Latvian, and Estonian teams), Dunigan played 22.7 minutes per game and averaged a solid 12.5 points, 8.0 rebounds, 1.9 blocks, and 1.2 steals. He was foul and turnover prone, but was named 3rd team all-Baltic league as a 21 year old rookie. He turns 22 next month.
Jon Diebler – Diebler is a 6'6" shooting guard from Ohio State. He does only one thing well, but fortunately for him he does it better than everyone else. Diebler is an outstanding shooter, leading the NCAA this year in 3-pt shooting percentage, true shooting percentage, and offensive rating. He shot 50% on threes this year, and over the last three years has made 326 of 734 from long range (44%). He has one definite NBA level skill and that could make him worth the 54 pick.
Jamine Peterson – Peterson is a 6'5" small forward with a big 6'10.5" wingspan. He turns 23 in July after having played two years at Providence and one year in the NBA D-League. His time at Providence ended due to him being dismissed for breaking team rules, but he was very solid when there. In 2009 – 2010 in 30 minutes a game, he averaged 19.6 points, 10.2 rebounds, and 1.3 steals; good for a PER of 28. Last year in 24 minutes a game in the D-League, he averaged 13.4 points and 5.9 rebounds while shooting 36% from long distance. Peterson could earn a place in the NBA as a 9th or 10th man, and that's about all that can be hoped for at #54.

Tags: Draft Profiles