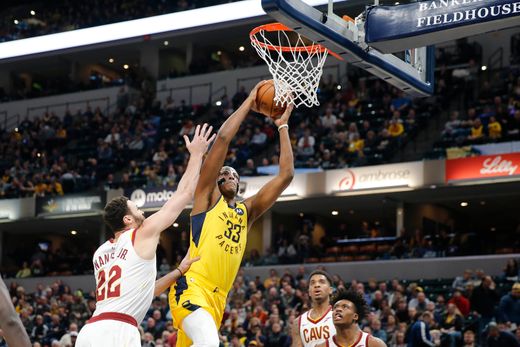 No surprises here, folks. Kevin Love was held out seeing as this was the second night of a back to back. Cedi Osman was still absent. And as you might predict, the Cleveland Cavaliers struggled to put up points against the rolling Indiana Pacers as their defense "held" the Cavs to only 90 points. I say "held" because it wasn't always particularly stellar defense that prevented Cleveland from scoring. Unfortunately, the Cavaliers just didn't have the legs to get anything going on the offensive end and I watched one too many possessions that ended with Collin Sexton or another guard driving right into the chest of Miles Turner. Spoiler alert, it didn't really turn out well. Still, there were some good things to see in this one as well. The starting lineup was a patchwork of new players, rookies, and replacement level players as Cleveland trotted out David Nwaba, Collin Sexton, Deng Adel, Larry Nance Jr., and Marquese Chriss.
The first quarter didn't start out too badly as the first points of the game for the came from a dribble drive by Sexton. The Pacers double Sexton after the screen and after stopping his forward motion and being patient, the rookie was able to shuffle it off to Nance who was open in the flats. That was followed by an almost identical drive that resulted in a pass out to an open Marquese Chriss (7 points, 3 rebounds, 2 assists, and 1 steal in 24 minutes). Unfortunately, a couple other things occurred after those good plays. First, Myles Turner hit a three and then hit another heat check as he hit his 7th straight three spanning back to their last game. Second, Sexton attempted a third straight drive that resulted in the exact same double team on the rookie. Unfortunately, Sexton, who finished the night with 16 points, 5 rebounds, 4 assists, and 4 turnovers, didn't see any of his options and decided his only one was to dribble right into Turners chest and get the first of those turnovers. Watch one of the good drives by Collin below.
A couple of early dimes for @CollinSexton02.#BeTheFight on @FOXSportsOH pic.twitter.com/Cy1Db4evV8

— Cleveland Cavaliers (@cavs) February 10, 2019
From there, things didn't get any better. The Cavs missed plenty of open shots while not being able to put off a barrage of threes and action from Myles Turner who scored 12 first quarter points on 5-7 shots. His inside and outside action was just too much for Cleveland on this night. One of the few positives from this game came at just over a minute to go in the first quarter when Brandon Knight checked in for the first time as a Cavalier. He would finish the night with 9 points on a perfect 3-3 from distance in 12 minutes of action. Not bad for a guy that's struggled to see the court for the past two seasons. Still, Cleveland finished the quarter down 30-17 and that is about all you need to know going forward as Cleveland just couldn't edge their way past the Pacers, playing them almost even for the remaining three quarters.
The second quarter started out with Knight's first made three and a turnover by Domantas Sabonis. Their next score was also courtesy of a Brandon Knight launch from distance that may have been a travel but who can tell anymore? Check out the clip below. Clarkson and Sexton contributed a couple of threes in the quarter as well. Unfortunately, a three minute drought in scoring from the 4:00 minute mark all the way to the 1:00 minute mark made it clear that these Cavaliers just didn't have enough steam to get it done tonight. Several misses and a blocked shot later and things were about over for the half. Fortunately, not before one of my favorite pairings on the roster managed to put in five points. First, Nance assisted Delly on a three and the Australian was so grateful he served up an alley-oop for Nance with just a second left in the half. These two are a pleasure to watch on the court. The half ended with the Cavs down 54-42.
He's 2-2 from deep in his Wine & Gold debut! #BeTheFight pic.twitter.com/zj0noi4oUJ

— Cleveland Cavaliers (@cavs) February 10, 2019
The third quarter was pretty close to even again. Unfortunately, "even" doesn't translate to "good" as Cleveland could only get up 18 points in the frame and took the first two minutes before even getting a basket. David Nwaba (5 points, 1 assist, 1 turnover) ended the misery with a drive. A minute later Sexton got a dunk on this fast break.
.@CollinSexton02 is v fast. #BeTheFight pic.twitter.com/qxqlZuH24g

— Cleveland Cavaliers (@cavs) February 10, 2019
From that point on the Cavaliers only scored in about one to two minute intervals. At least the last two minute scoring interval came from Larry Nance Jr. who got one three from a Delly assist with just under a minute and a half, then got another three, this one even deeper from a Jordan Clarkson assist. The forward/center would finish the night with a double-double scoring 16 points and pulling down 10 rebounds a couple assists, a couple blocks, and a steal while going 3-5 from distance. Not a bad night for the big guy. The quarter ended 74-60.
The fourth quarter didn't change the result of the game, but it at least featured some scoring as the Pacers loosened the reigns a bit and the Cavs started to actually hit some shots. Most of their damage was done from distance in the quarter as they went 8-11 from downtown. Those contributing to the three point barrage were Knight (his third for the evening) and Clarkson, who struggled from distance going 2-7 from three and finishing the night with 18 points but also 6 assists. Yeah, you read that right, Jordan "ye of no passes" Clarkson had 6 assists to only 2 turnovers. In addition to Knight and Clarkson, Nance, Sexton, and even the ultra-rare Channing Frye chipped in a few of their own long-range bombs. Channing had a couple as he showed he still has that smooth stroke and veteran confidence even if he does only see the court in garbage time. The score ended at the final mark of 105-90.
Some Notes:
1) It was good to see Brandon Knight get in and contribute immediately. His 3-3 from beyond the arc is encouraging to see as one of the things this team has lacked so far is effective long range shooting. He's a career 35% shooter from three so hopefully he can at least maintain and hopefully improve that number. He's going to need to take some time to round back into form before Cleveland can see if he's really got anything left after his knee injury, but that's okay. Cleveland has nothing but time on that front.
2) Sexton's games are not always turning out like his back to back pair of 25+ point outings but there are more frequently occurring encouraging signs as he works his way through the second half of the season. One of those signs is his increased patience in the paint. He's more frequently surveying his options once he gets in the paint rather than just putting up an ill-advised shot. Yes, he's still turning it over more than he should and he still loves his mid-range shots, but he also is still shooting well from outside. He went 3-3 in this one and is right at 40% on the season. I'll take it given the condition of this coaching staff.
3) The real issue with this team is that they are still being forced to start guys like Chriss and Deng Adel who went 1-7 from the floor and was pretty useless overall. Once Love is playing regular minutes and Osman returns to the court, there should be a few more fun games to watch this season. Fingers crossed everyone gets and stays healthy from here out.
Not much to surprise anyone in this one. It was the second night of a back to back against a tough team who loves to get out and run. The Cavs just didn't have enough in their legs to really get anything going and make a significant push against the Pacers. It led to a low-scoring affair for the Clevelanders. The next one should be much more competitive as they march out against the New York Knicks (who are actively tanking) on the 11th. As always, Go Cavs!