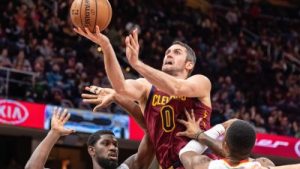 The Wizards ended their three game losing streak behind the efforts of former Chicago Bull Bobby Portis. Portis came off the bench in the first and started the game going 6-6 from the floor for 16 points. After just one quarter, the Wizards led 41-27. Bobby led the Wizards in scoring for the evening with 30 on 12-18 shooting. He was 4-6 from deep. His heroics continued in the final frame, as he scored ten points and hit seven straight points to keep the Cavs at bay when they got within four early on. He made a mark and showed that he was well worth trading for in his first game for the Wizards.
This game started out evenly for the most part though. Kevin Love returned to action for the Cavs after missing fifty games and his presence made an immediate difference. He did work in the post drawing double teams, with Collin Sexton feeding him consistently. He even got fouled on his very first shot. He went 1-5 from the field for four points and missed all three of his deep ball attempts, but he attempted to take a charge from Bradley Beal and had one assist for a David Nwaba 3-ball.
He looked spry and the Cavalier offense looked more fluid having him on the floor. It's amazing how much having a guy that demands a double team can do. Unfortunately though, Love played just over six minutes, due to conditioning and general health concerns. When he checked out in the first, the Cavs trailed by just two.
Collin Sexton led the Cavs in scoring in the first with ten points and finished the night with a team high 27 on 10-18 shooting to go with four 3s, three boards, and four assists.  He showed some poise turning the ball over just two times even though the Wizards trapped him at different spots throughout the night.
Despite entering the second quarter down by 14, Cleveland stayed strong and played the Wizards evenly in a 25-25 effort.
The Cavs shot just 37.5% from the floor this game; and, at times, they couldn't hit a basket no matter how close they were to the rack.  Jordan Clarkson didn't let this deter him at all. He put up 24 points on 6-18 shooting for the game and went 10-11 from the line. He had eight points from the line in the second on his way to 12. He was relentless attacking and getting into the paint with a variety of herky jerky, "oh no, this isn't pick up basketball" shots in the second. Look at this video game style smash the hop step button to get to the rack layup.
Sexton helped the Cavs end the second strong with a nice contact laden floater.
The Cavs started the third quarter in a scary manner. They let the Wizards make three straight 3-balls to go up 75-57. Bradley Beal hit two of the three 3s. Beal had ten points in the third and finished the game with 25 points (9-20) and 13 assists. Cleveland rallied though. Larry Nance responded with a deep ball to spark a 18-3 run to bring the Cavs within five after David Nwaba snagged an offensive board and kicked it out him.
Nance scored seven of his ten points in the quarter. He finished the evening with 19 boards, six assists, and three steals. He went just 3-15 from the floor. David Nwaba went 6-11 tonight for seventeen points. He also grabbed eight boards. He cut like a seasoned big man around the rim all night and was easily the most effective defender this game.
During the Cavs run to get back, the Wizards kept jacking 3s, turned the ball over and had terrible luck around the rim. The Cavs worked for good shots. Sexton had two assists including this beautiful pick and roll with Ante Zizic where he penetrated deep and kept his dribble alive despite three Wizards shadowing him. Nance assisted on three 3s. One was off a drive, another on a soft screen and pass back, and another was just a slick pass in transition.
The Wizards bounced back though and extended their lead to twelve before the Cavs came came back again and Sexton had a great "I'm crazy fast" layup off a long tip out to bring the game within three points with 32.3 left.
Ariza followed up with a 3-pointer though, so the Cavs entered the fourth down 92-86.
The Cavs got within four in the final frame, but Jabari Parker had a tremendous split the double team dunk to push the lead to six with 10:01 left. Portis then ensured the Cavs couldn't get back in the game as he scored pretty much at will. Cleveland went just 6-21 in the final frame.
Gripes
1. It's hard to win in the NBA when you shoot just 36.5% from the floor and let your opponent shoot 50%, even if you match the opponent with 12 3s. It's also hard to win when you turn the ball over 14 times for sixteen points and allow the other team to get 20 fast break points compared to your ten. It's also hard to win when a guy goes off against your squad for 16 in a quarter.
2. But, unfortunately, this is going to be the norm for this Cavs team. This group simply doesn't have a ton of talent right now. They lack players that can finish shots or kill runs with stops. The Cavs were taking the right shots. They seem to have exorcised the mid-range demon; however, they went 22-47 at the rack.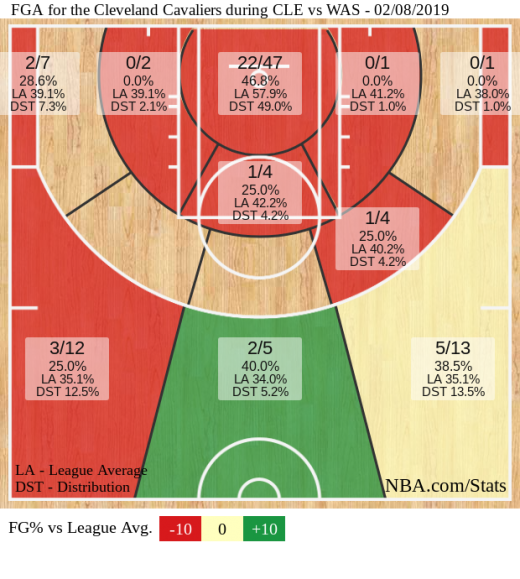 3. Obviously, the Cavs should have run Bradley Beal and Bobby Portis off the line a little bit better. Those two carried the Wizards at times. Other Wizards scored more than you would have liked, but Larry Drew should have at least challenged guys like Jeff Green and Trevor Ariza to get twenty points a piece instead of 14 and 15 points respectively. Drew needs to make the players who aren't hot win the game.
4. The announcers tonight seemed to enjoy Deng Adel's five point, two block performance. He had some nice highlight stops, but he gambles and isn't as solid as he should be defensively. He fixes his own defensive miscues rather than preventing them. It's a coincidence that he led the Cavs in plus-minus at -1.
5. The announcers also liked the newly acquired Marquese Chriss. I'm ambivalent towards him so far. He was 5-10 for 13 points. He hit three 3s and had 8 boards. He can hit shots within the offense when he's set up, which is nice. He's not creating anything though. He turned the ball over three times. And, defensively, he's a joke. This man opens his hips up as soon as his man makes a move.  He doesn't follow his man off the ball either. He's very thin for a big man in the NBA that isn't super athletic.
6. Matthew Dellavedova had an off night. He went 0-7 from the floor and had five assists.
Hypes
1.  Kevin Love can still play basketball. He can still demand a double team. The Cavs should become more watchable as he plays more.
2. Sexton is learning how to finish through contact now. I showed the play above where he actually sought out contact and floated a shot over the defense. He's taking 3s now instead of long 2s. He's using his speed finally too. His "grab the ball and beat every guy down the floor after a miss" layup might just be his signature move. He's lightning quick. He's learning, which is all a Cavs fan can ask for.
3.Jordan Clarkson got to the line tonight. He went 10-11 and helped make the game watchable. He might just have the most ridiculous style of play in the league. It's rare to see an NBA player Nash the ball multiple times before finally bringing the ball all the way out to gather speed before driving in for a bizarre off-hand layup. He's getting paid to play pick up ball. We're watching him play pick up ball. So, he's a big winner.
4. Nance couldn't get a bucket tonight. He had trouble just finishing at times, but he stayed active and grabbed a career high 19 boards. He had six really important assists. His four dishes for 3-balls in the third fueled the Cavs comeback to make the game not a total waste to watch.
5.  The Cavs brought the game back after being down by nearly 20.  That's impressive.
6. Cleveland plays in Indy tomorrow night. They probably won't get a win, but they could be entertaining and it will be nice to watch Sexton and Nance continue to develop.