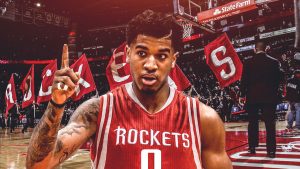 The Cavs are in the District of Columbia tonight to take on the Wizards for their first game since the trade deadline. Cleveland currently leads the season series 2-1. A win tonight would make the Cavs 12-43. Or, the team that has 25% of their wins against the Wizards.
I'm ninety percent sure that the Wizards are the only team the Cavs even have a chance to win a year long series with this season, so this game should be a quasi Finals for the Wine & Gold.
That being said, it's not going to be easy. The Cavs parted ways with two starters in Rodney Hood and Alec Burks this week. The team will most likely be starting Collin Sexton, Deng Adel, Ante Zizic, Jordan Clarkson, and David Nwaba. This lineup could be the least known one a team starts this season. The team is still without Tristan Thompson and Cedi Osman; however, Kevin Love is a game time decision. Let's hope for the best. Either way, this team is headed to the top of the lottery. * UPDATE Kevin Love and Larry Nance  Jr. will be starting tonight. Jordan Clakrson and Ante Zizic will come off the bench. *
Three Things to Watch
Brandon Knight and Marquese Chriss will most likely make their debuts tonight as part of the bench crew for Cleveland. Many will remember Knight as the player who was supposed to be as good as Kyrie Irving at one point in his career. They used to go at each other. Knight's career hasn't panned out though and he has never gained traction becoming a solid rotation player. Maybe Cleveland will be where he thrives. He has shot as high as 40% from deep in a season, and could be a decent floor spacer for a bench unit. Hopefully, he can help open up the lane for a bench that often works with little to no driving lanes and relies on Jordan Clarkson to score all the buckets.
Chriss played his rookie season for Phoenix and was in all 82 games. He put up 9.2 points and 4.2 boards a night. He's pretty much a grab the ball while in motion and score in transition or roll to the rim for points guy. He averaged a block per game during his sophomore season. So, he may be a bit of a shot blocker. If anyone can get this guy lob passes on the roll and out on the break, it would be Matthew Dellavedova who just plays basketball the smart way. Chriss should get some run tonight especially if Love is out still. He's on a cost controlled contract too, so if he's actually good the Cavs can keep him quite simply.
This game is winnable, but the Cavs need to focus on making secondary guys beat them. David Nwaba can slow down Bradley Beal enough to make this a valid game plan. Larry Nance will need to win the bench big man battle against Washington new comer Jabari Parker. Parker won't be playing defense because he's not paid to do so, so Nance needs to make sure he's trying to get his at every turn.
I'm picking the Cavs to win tonight, 112-106. It's their Finals. Larry Drew knows this.