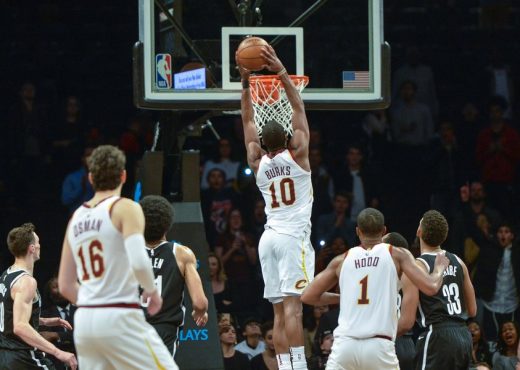 What a 24 hours. The Cavs move Alec Burks, Harrison Barnes goes to Sacramento, Stanley Johnson and Thon Maker trade places, Tyler Johnson Goes to Phoenix, Herculoid Wayne Ellington will probably get bought out, LeBron James shows a complete and total lack of self-awareness, and KD makes that seem completely irrelevant by giving one of the more bizarre media availability sessions in recent memory… whew! And that wasn't even on deadline day!
It's been a wild few days to be sure. I've got a few random thoughts percolating in the attic of my mind that I need to clean out, so I'll be tackling stuff in a stream of consciousness manner. First off, the Alec Burks deal. As we predicted when the Kyle Korver trade happened, the Cavs were able to turn Alec Burks' expiring into a first rounder. They also picked up Brandon Knight who hasn't played meaningful basketball in two years after an injury following the 15-16 season when his rookie extension kicked in and he fell off a cliff. The Cavs also grabbed Marquese Chriss who's never played meaningful basketball and is posting a -2.8 oRPM despite playing in wide open offenses in Phoenix and Houston. Still, he's only 21 and worth trying to develop for another year. Their presence necessitated the departure of Nik Stauskus and Wade Baldwin, ruining EG's preperation of Sauce Castillo pics for live threads. The Cavs needed to move those guys to get just under the luxury tax curtain.
The problem for the Cavs now, is their glut of big men: Thompson, Love, Nance, Zizic, Henson, Chriss, and Frye. That's a lot of money and minutes for a team short on wings and guards. Still, I like the returns. The trade is puzzling for the Kings and Rockets. Shumpert was popular in the arena and city for Sacramento, and Burks offers a very similar skill set (though is admittedly a better distributor). While Houston could have used another ball handling guard for the inevitable Chris Paul playoff injury. But whatever. The Cavs got a lottery protected first round pick. I'll miss you, AB. You hit game winners in 18% of the Cavs wins this year. Hope to see you again in a Cavs uni next fall.
I'd say, "nice job, Koby," except I'm a little annoyed at all the back patting over the Cavs rebuilding their "war chest." The move of flipping Burks for a first was obvious as long as Dan Gilbert was willing to spend the money. If I can figure it out months ago, any competent GM should. Taking good trade offers from other teams is baseline level performance for an NBA team. Yes, getting two seconds and Burks for Korver was a good move, but gutting the roster to acquire draft picks is the easy part. Turning those picks into winning NBA players is another game entirely – one Dan and Koby have shown little ability to execute.
And for as much as we're happy that the Cavs have some draft picks, let's never forget – in light of the ridiculous trade haul for which that the Pelicans are ransoming Anthony Davis – that the Cavs basically turned Kyrie Irving into Larry Nance and a bunch of mediocre to minimally valuable draft picks. As more than one tweeter noted, the Cavs should've stood their ground and waited for better offers.
Speaking of the Pelicans, this is the quote of the year in the NBA and there's no close second.
So I asked @WindhorstESPN if the Pels ever intended to seriously engage with LA on Anthony Davis, or if all the talks & leaks were instead designed to sabotage the young Lakers as revenge for what N.O. sees as tampering, & he said "it's not just possible, it's what happened." 👀 pic.twitter.com/wki2hDPaEs

— Rachel Nichols (@Rachel__Nichols) February 7, 2019
I have to think the strength and desire to salt the earth around L.A. has garnered the Pelicans some respect around the NBA. It's quite clear that Rich Paul lost this power play, has alienated LeBron's team, and embarrassed himself and the Lakers. It's hard to see how they recover from this, and the hilarious thing is that they're still waiting for the Pelicans to call them back. Where do the Lakers pivot from here? It's hard to say, but it seems increasingly likely that they have to pivot before the trade deadline. Expect Vucevik and/or Bradley Beal to be targets.
Speaking of LA-LA-Land, the Clippers trade of Boban and Tobias Harris to the Sixers double screws the Celtics. The Clippers pick they owe the Cs is lottery protected, and it looks like the tank job is probably in for Los Angeles. Meanwhile the Kings pick is top one protected, and with the Clips dropping out, it makes the Kings more likely to make the 'offs.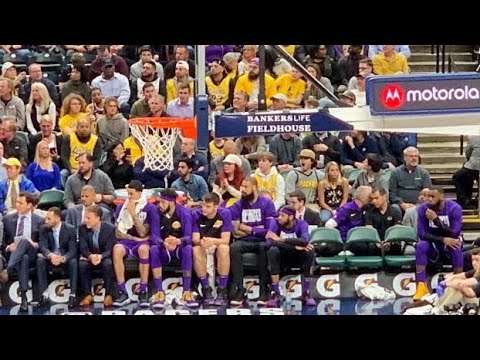 The Lakers likely have a shot at the bought out Wayne Ellington, but I find their odds long for Trevor Ariza. Magic and Rob had a plan: play the young guys and build value, save salary space for summer 2019, and make their big splash then. Their roster isn't even designed to be able to make trades this deadline. Their biggest contract (besides LeBron's) is KCP's $12 million, and he has a trade veto as a player with Bird rights on a one year deal. He's not going anywhere. They have to aggregate like six salaries to trade for an Anthony Davis level player, which is why the deals you've seen have been so nuts. By kowtowing to James, they've destroyed their locker room, made themselves look like a very bizarre 2019 destination, and destroyed the value of their own (seemingly mentally fragile) players.
WWDDD? What would Dale Demps Do? He'd probably trade LeBron, and the Lakers if they're thinking long term, should consider it. You know that as much as he'd be annoyed, Pat Riley would absolutely take back a pissed off LeBron with something to prove, and he'd give up solid young players to do it. What about Milwaukee or San Antonio? They'd certainly give up a bevy of young talent. It's never going to happen, but it would be quite the comeuppance for the King. You'd probably never see another Klutch klient in a Lakers uni though.
Want another crazy idea? The Cavs should consider trading their first round pick. Just auction it off to the highest bidder? Why? Because it's more valuable now than it probably will be after the lottery. The Cavs have an 86% chance of not getting Zion Williamson and a 47% chance of picking worse than fourth right now. Would the Wizards move Bradley Beal for Tristan Thompson, the Cavs' unprotected pick, a future No. 1, and J.R. Smith? With future firsts coming, that has to be intriguing. Beal has two more years after this one and has been averaging like 27-6-6 since Wall went out. Taking the sure thing over a 14% chance at a super star should be a discussion.
Thankfully for me, it won't happen. I mean I just did the lottery simulator over on tankathon.com, and the Cavs won two out of my first three tries. Never mind I said anything. This means they're getting Zion.
…Man. Sports are weird. Grown men (and I use that term loosely) are simulating whether a future freak athlete millionaire gets to play basketball for their favorite cities. Meanwhile, the talk of what is happening off the floor and how rosters are constructed has come to define NBA fandom for many. The actual games have become of secondary importance to the daily melodrama. This is part of the reason NBA game ratings are flagging. I mean I get it. The first half of the season is mostly meaningless. But yeah. The NBA's lack of parity is really starting to hurt the actual product. But as Tony Kornheiser notes, LeBron keeps Adam Silver in his front shirt pocket, so don't expect the commish to actually do anything about it.
As for LeBron, well, this is IMO his worst week since the Decision. I mean yeah, there was the year he was standing in the corner in the NBA finals, but I mean he was in the NBA finals!
LeBron talking about trading one of his teammates vs talking about someone on another team getting traded haha pic.twitter.com/LnWDSa9wgr

— SportsNom (@SportsNom) February 7, 2019
I mean the tone deafness there is staggering. And let's not discount the effect that the oldest millenial, our current POTUS is having on the discourse in this country. The exclamation points. The all caps. It's funny that for as much as many pro athletes bemoan the president, they sure do textually emote like him. As I tweeted yesterday, the similarities between the POTUS and the nominal GOATUS are becoming hard to miss. And it's not just the social media grandstanding. The narcissism, the selfishness, the inability to look at ones self objectively, and the inability to shrug off a perceived slight or worse – a piece of news or opinion that hits too close to the mark – have become (or always were) a staples of political, sports, and entertainment monologues and dialogues. Those weaknesses leave folks standing at the mountaintop screaming at the world… or shouting at Ethan Sherwood Strauss and then dropping politely replacing the mic as KD did last night.
Last 10 seconds is a top moment of the season no matter what happens from this point forwardpic.twitter.com/b0auBN6Z2S

— Rob Perez (@WorldWideWob) February 7, 2019
Maybe it's because so many have no interior lives any more. Everything is out on social media to see, or because folks can't delineate between what they should say in private and what they should put out to the world? And I'm not necessarily blaming the athletes. I mean when we look at LeBron, KD, or the Prez it's clear the media makes it very difficult for them to have private lives as their innermost secrets are leaked to the press.
As my friend Dave once said, the media would follow these guys to the bathroom if they could. Still, it's hard to feel that bad for folks that profit off the money they make from the following while simultaneously bemoaning the monster they've created. Maybe they have to be like Robert Zimmerman: invent Bob Dylan, a media persona to show to the world, while the real person is mysterious and fleeting (and probably a bit of an a-hole)…
As for the trade deadline, the Cavs will look to move JR but unless they get a good pick or a young player back, I doubt you'll see it. Remember, (as it's been described to me) JR has a special contract that can be traded after the season but before the 2019-2020 calendar year flips in July and then waived at his 2019-2020 guarantee number ($3.9 million). This makes it unlikely for a guy like Pau Gasol (who has a 6.7 million guarantee next year) the numbers are just too close, and the Cavs don't want to add salary beyond next year, which rules out the Dion Waiters and Nic Batums of the world. It would take a lot to get those guys off the books for their respective squads.
Another problem is most of the guys teams want off their books make north of what the Cavs can aggregate in trades without going over the luxury tax. I'd love to add a guy like Dino Gallinari, but the trade only works if you include Zizic, Frye, and JR. The Cavs aren't going to eat the rest of that salary. My bet is that JR is still a Cav by day's end.
Well, stick around to riff on the day's deals and marvel at the madness that is the NBA. It should be good popcorn fare. Maybe the games will even be good tonight.