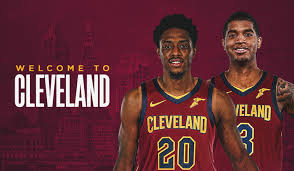 While the Cleveland Cavaliers didn't actually make a trade on deadline day, they were extremely active in the days prior, dealing starters Rodney Hood and Alec Burks to the Portland Trailblazers and Sacramento Kings, respectively. When all was said an done, their spots on the roster were filled by Brandon Knight and Marquese Chriss, but as is always the case when it comes to trades in the NBA, there is so much more two it than that.
On Sunday, Rodney Hood was traded to the Portland Trailblazers for Nik Stauskas, Wade Baldwin IV, and two second-round picks. The Blazers were looking for an affordable scorer to help prop up their offense when Damian Lillard and C.J. McCollum were both on the bench, and  Hood's relatively low salary of $3.47 million combined with his 12.2 points per game and 36% shooting from deep apparently fit the bill. While one could argue whether or not Hood will really help the Blazers all that much, he is a legitimate NBA player on an affordable contract. There aren't too many players as good as Hood who are making that little money. Of course, part of the reason for that is that Hood hasn't consistently shown that he deserves much more money. He's a player who often seems to disappear on the floor and misses more than his fair share of games each season.
For the Cavaliers, this was all about the pair of second-round picks they acquired. While second-round picks in 2021 and 2023 don't sound like much now, they could be highly useful in the future. There's no guarantee that the Blazers will still be a quality team by that time, and if they are rebuilding themselves, then the Cavs have a pair of high second round picks that they didn't have before. For some cash strapped teams, a high second is more valuable than a low first-round pick because there aren't the same guarantees in terms of years and salary in a contract. If nothing else, the second round picks are assets that enhance the Cavaliers' flexibility and ability to make future deals.
There really isn't much to say about Nik Stauskas and Wade Baldwin IV, the players who cam back from Portland, mostly because they never played for the Cavaliers, and were traded to the Rockets as part of the Burks deal a few days later. Stauskas and Baldwin are barely NBA players. Stauskas an only shoot stand still threes and Baldwin has only shown any potential on the defensive side of the ball. Obviously weren't part of the plan, as they were moved so quickly. Considering both players were then traded to the Indiana Pacers and subsequently waived, maybe they aren't NBA players at this point anyways.
Speaking of the trade with the Houston Rockets (and Sacramento Kings), Alec Burks is a solid player who seemed like a good guy who always conducted himself as a professional, but given his impending free agency and where the Cavaliers are in their rebuild, this was a no-brainer. When a non-star like Burks is about to become an unrestricted free agent for a non-glamour market that isn't going to be a playoff team, trading that player for assets is the right move more often than not. Burks had only been with the Cavs for a few months, so it's not like he had real roots in Cleveland that would make it hard for him to leave. If the Cavaliers, want him back, they can always try to re-sign him as a free agent. Instead they did right by Burks in sending him to an exciting Kings team that is trying to make the playoffs for the first time since the Taft administration. Hopefully, they do. Their fans certainly deserve it.
The first-round pick from the Rockets is lottery protected, but that likely won't be an issue. The Rockets currently sit in fifth place in the Western Conference, and are four games up on the ninth place Kings, and five games up on the tenth place Lakers. Obviously this could change, but currently, the first round pick they sent the Cavaliers would be the 21st pick in the draft. While not a lock to be a good player by any means, there are still plenty of good players selected in this area. The last five players taken with the 21st pick in the draft are Grayson Allen, Terrance Ferguson, DeAndre' Bembry, Justin Anderson, and Mitch McGary. While McGary is out of the league, and Anderson, Allen, and Bembry have only shown flashes thus far, Ferguson has done a nice job of filling in for the injured Roberson this season. More to the point, there are several solid players selected after the 21st pick each season. The Cavs have a solid chance to find someone who can be developed into a rotation piece at this point in the draft.
As Nate touched on yesterday, it was a bit odd to see the Rockets prefer Shumpert to Burks. While Shumpert has been the better one-on-one defender for much of his career, Burks has been the better scorer and passer. Still, the Rockets need defense on the wing more than anything else, and Shump has shot it well from deep this year. They've also been interested in Shumpert for some time, and the Cavs nearly traded him to the Rockets before last season. Either way, it's nice to see both former Cavaliers wind up in good situations.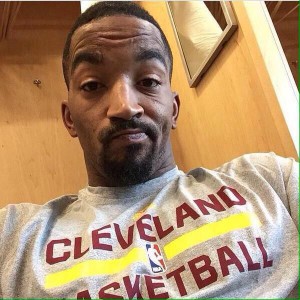 Finally, it's not surprising that the Cavaliers were unable to find a taker for JR Smith. While Smith's contract has some value, most of the large expiring contracts that were moved were those of players who can still help a team on the court. After struggling tremendously the past two seasons and not playing a game since November, there's a pretty good chance that JR has played his last NBA game. Even if he hasn't, teams are understandably concerned with bringing him into their locker room. Still, JR remaining with the Cavaliers may actually be in the best interests of the franchise from a financial perspective. As things currently stand, the Cavaliers projected payroll puts them into the luxury tax next season. Much of that is due to the extensions for Kevin Love and Larry Nance Jr. kicking in, but they will also be adding the rookie contracts for their first-round picks, as well as (hopefully) a new contract for David Nwaba. For a team that is likely to be in the lottery once again, paying the luxury tax in unacceptable. The Cavaliers also need to stay out of the tax next season to rid themselves of the repeater tax penalties brought on during the massive spending of their Finals runs. Letting Marquese Chriss and Channing Frye go won't be enough to keep them under, but waiving Smith and only paying him the guaranteed $3.87 million of the $15.68 million due to him next season should be enough to keep the Cavaliers under the tax. This isn't about saving Dan Gilbert money. Staying out of the luxury tax for a while will allow the Cavaliers much more flexibility to make more moves to help rebuild the team.
The loss of Hood and Burks certainly throws the Cavaliers rotation into flux. They're down two swingman, and among players with fully NBA contracts, only Cedi Osman and Nwaba can really play small forward. Assuming they want to limit the days for two-way players Deng Adel and Jaron Blossomgame, a fully healthy Cavaliers rotation will likely be much different than what we have seen so far this season. A starting lineup of Collin Sexton, Jordan Clarkson, Osman, Love, and Tristan Thompson with a second unit of Matthew Dellavedova, Knight, Nwaba, Nance, and Ante Zizic may make the most sense, although Clarkson has played much better alongside Dellavdova than he has with Sexton. Does Knight join the starting lineup after hardly playing this year? It seems unlikely, but anything is possible.
Whatever happens next for the Cleveland Cavaliers, this week they took some important steps that will hopefully set them on the path back to being a competitive playoff team. While there will likely be a lot of bumps in the road, some detours, and maybe a few dead ends, you have to start somewhere, and the Cavaliers have done that.