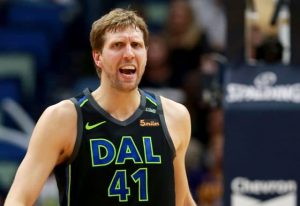 The Dallas Mavericks come to Cleveland to take on the Cavaliers tonight at Quicken Loans Arena. This will be a night of firsts and lasts for Cavalier fans as they get their first up close look at rookie sensation Luka Doncic, while Mavs legend and future Hall of Famer Dirk Nowitzki plays his final game at the Q.
After a hot start, the Mavericks have fallen off, and currently sit at 23-28 on the season. Still, there's plenty of reason to be excited in Dallas. Doncic looks like a star in the making, if he's not one already. New acquisition Kristaps Porzingis should be the perfect running mate for Doncic once he's healthy. The Mavs also still have Rick Carlisle as head coach and Donnie Nelson as general manager. They have the right combination of star talent and organizational structure to soon become one of the top teams in the NBA, as they were from 2001 to 2016.
Meanwhile the Cavaliers have begun their own rebuild in search of talents like Doncic and Porzingis. While they are just 11-41 on the season, there is a bit of momentum as the trade deadline approaches in Cleveland. The Cavaliers have won their last two games, and Kevin Love, David Nwaba, and Tristan Thompson should all return in the next week or so. While some will complain that the Cavaliers may hurt their lottery odds by winning a few meaningless games at the end of the season, no fan should feel ashamed to want to see their team healthy and not losing at a historic rate. Considering the new lottery odds, fretting about the first overall pick may be a fruitless endeavor anyways.
Make sure to tune in tonight at 7:30 to say goodbye to one of the true legends of the game, and be sure to share your thoughts here at Cavs: The Blog!