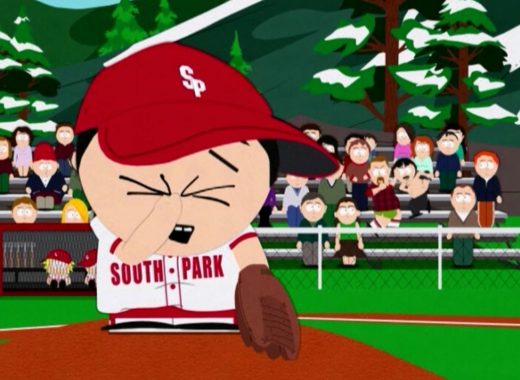 Tank Battle Mark IV, Cavs fans. While the Cavs are 0-3 against the Bulls this season, they are only two games ahead of (behind?) the Bulls in the loss column at 9-41 versus 11-38. Amazingly, the Cavs make up a whopping 27% of the Bulls' win total this year. There's a lot on the line here. While the odds for the top four picks are essentially even for the bottom four teams when it comes to lottery balls, the NBA's worst team can pick no worse than fifth while its second worst team can pick no worse than sixth.
With both teams desperate for a loss, this is much like my favorite South Park Episode, the Losing edge, where every team in the state baseball tournament is trying to lose, and somehow, the boys from South Park keep winning.
When they win their final game, they are at first overjoyed, believing the season is over and they have the rest of the summer to enjoy – only until they discover, to their horror, that since they finished first in their division, they will have to continue playing in the post-season playoffs. During a 'celebration' meal, the team discusses plans to lose on purpose while making it look like they are trying.

However, South Park realize that the other teams also want out, and have actually trained to lose games. The South Park Cows end up winning again and again against opponents whose efforts at throwing games are more successful, and they eventually get to the state championship game. To their horror, they realize that if they win, their season will start again on the national circuit, meaning they will have to play baseball for the whole summer.
While the Cavs went out and drafted a guy who's absolutely amazing at losing, in Collin Sexton, the Bulls went out and signed two free agents that are no slouches when it comes to bleeding points in Zach Lavine and Jabari Parker. These two have led the bulls to losing 12 of their last 13 and seven in a row at home. Who will be worse, Cavs fans, and keep a lock on that coveted no. 30 spot?
The Cavs have cannily dumped the surprisingly competent seeming Cameron Payne and have signed Kobi Simmons, one of the worst, most frenetic, and skinniest NBA players I've ever watched. Expect him to play heavy minutes in this attempt to keep ahead of Chicago in the column.
In injury news, Kevin Love has returned to practice activities, but not games, while Tristan Thompson is out for another couple weeks. Jordan Clarkson is a game time call with an illness (I'm thinking we're going to see lots of Kobi). For the Bulls they look to start Lopez, Seldon, Markennan, LaVine, and Dunn. Wendell Carter is out for an extended period with thumb surgery, but otherwise the Bulls seem at full health.
Can they do it? Can the Cavs go 0-4 against the Association's second crappiest team? I'm hoping this one ends like my favorite South Park episode, but instead of Stan's Dad drunkenly coming out of the stands to get the team disqualified and preserve the boys' summer, it's Dan Gilbert stumbling into a fight with Jerry Reinsdorf that disqualifies the Cavs and forces both to give up control of their teams. Hey. I can dream, Can't I?