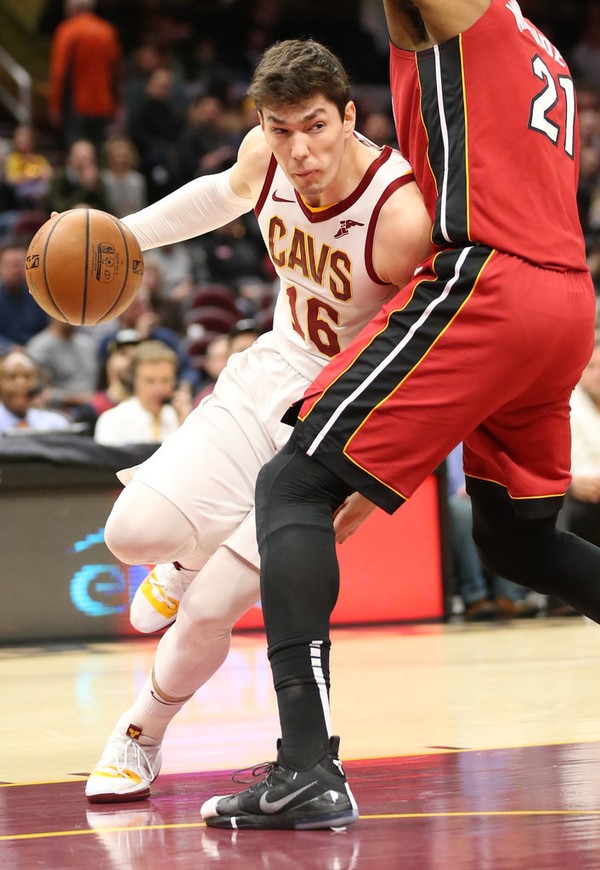 I was not so foolish this time around. You see, I wanted to have hope that the Cavs would pull of a victory in this third match-up against the Miami Heat. The first two games I expected them to actually win. I've learned. Apparently Cleveland can't score more than 94 points against Miami. And in an age where teams are regularly and more commonly putting up 120+ points, 94 is just not going to cut it. In all fairness, this game was drastically more watchable than the previous two. There were a few good things to see, even if the end result was similar. At least the margin of defeat was only six, as the Cavaliers dropped this one 100-94.
The first quarter actually started off fairly well with two straight makes by Alec Burks who finished the night with 13 points, 7 rebounds, 3 assists, and a steal. De facto starter Ante Zizic pulled down a couple of rebounds and then made a pair of free throws to put the Cavs up by a quick 6 points. Things evened out a bit after that as the two teams tied it up at 13 with just over 7:00 minutes to go and then didn't manage to score for another two minutes. That two minute span could serve as a window into why the Cavs lost this one and one of the bigger problems this young team currently faces. Turnovers. Alec Burks started things off for the Cavaliers in that department with two in a row. They would end the night with 21 which is far too many.
I'll focus on the good things that I saw in the last five minutes of the quarter. First, Larry Nance Jr. checked into the game for the first time since going down with the knee injury and didn't appear like he was suffering too many ill effects from the time off. It was good to see him back on the court and moving. In addition to Nance's return, Cedi continued some of his success from the three point line that he saw against the Celtics. Osman put in back to back long bombs to bring the Cavs within one after being down seven. He finished the night by topping his previous career high from the last game and scoring 29 on 11-20 from the field and 3-8 from beyond the arc. He added 4 rebounds, 4 assists, and 2 steals while logging only a single turnover. That's the kind of night he needs to continue to have. Still, Cleveland ended the quarter down 27-23. 
The second quarter was the reverse of the first as Cleveland managed to score 30 while holding Miami to just 21. The Cavs shot 70% in the quarter as both Osman and Zizic went 3-4. There were also a couple of great highlights to see. First, check out Nance shaking off the rust with this sweet put back early in the quarter.
We missed these so much. #BeTheFight pic.twitter.com/H9LJfyFG1j

— Cleveland Cavaliers (@cavs) January 26, 2019
He might not be 100% yet, but it looks like that knee injury isn't going to have any lasting impact, which is fortunate for everyone. Then, late in the quarter, Jordan Clarkson (6 points, 5 rebounds, 4 assists, 2 steals, 3 turnovers) and Ante Zizic (11 points, 9 rebounds, and one each of an assist, steal, and block) put on my second favorite play of the game. That's right, Jordan Clarkson, he of many chucks, participated in one of my favorite plays of the game. Check out this assist, yes assist, by the oft blind-to-the-pass chucker.
JC x AZ 👀 #BeTheFight pic.twitter.com/TBK1tPnXBi

— Cleveland Cavaliers (@cavs) January 26, 2019
Clarkson uses his innate skill to get all the way to the rim but instead of going up for the difficult finish over Whiteside, he dumps it off around his back to a waiting Zizic. This was absolutely the correct choice in that situation and its great to see it happen. The Cavs were rewarded with these great plays by ending the half up 53-48.
The third quarter again saw the game flip flop as Miami had no trouble scoring as Cleveland couldn't manage to put up 20. Rodney Hood started things off making a three, it is good to see him taking more of those. Unfortunately he made only 2-6 for this one. But the more of those he takes and the less mid-range madness he participates in, the better. He managed to finish the night with 10 points, 4 assists, and 3 rebounds. The Heat followed that make up with 10 straight to quickly retake the lead, however. Cedi then scored 6 in short succession and Sexton added a three of his own. The rookie finished the night with 13 points, 2 assists, and 2 rebounds. not a prolific scoring line but he didn't turn the ball over and had a couple of nice drives to the hoop.
After that, Cedi put in a mid-range shot from the free throw and then finished off what would be my favorite play of the game with a three to tie his career high 25 points. Clarkson feeds Zizic at the free throw line who then promptly pops it back out to Burks. Burks then shuffles it over to a waiting Osman in the corner who knocks down the three. This play was my favorite for the game because it made me feel like I was actually watching a modern NBA team. The ball moves from the three point arc into the paint then quickly back out and around the three point line to end in an open shot from outside. Beautiful. Check it out below.
After that things got ugly as that was the last bit of scoring the Cavs would see for the entire third quarter. And though Nance blocked a Whiteside shot, which is always good to see, the 17 point quarter would prove Cleveland's demise. They ended the frame down 80-7o.
The fourth quarter was a low scoring affair for both teams. Sexton managed to make a couple more threes (he went 3-6 from distance). Burks added a pair of his own. Cedi had a pretty good steal and assist in transition, which was fun to watch.
No quit! #BeTheFight pic.twitter.com/hkCe3mcfnu

— Cleveland Cavaliers (@cavs) January 26, 2019
But the 24 point quarter was ultimately not enough to recover from the third quarter dysfunction. Despite holding the Heat to only 20 in the final quarter, the Cavs still couldn't quite produce enough on the offensive end as they fell 100-94.
Some Notes:
1) Cedi Osman had back to back career high scoring nights and did so while shooting efficiently from beyond the arc. If he can continue this trend he'll be a totally different player than we saw in the first half of the season. He's got so much potential he just often suffers from confidence problems. Check out his full highlights below.

2) Ante Zizic led the team in plus/minus with +7. I was very high on the big man last season. Since, I've mellowed out and been one of his bigger critics around here. If he goes on a personal mission to prove me wrong, I won't be disappointed.
3) It was good to see Larry Nance Jr. back in the game. I'm sure he was on a minutes restriction as he works his way back into shape. If he returns to the level of performance he was giving before getting hurt and Cedi keeps up the work he's doing, the second half of this season will be exponentially more watchable than the first.
The Cavs couldn't manage to get over 94 in their third match-up against the Heat this season. Maybe it's because they seem to love driving into Whiteside rather than taking the easy outside shot. Though they lost again, this one was much more watchable than the previous two as they actually resembled a team from the current decade. Hopefully these performances continue. As always, Go Cavs!
Passing up a WIDE open corner three to drive into Hassan Whiteside and James Jones at the rim: the Collin Sexton experience, ladies and gentlemen.

— HoopsDogg (@oldseaminer) January 26, 2019