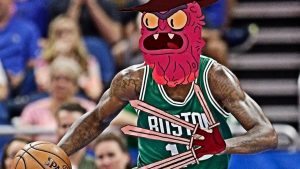 It's rare that covering the Cavs is a treat these days. To help make the games I must watch less painful, I've been making sure to pick up a great six pack and some take out. Today was no different. I grabbed some Columbus Brewing Insane Wanderer Volume III, which is a top notch hop forward IPA with a bitter taste that comes on slowly and lingers. It's also 7.4%. Any Cavs game beers these days have to be at least 7%. And, I also picked up some $5.00 Giant Eagle sushi. A spicy tuna roll and a Philly roll. I even grabbed the brown rice ones to be a little healthy while treating myself. They weren't as good as the beer and were sorta cardboard tasting, but some sushi is better than none. Usually, the Cavs don't beat out the food or drinks at any point in an evening.
Tonight they did. For one quarter at least.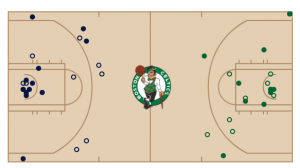 The Cavs actually started the first quarter playing the Celtics pretty evenly. They were manning up and running Boston from the 3-line. They had a modern looking shot chart taking just two shots from the dreaded mid-range zone, while the Celts routinely settled for mid-range jumpers. Despite Terry Rozier going a perfect 6-6 from the field in the first for 16, the Cavs won the period 30-27.
Terry would go on to lead the Celtics in scoring with 26 on 9-13 shooting to go with eight boards and six assists. And, to think I was worried about Kyrie Irving. Ante Zizic had six in the first and rolled hard to the rack every chance he got and Jordan Clarkson canned two 3s as part of his eight in the quarter.
Ante Zizic had a strong night getting 19 points and eight boards. Jordan Clarkson had 14 points and went 2-9 from 3-point land.
After the first, the Cavs dropped the ball figuratively and literally with their play. They became less palatable than my sushi and, ironically, they left the same slow coming and lingering bitter taste in my mouth as my beer choice tonight. In the second quarter, they turned the ball over eight times and it led to 12 points. They would finish the night with 21 turnovers that led to 27 points.
The Celtics ran the ball every single chance they got and hit six 3s. They had a ten point run midway through the quarter to go up nine and they never had to look back. When the Cavs actually were able to set their defense, the Celts just whipped the ball until it found the proper man. In the end, they outscored the Cavs 38-20 to head into the locker room up 15.
Celtics basketball. 😍 pic.twitter.com/Szn6DH8eBS

— Boston Celtics (@celtics) January 24, 2019
Ante Zizic had the Cavs play of the year though in the quarter with a beautiful drop step to his off-hand for a driving dunk.
The rest of the evening didn't get much better. In the third, the Cavs managed to play the Celts to a standstill, but they couldn't cut the lead to anything less than twelve. And, after they started the fourth letting the Celtics grab seven straight points, there was no hope for a come back.
When the night was over, Cedi Osman ended up leading the Cavs in scoring. He was 8-11 for 26 points and hit six of his seven deep heaves. He didn't make me remember anything specific, but he was a sustained threat from deep, which is a step in the right direction for him .
Jaylen Brown had 23 points on 8-12 shooting to go with six boards and Jayson Tatum had 15 points on 7-16 shooting.
Gripes
1. The Cavs continue to not take care of the ball. They can't turn the ball over 21 times. It led to 27 points for Boston. Now, imagine if they Cavs were able to cut the number of turnovers in half? Then they might have had a manageable game towards the end.
2. Cleveland also had issues stopping straight one-on-one drives. Tatum and Brown were able to get to the rim at will all evening. Tatum had all of his makes at the basket.
3. Larry Drew needs to continue to figure out an offense that can generate reasonable looks for a team with no good one-on-one scorers. The turnovers are partially a result of players not having a good idea of where the ball actually needs to go.
4. The Cavs limited the Celts to just 25 3s, but they hit 12 of them. This was the result of their porous one-on-one defense. Guys had to help far too many times, which left Boston wide open from deep.
5. Despite Gordan Hayward still being a step behind, he poured in 18 points. The Cavs bailed him out sending him to the line a ton. He went 6-7 from the charity stripe.
Hypes
1. Zizic is looking better and better. He has a very old school post game; not one of his shots tonight came from outside of the paint. He can be a real factor and might look good in bench units if and when this team improves. The next step in his development is learning to hold onto the ball in traffic. He had five turnovers tonight, many of which came when he caught the ball rolling to the lane with guys swiping down on him.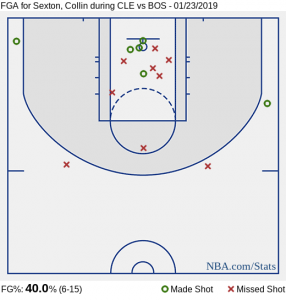 2. Collin Sexton had 16 points on 6-15 shooting. He had more turnovers than assists. However, he took just one mid-ranger tonight. And, he showed he can finish at the rack. He's learning.
3. Cedi had a career high scoring game this evening. He did it without looking flashy and it came within the flow of everything. If he can consistently hit 3s, the rest of his game will open up.
4. Alec Burks filled out the box score with 10 points, nine rebounds, and six assists. That's semi-close to a triple-double. He's becoming impressive with his assists. He hits guys on the break. He can run a pick and roll and enter the ball into the post. And, he can even make the LeBron style look off a guy and hit a 3-point shooter that's open.
5. The Cavs face the Heat on Friday. It's going to be Dwyane Wade's last game ever at the Q.