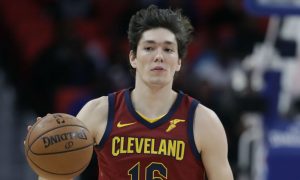 The Cleveland Cavaliers' brutal January run continues tonight at they visit the Utah Jazz in Salt Lake City. Despite losing several players to injuries, the Jazz have been playing extremely well lately, winning five games in a row and eight of their last ten. They've pulled into a tie for the seventh seed in the Western Conference, and with a fairly easy schedule the rest of the way, are primed to move up the West standings.
They also present a particular matchup problem for the Cavaliers. The Jazz typically start a combo of traditional big men in Rudy Gobert and Derrick Favors, but the Cavaliers will be without their top three big men tonight as Tristan Thompson, Kevin Love, and Larry Nance Jr. are all out with injuries. This leaves Channing Frye and Ante Zizic as the Cavaliers' only active big men. The Jazz also have an elite guard in Donovan Mitchell and a plethora of big wings who can shoot. Considering the Cavaliers' difficulty guarding the perimeter, this could be a long night for the Wine & Gold.
A night like this is when it's definitely better to focus on the development of the young players over the final score. Stop on by and share your thoughts on those players here at Cavs: The Blog.