This is Kevin Hetrick contributing again. I want to add one last take on Jan Vesely. Vesely just finished his Serbian League season, averaging 14 points and 5 rebounds in the championship series. ESPN has moved him to 4th on their list of top prospects and 5th in their most recent mock draft. I've researched what Vesely has done through the years, watched what video is available to me, and I don't understand the infatuation with him. A top 5 pick should become a top contributor on a playoff team, and I don't see that. I view Vesely as a great fast break finisher and high energy player; not a player that will be a star.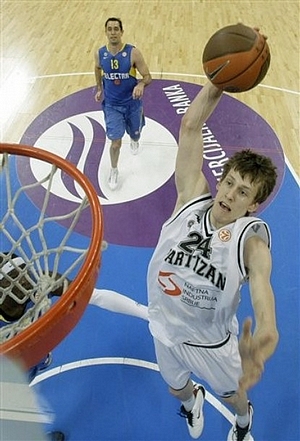 I will start by comparing the Serbian League to the NCAA and build a very rough case that the professional Serbian League is not higher quality basketball than the top NCAA conferences. The league hierarchy of Serbian basketball is as follows:
 Euroleague: The best 24 teams from Europe's national leagues participate, including Vesely's team (Partizan).
 Eurocup: The second tier continental league. One Serbian League team (Hemofarm) played and lost in the round of 16.
 Adriatic League: Features the best professional teams from Bosnia and Herzegovina, Croatia, Israel, Montenegro, Serbia, and Slovenia. In addition to Partizan and Hemofarm, two other Serbian teams qualified. Partizan was champion, Hemofarm finished 6th, and the other two teams finished 10th and 13th of 14 teams.
 Serbian League: Four additional teams compete with the four teams above for the Serbian SuperLeague championship. These other four teams are lesser than the teams that participated in the Adriatic League; as they finished 4, 6, 7 & 8 in the SuperLeague.
In summary, the Serbian League is not a high level European league. Other than Partizan, there are no Euroleague teams. They only send one other team to a continental league, and the team was not very competitive there. Partizan has won 10 straight Serbian championships and was 18 -2 this year, outscoring opponents by 14 points per game. One of their losses was against a team where the 3rd best player in minutes, points, and rebounds was Brandon Bowman. Brandon played at Georgetown until 2005 – 2006, peaking at 16 points and 8 rebounds per game his sophomore year when Georgetown went 13 – 15. Georgetown got more talented, and Bowman became their third leading scorer and rebounder his senior year. In summary, the 3rd best player on the 4th best team in the Serbian League was the 3rd best player on a 23-10 Georgetown team as a 22 year old. The other team that Partizan lost to this year was led by Michael Lee, who led his Serbian team in minutes, points, and rebounds. Lee was also the Serbian League's defensive player of the year. He previously led the 2007 – 2008 St. Bonaventure Bonnies in the same categories when they went 8 – 22. So three years later, the best player from the last place team in the Atlantic Ten is now the best player for the 3rd best Serbian League team. I think this begins to build a case that the professional Serbian League is not better than the NCAA.
The Serbian League ended June 8th, and is the source of the stats I use below for Vesely. There is nothing particularly more impressive about his production in the 2011 Euroleague or Adriatic League. As a league's talent level increases, Vesely's production decreases. Also across all games in 2010 – 2011, Vesely shot 120 – 256 on free throws (47%). Something is broken with his foul shooting and fixing it will go a long way for his future production.
Now I will make a comparison to sum up where I rate Jan Vesely. Jan Vesely will be played by John Wesley. Tristan Thompson will be played by Tristan Tomovic. Thompson's stats are from his freshman year at Texas.
John Wesley is 21 years old and just finished his junior year as a combo-forward at Kansas. He has declared for the NBA draft, and has always been tantalizing as an NBA prospect due to his highlight reel dunks and energy level. He really started to put it all together this year. Per 40 minutes, he averaged 21.8 points, 9.7 rebounds, 2.8 assists, 2.0 turnovers, 1.2 blocks, 1.0 steal, and 5.1 fouls with 58% true shooting. He is relatively raw offensively; scoring on fast breaks and put backs, while still working on his post game and lacking a consistent shot. Scouts were blown away by his length, speed, and leaping at the combine; but are concerned about his agility and strength. His size and energy are good on defense, but questionable lateral quickness and a skinny frame could pose defensive issues in the NBA.
Tristan Tomovic is a 20 year old power forward from Montenegro, who just finished a second season with his Euroleague team. European basketball has rarely seen a player like Tristan. He is 6'9" with long arms, and is strong and athletic. His per 40 minute averages in the Serbian League were 17.1 points, 10.2 rebounds, 1.6 assists, 2.3 turnovers, 3.1 blocks, 1.2 steals and 3.6 fouls with 54% true shooting. He is raw on offense – scoring on offensive rebounds, cuts, and in transition; but his agility and strength make him a force on defense. He had strong defensive showings against some of the better players in the Euroleague this year.
Who gets picked first in the draft? Wesley scored slightly better and is a more freakish athlete, but Tomovic is also a good athlete and is stronger. Tomovic is younger and not too far behind on offense, while also being more of a defensive force.  Wesley's team plays five possessions per 40 minutes faster (7% faster), so Tomovic's stats are even more comparable if viewed per team possession.  If Tristan Thompson was from Montenegro, he'd probably be a top 5 pick. Would John Wesley be viewed similarly to Marshon Brooks; a talented upperclassmen with added appeal due to his athleticism? It would be even more skewed toward Tomovic if John Wesley's numbers came playing for Xavier in the Atlantic 10. I made the comparison of Vesely to Thompson because both players are developing power forwards who were their teams second leading scorers; however another comparison could have been the Morris twins, who were actually Kansas' junior power forwards. The statistical comparison of the hypothetical Wesley to the Morris twins is much less favorable for Vesely, especially when accounting for questions about the position Vesely defends in the NBA.
I am not a professional talent evaluator, but it seems to me there is a place for evaluating a player's "tools" and a place for evaluating skills and production. Vesely has tools. He is fast, long & jumps high, but there aren't a lot of well-defined basketball skills (besides energy) or a history of great production. With "older" prospects, it seems more credit needs given for skill level and production, and less for "tools". I have trouble making sense of Vesely as the 4th best player in the draft while the Morris twins are in the mid-third of the first round.