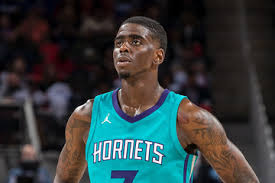 Things are looking rough for the Cleveland Cavaliers. Having just snapped a twelve-game losing streak and sporting the worst record in the NBA, the Cavs rate near the bottom of the league in assists as well three-pointers attempted and made. A simple zone defense is beyond their ability to overcome. Meanwhile on defense, they're well on their way to being the worst defensive team in NBA history by points allowed per 100 possessions. Meanwhile, Mike Longabardi continues his tenure as the team's assistant coach in charge of defense, despite the fact that the defense has done nothing but get worse during his tenure. Still, that's a story for another time. Today, let's focus on the talent on the court.
Obviously, injuries have played a large part in the Cavaliers' struggles this season. Kevin Love, David Nwaba, John Henson, Matthew Dellavedova, Rodney Hood, and Tristan Thompson have all missed significant time. Patrick McCaw was here and gone in the blink of an eye. While the usefulness of these players vary, all are legitimate NBA players, and most are among the better players on the roster. Depth is a huge issue for the Cavaliers, but it's also just part of a larger roster issue.
As the Cavaliers begin to rebuild for the future, it's difficult to no for sure who, if any, among the players on the current roster will be a part of the next Cavaliers squad that is at least a solid playoff team. Most of the current roster are on contracts that expire either after either this season or the next, meaning that their futures in Cleveland are hardly secure. Some may be traded, while others could choose to move on as free agents. Among the few players who are signed to long-term deals, Kevin Love is arguably the team's biggest trade asset, Collin Sexton has a lot to prove, and Ante Zizic doesn't look like a rotation player in today's NBA. Only Larry Nance Jr. has the right combination of youth, performance, and contract length that would make one think he will be in Cleveland for the long haul (and even with Nance, nothing is certain).
While the trades of George Hill and Kyle Korver have added some draft picks, they didn't add the other asset every rebuilding team needs; young talented players on long-term contracts. Now, with the NBA Trade Deadline just a month away, teams will be deciding whether or not they are buyers or sellers. Some will be looking to add pieces to help with a playoff run, while others will try to shed long-term contracts in order to have cap space for this summer's free agency bonanza. Most teams are loathe to part with draft picks, even lower ones, despite the fact that many will be used on players who will either fail to meet expectations or even wash out of the NBA in a year or two. Teams seem to look at draft picks the way car dealerships look at cars. Once they are used, they are infinitely less valuable. This is another reason why the Cavaliers may want to focus on young players over draft picks. They're easier to acquire, and have a decent chance of being better than any player the Cavs select with a lower pick. We already know the Cavaliers are sellers, but which potential buyers might fit with the Cavaliers, and what young players might they make available in deals?
Philadelphia 76ers
Even if the fit is a bit awkward at times, the Sixers have a great core of elite talent in Joel Embiid, Jimmy Butler, and Ben Simmons. The problem is a lack of shooting to surround their stars. The Sixers have gotten rid of most of their larger contracts, and it's hard to see them giving up Wilson Chandler's expiring deal for any shooters the Cavs might offer. They're also not likely to sell low on Zhaire Smith unless it's for a clear difference maker. That leaves Landry Shamet, Furkan Korkmaz, and Markelle Fultz. Shamet is a combo guard who brings good size and shooting to the backcourt. He is also an efficient passer, if not a prolific one. While he has struggled a bit lately, none of the Cavaliers' would be a huge upgrade over Shamet. He's also on an extremely affordable contract and is solid insurance in case T.J. McConnell leaves via free agency. Fultz's shooting issues are well-documented. Still, he obviously has talent, and one could argue that his passing, size, and defensive potential would make him a nice fit alongside Collin Sexton. The problem is that Fultz is making over $9.7 millions guaranteed next season with a team option for $12 million in 2020. If he continues to struggle, he's a bad contract, and if he turns it around at all, his team will be all but forced to pick up that option, even if his play doesn't match his pay.
That leaves Korkmaz. While he has struggled to score at the NBA level, the Turkish wing shot well from deep during his time with Anadolu Efes. He has also done a nice job on the boards and has improved defensively. At just 21 years old, Korkmaz certainly still has time on his side, and a reunion with former teammate Cedi Osman might help both players feel a bit more comfortable. A trade of Korkmaz and Justin Patton (another interesting, if often injured, young player) for Rodney Hood might make sense for both teams.
Houston Rockets
Houston doesn't really have much that other teams would want. Marquese Chriss is their only young player who could be available in a trade, and that's because he's gotten worse each season of his career. Even if Houston just wants JR Smith for Brandon Knight, Chriss isn't enough. The Rockets will have trade draft picks to make any real improvements.
Sacramento Kings
The Kings have been one more the more surprising teams in the league this season, but lately they've come back to Earth. While it doesn't seem to make sense to for a young team to give up promising assets to make a run at the eighth seed in the West, never say never when it comes to Vivek Ranadive' and Vlade' Divac. Anything is on the table when it comes to the Sacramento Kings, especially when you consider that they haven't made the playoffs since 2006.
Like Chriss, Skal Labissiere is a big man who has done nothing but regress since coming into the NBA. He's a bit more intriguing than Chriss, as he's shown a bit of potential as a stretch five, but wouldn't be worth much in a trade. He also doesn't make enough money to be dealt without another player alongside him for salary purposes. Harry Giles wasn't playing much earlier in the season, and certainly would've been an interesting additon, but he has since moved into the team's rotation and they are quite high on him. The assets the Cavaliers are willing to trade likely aren't enough to snag Giles.
Denver Nuggets
Last week, Marc Stein of the New York Times reported that the Nuggets could have interest in Love as they continue their surprising run to the top of the Western Conference standings. While the Nuggets have had interest in Love in the past, a trade for him now seems unlikely. One, Love has been hurt most of the year, and teams will want to see that he is healthy before trading for him. Two, it's hard to see how he fits defensively with Nuggets star Nikola Jokic, a player with similar defensive issues. Paul Millsap certainly seems like the better fit. Finally, it's unlikely the Nuggets would include either Jamal Murray or Gary Harris in the deal, and the Cavaliers would likely insist on at least one of them.
While a deal is unlikely, the Nuggets have a plethora of young players who should interest the Cavaliers. Besides Murray and Harris, they also have intriguing young talents in Malik Beasley, Juan Hernangomez, Monte Morris, Tyler Lydon, Trey Lyles, and even Michael Porter Jr. (if you want to deal with his injury history and attitude concerns). If the Cavaliers could acquire two or three of these players for one of their veteran pieces, that would be the type of influx of young talent that could jump start their rebuild.
Charlotte Hornets
The Hornets have two challenging and contrasting goals as we head towards this trade deadline. The first is two upgrade the roster as they attempt to return to the playoffs. The second is to shed some long-term salary so that they can attempt to re-sign Kemba Walker while putting more talent around him. The Hornets have several bad contracts and a few talented young players, so a fit for a trade may be there.
The Hornets will likely try to keep Miles Bridges out of any deal, but he's the player any team should insist upon if they are going to take on Nicolas Batum's monster contract. The same may be true for Bismack Biyombo's terrible contract. The Hornets would also like to move Marvin Williams and Michael Kidd-Gilchrist, and while taking them on won't net a team Bridges, players such as Willy Hernangomez, Dwayne Bacon, Devonte' Graham, and Malik Monk might be available. With Cody Zeller out, the Hornets could use a starting center as well as some additional depth on the wings. The Cavaliers could certainly help with the former, and possibly the latter.
New York Knicks
The Knicks aren't much better than the Cavs, but they might be willing to sell off an asset as they prepare for this summer's free agency bonanza. It's no secret that they'd like to lure Kevin Durant to New York, and possibly another high-level player as well. To do either, they'll have to shed some salary, preferably Courtney Lee or Tim Hardaway Jr.'s deals, although moving Lance Thomas would help a bit as well. Obviously Kristaps Porzingis and Kevin Knox are practically untouchable, but Frank Ntilikina and Damyean Dotson would be interesting additions for and rebuilding team. While Ntilikina has struggled on offense, he has shown a ton of defensive potential and would be worth a flier. Dotson looks like a solid 3-and-D player going forward. Alonzo Trier, Mitchell Robinson, and Luke Kornet would also be worth a look at. Other youngsters such as Emmanuel Mudiay and Noah Vonleh will be free agents this summer, and therefore have much less value.
It's highly unlikely that any of these players will develop into an All-Star that the Cavaliers can build around, but that's not really the point here. The Cavs need as many talented younger players as they can get their hands on. While they may not become stars, all of these players at least have the chance to become rotation players for the next several years. Those are important pieces for any rebuilding team.