This was a fun one, Cavs fans. Cleveland battled back from an 11 point early first quarter deficit to tie the game, only to be done in by missed free throws, bad execution, and an inability to rebound as they were edged out in the final minute by Vince Carter and the Atlanta Hawks. Vinsanity was in the air in Atlanta as the 41 year old Carter turned back the clock for a monstrous 21 point four rebound performance on only 11 shots in 23 minutes. Trae Young also led Atlanta with a 21/3/9 line in 34 minutes as Cleveland entertained but couldn't get over the hump.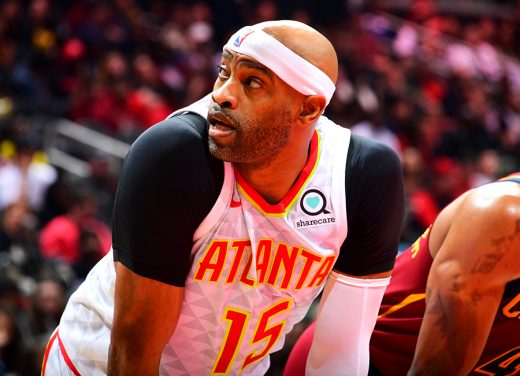 The First Quarter saw the Cavs get to a much better start than games past, and Cedi Osman, especially, was a big part of that. After canning a triple to start the game, Osman dribbled into a 14-footer to give the Cavs a quick 5-0 lead, part of his seven in the quarter. The fact that he only saw four shots in the quarter was more than a little annoying. Of course, his heat check right wing triple that dented the backboard, probably didn't help his teammates' confidence.
Larry Nance started his all around stellar play with an eight point, six board period, filling the lane like a beast while Sexton settled for bad floaters and mid-rangers in a way that makes my want to smash my remote against the wall. Chucky Clarkson's 0-5 jaunt was similarly rage inducing.
The lack of Cavs' big men in this game really hurt. Larry Nance is starting to get smart about not chasing high risk defensive plays because he knows there's no backup out there, and foul trouble would end any hopes of a Cavs win. But it also means he has to concede a lot around the basket, and his opponents know it. His backup, Channing Frye, was pretty awful early, as he went 0-2 from downtown and tried to do too much backing down the more physical Alex Len.
Cleveland was a disaster at closing quarters all night, and the first was no exception as they were outscored 11-4 in the final two minutes to end up just 26-23. Watch disaster in this five point stretch where John Collins monster dunks an offensive rebound, and DeAndre ' Bembry steals the ensuing inbound pass to drain a right wing triple as the first quarter buzzer sounds. UGH.
The Second Quarter continued the onslaught with a quick 7-2 spurt for Atlanta fueled by a Trae Young triple and a pair of dimes. Coach Drew mercifully called a timeout to send a woefully overmatched Channing Frye to the pine and return Nance to the fray. Larry quickly assisted on Cedi's ninth point then got himself to the line. One thing that baffled me was Cleveland's complete unwillingness to punish Trae Young defensively. You'd think posting up the much stronger and smart-passing Dellavedova would be a no-brainer, but it never happened, and Delly got benched after a bad turnover.
The lead ping ponged before a two and a half minute scoring drought and a pair of Atlanta triples by Lin and Huerter suddenly put the Hawks up 12. Sexton's mid-ranger was effective though (he canned three in the quarter), and he got himself to the line a couple times with the Cavs in the bonus to win the last two minutes, 8-4 and the halftime deficit to just 57-51, Hawks.
The Third Quarter started with a rarely seen Sexton layup off the backboard in transition on a nice Alec Burks steal and dish. Larry Nance was everywhere early again with, tips, deflections, putbacks and fantastic passes out of the post. Unfortunately, two open triples for Burks from Junior led to a pair of layups for Atlanta after bricks and bad transition D. In case you're keeping score, those misses turned those looks into a ten point swing for the Hawks.
Thankfully, Cedi stemmed the Birdemic with a post-up on Young (finally!) that led to this tough finish and-1 followed by a cutting layup from Sexton, a heat check triple, and an Atlanta timeout. Larry responded to that timeout by stealing an oop intended for John Collins, running the break and feeding Jaron Blossomgame for the oop and a three point lead! Junior is going to be the best bargain in the association for the next five years. Here's Cedi and Larry working.
At that point, Vince had seen enough and stopped the 10-2 Cavs run when he trailed the other nine guys on the floor like an aged Y-Ball assassin and jogged into a silencer triple from the top of the key. Trae Young followed that up with a vintage Steve Nash one handed reverse layup on a baseline drive followed by another Carter trey.
The Cavs went cold again. Cedi made an absolutely awful pass, Sexton got tentative, and his mid-range game abandoned him (as mid-range games are wont to do) as Atlanta slowly built a seven point lead. Delly struggled when he came in, mainly because he's not nearly as good without an effective roll man to put pressure on defenses. Channing's pick and pop game just isn't dynamic enough with Delly to maximize his strengths. Combine that with an over-aggressive Cedi who charged into Jeremy Lin and an 8-5 Atlanta close in the last two minutes, and you've got an 84-74 Hawks lead.
My cable went out before I could see the Atlanta carnage there, and it was pure torture sitting through the first nine minutes of The Fourth Quarter as it looked like Cleveland might be content to hang this one up before storming back. Fortunately, I later caught most of the missed action online, but I ended up with a nightmare about pensively looking at the box score.
Coach drew rightly started Nance and Delly in the fourth to give the offense some juice, but the unfortunate circumstance of Larry Nance laying back so as to not pick up fouls was an odd choice given Cleveland's strategy of trapping the pick and-roll, which Atlanta easily beat by throwing the outlet to the top of the key, swinging to the weak corner and taking advantage of bad Cavalier closeouts to get four straight layups at the rim. Cleveland answered, and I'll leave this layup as an example of what Collin Sexton refuses to do: come around the pick going downhill and straight to the rim on a pick and roll, like Delly on this nifty little layup that cut the Atlanta lead to eight. The next highlight shows Nance chasing down a board and then pitching out a ridiculous outlet pass as he's falling out of bounds to Alec Burks. Yezus, Larry's good.
Crunch Time
Cleveland thankfully stopped trapping and started getting out in transition to beat Atlanta down the floor before a pair of Delly freebies and a Jalen Jones o-board and free throw cut the Atlanta lead to four. Vince Carter sandwiched a dunk and a three around a Jordan Clarkson threeball (from Nance of course). Vince's trey in that stretch came from a rare blown three-on-two by Dellavedova that was broken up by Trae Young. Young found a lollygagging Carter in the left corner for three that would've probably killed me if I'd watched it live. It was one of the many five point swings that went against the Cavs this game.
Sexton and Burks scored a bucket each off some nice two man game (with Burks as the de facto power forward in this lineup) to cut the deficit to just two before an unconscionable Collin Sexton foul of Trae Young on a three point shot (Trae, of course sank them all). But Burks got to the line for two before a Trae-Young 27-footer followed by a hook pass oop from Burks to Nance for a soft slam, another John Collins layup, and then yet another oop to Junior, this time from Clarkson, to put the Cavs down three with 1:35 left. WHEW! This was a fun game.
Cedi! made the play of the game when he got out in transition after a Huerter miss, and Jordan Clarkson found him. Cedi threw it down with two hands through a DeAndre' Bembry fouled to cut the lead to just one! Cedi missed the freebie, but Sexton tied the game just 20 seconds later after another Huerter miss and Sexton was fouled on the rebound but split the pair.
Atlanta couldn't be kept off the boards though, and Larry Nance must be pleading for rebounding help after this earth shattering John Collins putback put Atlanta up two. Larry had to come over to stop the Huerter drive, and no one put a body on Collins. Larry needs Kevin Love back in the worst way.
Two soul crushing Cavalier mistakes ensued. First, Collin Sexton got all the way to the cup (above), then refused to use the damned glass for the umpteenth time this year!… leaving the layup attempt painfully short. He did manage to fight enough to keep the possession for Cleveland after Huerter knocked it out and Cleveland even got a free timeout from the deal out of the replay.
But then on the baseline inbounds, eighth year pro, Alec Burks, with 36 seconds left in the game and two timeouts ended up not being able to find anyone and turned it over with a five second violation. How do you end up with a five second violation with two timeouts left? That is J.R. Smith school of clock management level bad!
The Cavs still had another shot after fouling Bembry who split, but Clarkson decided to go YOLO and brick an iso three over Huerter and that was all she wrote for Cleveland as Vince's freebies closed the deal… So close, yet so far away.
The Good
Larry Nance Jr. was amazing. 18/15/7, zero turnovers, four steals, a block, +16 in 36 yoeman's minutes. He's the best player on the Cavs right now and the Cavs should be building their entire team around him. Tristan Thompson needs to go to make room for a guy who could be an all NBA level player if he keeps improving. When the team gets Kevin Love back, that's a big man duo you can build around. He was simply everywhere this game. Honestly, I'd have let him shoot the pivotal three instead of Clarkson.
Cedi Osman had his best game in ages: 22/8/3, 2-4 from three, 8-12 from the floor, 4-6 from the line, +8. How did he only manage 12 official shot attempts. How do you not get the ball to someone that hot more often? Cedi's spin move in either direction, his quickness, his long stride, and his ability to finish with either hand have become weapons. Now he just needs to harness it.
Alec Burks played a grueling 40 minutes basically at power forward and a chipped in a solid 17/5/5 line, but his epic brain fart on the late inbounds was inexcusable from an eight year vet.
Collin Sexton was not abjectly awful. I still hate watching him, but he managed to go 18/6/3. Larry was chirping at him a lot early, and I think it helped. For the love of God, learn to use the glass Collin, and go downhill on a pick. Stop playing so damned tentatively and blow by some dudes.
Vince Carter was reeaaaally good Saturday. The Cavs could use a vet like that. John Collins is about to be the East's best power forward. You know a guy is good when he didn't have a great game and he still killed you when it mattered 14/12/2 line and just 6-13 from the floor, and Collins had the game's biggest score: the go-ahead basket for Atlanta. He's long, skilled, and fluid.
Trae Young (21/3/9) had a few key plays and lots of dimes. His willingness as a passer, his aggressiveness, and his vision is what separates him from Youngbull. I hate how much he owns the Cavs. That breakup of the Delly three-on-two was the secret game winning play and the kind of play that earns you respect from your teammates.
Alex Poythress (11/3/1) 16 minutes, +8 has looked good the last couple times I've watched him. He's a restricted free agent this coming summer and is playing on a two-way. He might be worth a gamble.
Jalen Jones gave the Cavs some nice size inside and added seven boards and seven points in 17 minutes. They needed someone to bang.
The Bad
Channing Frye can probably give you a game a week at this point. Against a team that's going to trot out real bigs like Alex Len, he's massively overmatched. It showed, but someone had to give Nance some minutes on the bench. Frye went 1-8 and was -19. Yikes. Jalen Jones has the size to give the Cavs a bigger body but just isn't long enough. He should still be playing the five over Frye against big guys.
I'm all for ending the Jaron Blossomgame experiment. I'd rather play Jones. Blossomgame (2/2/0, 1-5, 22 minutes, -9) is just too willowy to hold rebound position for a team that desperately needs it at the four. His shot isn't good enough to play him right now and all he does well is block the occasional shot and finish an oop.
Jordan Clarkson (15/3/2) was mostly a non-factor and his defense was consistently bad.
The Cavs were bouyed by Kent Bazemore and Kevin Huerter combining to go 5-21.
The Ugly
The Cavs late game execution seemed designed to lose. Maybe it was. It was pretty painful. I could tell the team wanted this win. I appreciated the effort. Alec Burks hurt his trade value tonight.
Delly's four turnovers were bad, and he's struggled without real bigs. At least one of them was Clarkson's fault though.
The Cavs 3-6 down the stretch from the free throw line did not help.
The Cavs next 11 games are brutal: Heat, Jazz (x2), Pels (x2), Pacers, Lakers, Rockets, Nuggets. This was their last real chance at a win in a while. They don't play the Bulls till the 21st. Let's pray LeBron doesn't want to come to Cleveland in January.