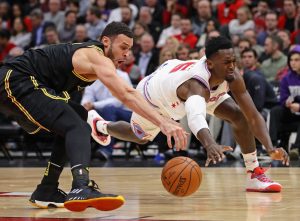 four point play….
1. I'm not going to lie, Cavs fans. This season has been rather difficult for me. It's not as though I have been sinking into a permanent state of basketball depression as much as it has been a boring march towards apathy. Knowing full well that a tanktacular season could have been in store, I tried to prepare myself for the upcoming doom.
Like many people, I did not enjoy last regular season, or really even the one previous to that. LeBron's regular-season pragmatism combined with that ridiculously constructed roster didn't compel me to watch with complete passion.
I knew the Cavs wouldn't be well-coached. I knew LeBron would only play just hard enough. I knew that that lazy defense wasn't worth analyzing. I knew that it wouldn't matter come playoff time. We all knew even if some media pretended they didn't.
So yes, last year's regular season wasn't fun, or particularly interesting (basketball-wise), but there was playoff basketball around the corner.
This season, we had an optimistic chance at seeing the Cavs compete in May, but it was the regular season that was supposed to be the most intriguing.
2. Well, with the 2018 of the 2018-2019 season almost in the books, I can't say I am fully intrigued. I guess I will have to settle for near-trigued.
Near-triguing:
Larry Nance Jr. as an all-around force. Nance doesn't need to score much to be a great player. He was an absolute monster against the Griz though there was little in the traditional boxscore to indicate such.
Our old friend, Brevin Knight is the color commentator for Memphis. He isn't the most exciting listen, but he sees the game at another level. Come to think of it, Brevin calls games exactly like he played: All substance, little style, multi-layered, subtly great. I was a big fan of Brevin as player and am big fan of him in the booth.
My man Brevin couldn't stop talking about Nance's activity and heady play. Larry was credited with six offensive boards and two steals, but he seemingly had about a dozen deflections.
That is where Nance holds a HUGE advantage over Tristan Thompson as a defender. I have Larry as the far superior defender overall, but there is an argument that Tristan is closer than I have him rated.
Except for deflections. Ya know, a thing that actively disrupts offenses. With Tristan having been out, he and Larry are now almost equal in total minutes this season. Larry has 849 to Tristan's 819.
According to the NBA's site, Larry has 90 deflections this season. Tristan has 22 in only 30 fewer minutes. Tristan's low number is almost as shocking as the actual disparity.
That is insane. In all, Nance is 6th in the league with 3.8 deflections per 36. So, yes. If it seems that Larry is always getting his hands on the rock, it is because he does. (David Nwaba is second on the team with 2.4 per 36. Eye test passed.)
Brevin saw that and made a point to mention how Larry affects the game in a way that you might not notice without watching the game.
Not surprisingly, Knight is also a fan of Mathew Dellavedova and his heady game. Delly had a really good first half against the Griz. He didn't make his threes on the night, but without Delly, the Cavs are out of that game by the second quarter. Knight saw how Delly ran the team, created shots, and boxed out on the glass. It was pleasure to hear.
The contrast between Austin Carr and some other guys around the league continues to grow. I love Austin almost as much as I loved Joe Tait, but I have begun to almost exclusively listen to the opposition's announcing team. Like EG said, Channing, are you ready?
3. Another reason this season is difficult is that both the Lakers and Celtics have fun regular season rosters and are being well coached.
I predicted the Lakers would be in the playoffs and much better than most people anticipated. I am in no way surprised by their success on both sides of the ball.
I'm using the word "success" relatively, of course. They haven't been running all over the league. But it was clear to me from the beginning that the youth and talent on the roster would be able to balance LeBron's chill oriented defense.
Coach Luke Walton has a roster with length, athleticism, and a will to compete on the defensive end that allows LeBron to play his preferred deep safety defensive position.
As usual, Basketball Breakdown did a great analysis of the Lakers' victory over the Golden State Warriors on Christmas Day. Nothing about it is rocket science. The Lakers dogmatically and consistently ignored non-shooters.
It is the same strategy that won the Cavs the 2016 championship and the strategy that has allowed almost all elite defenses in the modern era to compete. If those ignored players make shots it is easy to abandon the cause. You shouldn't.
Andre Iguodala had his best scoring game of the season and it didn't matter. The Lakers rightfully gave him those shots. It is the only move against a team featuring three of the best shooters of all time.
People wanted to focus more on their old free agent acquisitions that didn't make sense. I saw a decent defensive team from last year with young guys who can shoot. As their young bigs get better, the Lakers could get downright scary. Ivica Zubac already looks like peak Timofey Mozgov with his underrated explosion. If Ingram starts to get hot from three…
4. Boston is slowly beginning to find its footing offensively. Basically, Kyrie Irving is heating up. As frustrating of a player that he can sometimes be, I really miss watching Uncle Drew on a regular basis. I miss his shot form. I miss his musk.
I don't miss his faux intellectual nonsense. Oh well.
In any case, it is obnoxious that the top two players from the best Cavs era are each now playing for one of the two most storied franchises in the NBA. What is worse is that it is enjoyable viewing.
Quickies:
Watch Luka Doncic. Get out your old Cleveland Mavs shirts and just enjoy his basketball brilliance. Consider it a New Year's resolution. That is frickin' Jrue Holiday that Luka is torturing!
Watch Nikola Jokic. He is one part peak Peyton Manning, one part Euclid; as in Eucledian Geometry. Jokic must be a great pool player. The three dimensional angles that guy sees are mesmerizing. He passes guys open more than anyone since Manning.
That's all folks. Guten Rutch! That literally means "good slide" As in Happy Sliding into the Year. What a great idiom.