'Twas the night before Christmas, when all through the Q
Not a creature was stirring, not even Coach Drew;
The nets were hung on the baskets with care,
In hopes that some basketball soon would be there…
But not this year Cavs fans… and, probably not for a while, barring anything unforeseen. After four years of Christmas Day games involving Cleveland, this one will be ornamental. There will be no visit from the man with the bag… no shiny Golden packages to unwrap… no reindeer games on the Quicken Loans court. When LeBron left, he took the cameras, the hype and the Christmas tradition with him. He even took the last can of who hash…
You know what though? I'm completely fine with it.
As I wrote in the summer of 2017 when the Christmas Day games were announced, I'd had my fill of yuletide clashes with the Warriors. A year and a half later, I stand by that assertion. It's not that I don't pine for meaningful basketball to return to Cleveland. I know it will again someday (maybe not soon… but someday). But, I am downright joyful to be spending the 25th with the prospect of watching a full day of NBA action without having to care about the outcomes.
There's nothing to ruin my holiday now. No drama. No reckless speculation. No overreactions on the impact a game in late December might have on the playoff picture. Not to mention far less annoyance at the preening, prancing, pouting Dubs. Let that be LeBron's Lakerland problem now.
No, I'm going to enjoy the holiday with my family, with a full slate of games playing in the background like so many picture prints by Currier and Ives. I hope you get the chance to do so too…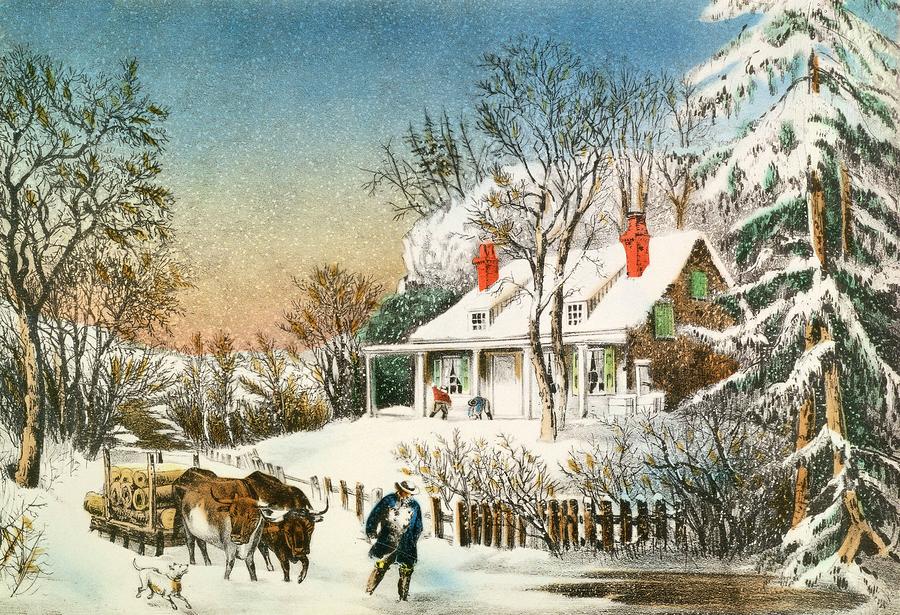 ---
Usually, Nate and I team up to hand out some Christmas gift ideas to all the current Cavalier players, coaches, GM and owner. While they may seem off the cuff, we typically do a bit of research into each guy to come up with something truly memorable and special.
Well, unfortunately, we ran out of time this season… (too many holiday parties, my bad), so I'll just make it a short and sweet, last minute Christmas Wish List for all involved (feel free to add your own in the comments)…
For Jaron Blossomgame: A decent nickname (there's gotta be something for a name like that, right?); also patience from the coaching staff in the hopes that his athleticism might yet yield dividends.
For Alec Burks: A replica of the black cowboy hat Burt Reynolds wore in Smokey & The Bandit; also a package trade to a contender like Houston or New Orleans.
For Jordan Clarkson: Frosty the Snowman themed band-aids; also a chip implant that administers a mild shock every time he passes up an open teammate.
For Matthew Dellavedova: Reinstitution of "Australia Night" at the Q; also a lifetime contract with the team so he can't ever leave again (even as a coach when his playing days are done).
For Channing Frye: The most delicious Christmas morning french toast; also a deal to replace AC in the booth with Fred next year when he retires.
For John Henson: Some fast healing for his hand; also hopefully an opportunity to show what he can do before he gets flipped for picks and bad contracts.
For Rodney Hood: A life coach or some Tony Robbins audio books to provide him with more consistent confidence and drive; also a chip implant that administers a mild shock every time he passes up a three point shot.
For Jalen Jones: An application to legally change his middle name to "Freaking"; also an opportunity to show the Cavs that he deserves the name change.
For Kevin Love: A deal with Nike for his own line of walking boots; also a balance of passion and patience once he (hopefully) returns to the floor in January.
For Larry Nance, Jr.: A mandate to the guy who runs the PA system at the Q to incorporate old Joe Tait recordings from the 80s (e.g. "WHAM WITH THE RIGHT HAND!" and "BLOCKED BY NANCE!"); also the continued development of an offensive game plan by the coaching staff that runs through Junior.
For David Nwaba: A pair of LeBron's titanium ankles; also seriously some better health luck so he can remain a staple of the defense.
For Cedi Osman: A time machine to go back and NOT play pick up games with three of the top forwards in the game last summer; also a framed mantra he can hang in his locker to remember before games that reads "Don't try to do too much."
For Collin Sexton: A better mentor than Avery Johnson and a better back court mate than Jordan Clarkson; also a game of Chutes and Ladders, where the ladders climb over the rookie wall and the chutes send him back down to Canton for seasoning.
For JR Smith: A nice shirt; also a free ticket to one of 29 other destinations.
For Tristan Thompson: TT already got an early Christmas gift of being able to spend more time with Khloe and True; also a continuation of the fire and leadership he showed before he went down to injury.
For Ante Zizic: A return of Vitaly Potapenko to the Cavs coaching staff; also a chip implant that administers a mild shock every time he tries to dribble or gather for a shot in the paint.
For Larry Drew: A vacation? A new car? A puppy? Heck… a clown making balloon animals? Whatever has even the slightest chance of making this dude smile; also his own choice for a "defensive coordinator" so we can finally put the Mike Longabardi era behind us.
For Koby Altman: Box set of Monty Hall's show "Let's Make A Deal!"; also a magic wand that can turn a plethora of mix and match guards into a handful of protected picks and salary dumps.
For Dan Gilbert: Enough lottery luck to ensure this whole marching to Zion journey pays off; also a chip implant that administers a mild shock every time he even thinks about an undersized point guard.
---
That brings me to everyone here at C:tB. Hard to believe we've been around a decade now, and have had the chance to share many holiday seasons together. The names on the by-lines and comments have changed over the years, but this has always been one of the jollier corners of the Cavaliers universe.
Though the team has had more ups and downs than a trip to grandma's house in a one-horse open sleigh, we always strive to do our best to keep things festive and fun around here. From all of us who take our spare time to write about the game and the team we love, we extend our appreciation to all of you whose readership makes it all worth while.
Here's hoping you have a wonderful holiday season, filled with the love and joy of spending time with family and friends. And, thank you for being a part of our family here at Cavs: The Blog.
Merry Christmas to all… and to all #BeTheFight!
(See you on Boxing Day in Memphis!)