The Holiday Blues started at approximately 7:20 PM, December 23rd for the Cleveland Cavaliers, and included a healthy dose of Holiday Orange in the guise of Cleveland's "City Edition" Tide Pod unis. Those duds can now be officially retired after a 25 point route in the second half to the league worst Chicago Bulls. You read that right. Cleveland led this one by five at the half, and then played their worst second half of basketball all season.
Cleveland played some inspired ball in the first 24 with Osman, Clarkson, and Nance dropping 10, 10, and 12 respectively, mostly by attacking the rim. Chicago's counter was a portent of things to come, as Lauri Markannen notched 15 for the bulls, mostly due to very good outside shooting and off-ball movement, and Justin Holiday stuffed the box score with 12 and three steals.
The second half was a Krampus nightmare. Cedi Osman was quoted after the game: "We just didn't play tough."
Lauri Markennan went off in the second half, and the Cavs had zero answers for him as he scored another 16 in 16 minutes on just eight shots. As a team, the Bulls shot 64%, while the Cavs shot just 33%. Cleveland stopped competing, stopped running a coherent offense, and stopped moving the basketball, and started playing like they were ready to go on Christmas break before this one was over. The also played like they all hate playing with Collin Sexton, and I can't blame them.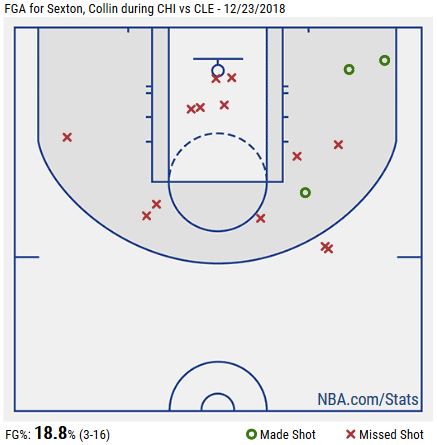 Sexton was a Egg Nog binge inducing 3-16 from the field and his shot chart had a whole lot more red than green. Sexton seems overwhelmed. When he's not dribbling the air out of the ball before dropping it off to someone else with five seconds on the shot clock, he's hiding out in the left corner where no one is bothering to guard him, or driving into floaters against multiple bigs when he should be kicking the ball, or missing no-glass layups at the rim.
Youngbull has had a rough couple weeks. Since his best game of the year, a 29 point, six assist outing against Washington, Sexton is posting a 39 TS% and a -15.4 plus/minus average per game. Teams are content to crowd his pet shot and challenge him at the rim. Meanwhile, Sexton has no confidence in his drive and is coughing the ball up twice a game, usually because of incompetent ball-handling. Hopefully this is rock bottom for him, and hopefully someone in the Org. realizes he needs to go down to Canton to learn how to play point guard and fight his way back up, and that right now his teammates are cold shouldering him.
The rook wasn't alone in this one though. The Cavs' offense wasn't run with any sort of plan or coherent strategy. There seemed to be very little in terms of game planning for Cleveland, and aside from "Get the ball to Larry and see what Chicago does." While this was a solid first action, no one else seemed to know what to do after, and the paint was packed for sure. Cleveland missed Rodney Hood and his floor stretching ability to be sure.
Larry Nance Jr. (20/6/1) did have some nice drives and dunks on Brook Lopez early, but Lopez payed him back with a couple tough post-ups in the second half (and some uncalled offensive fouls). Even Dellavedova seemed to give in to the malaise and had a hard time setting guys up for a good shot. Cedi reverted to form a little, and the ball did not move. The Bulls had 26 assists to Cleveland 11. The Cavs also struggled to rebound again getting outboarded 47-41.
Cedi Osman (17/7/1) had a fantastic first half, driving to the rim, finishing with either hand, and even swishing a confident step-back triple. While his offense didn't fall off a cliff, Cleveland didn't run any stuff for him that worked in the first half, and he had a hard time getting going in the second, or defending anyone (as did all the Cavs).
Cedi's defensive assignment of Lauri Markennan didn't help Osman's cause either, and at times, the Cavs tried a little of everyone on him, with the best success coming from six-foot-five David Nwaba who held the Finn to 0-3 shooting in his limited time. Unfortunately, Nwaba had to leave the game after re-injuring his left ankle after another nasty fall. Nwaba is bouncy, but he jumps so high and so often defensively that it leaves him at risk of ankle rolls. He was on the floor quite a while after this one, and I'd be surprised if we saw him on the floor again this calendar year.
Cleveland started Sexton, Nance, Osman, Blossomgame, and Burks. Jaron was completely outmatched, and didn't board like the Cavs needed with zero points and only two rebounds in 22 minutes. Burks was competent in his return to the starting lineup. He canned a pair of early triples on his way to 12/6/3.
Unfortunately, the Bulls were just scrappier, or as commenter Jason said on the live thread, "Chicago is much better now that Markannen & Dunn are healthy & Lavine & Parker are not playing." Kris Dunn was sharp at 17/8/7, tying fellow starter Justin Holliday with +21 from the floor. Dunn consistently outmatched Sexton physically, and controlled the game throughout the second half, putting his teammates in position to score. Ryan Arcidiacono added eight more assists for the starting Bulls back court, initiating the offense similarly well.
The rest of the Cavs' bench was rough. Jalen Jones didn't get much run even after Nwaba's injury, and while Channing Frye had a nice appearance in the first half, with a quick three and a +6 showing, he didn't see the floor in the second. Clarkson had a 17/1/1 line and was outphysicalled by the likes of Shaquille Harrison and and Chandler Hutchison of the Bulls.
The Cavs return to the floor Wednesday in Memphis to face the Grizz who are coming off a thrilling victory over the Lakers led by rookie phenom Jaren Jackson Jr. and his 27 points. Have a merry Christmas, Cavs fans. Remember that the time you spend with your family, loved ones, and the community we create in the world matters more than wins and losses on a basketball court, and as always. Go Cavs.