Kemba Walker and the Hornets came out and sandbagged the Cavs tonight. Whether intentional or not, it worked. Cleveland controlled the game for the first 19 minutes and nine seconds. No more, no less. Charlotte then went on to outscore the Cavs by 16 in the second half. After scoring 41 in the first half, they scored 41 in the third quarter alone.
During the first stretch of the game, the Wine & Gold held Charlotte to just 40.6% shooting and one 3-pointer. The Hornets had seven turnovers, while the Cavs had two. Charlotte's offense was forced, and the Cavs stayed in front of them. Cleveland gave up their first totally uncontested shot at the one minute mark in the first when Willy Hernangomez ended up with no man between him and the rack for a dunk. Most importantly though, Kemba Walker was totally off. He was 0-7 with three assists. He just couldn't hit a shot or get separation from anyone guarding him. The Cavs led 40-27 after that stretch.
However, that lead easily disappeared as Kemba came alive. He finished the evening with 30 points on 11-26 shooting to go with six assists and three rebounds.
Larry Nance guided the Cavs with his seven assists, 15 rebounds, and ten points. Jordan Clarkson led the Cavs in scoring with 20 points, while Jordan Blossomgame chipped in 15 points going 3-4 from deep. Jeremy Lamb and Marvin Williams both put up 18 for the Hornets going 8-16 and 8-13 respectively.
It really wasn't hard to see that the Cavs would struggle later in the game. In the first quarter, they started out very lucky hitting  six of their first seven shots, which were mostly of the mid-range variety. The shots game out of some movement, but they weren't necessarily smart shots or what the plays were probably designed to give. Later in the quarter, the Cavs offense did look fluid; they actively ran and tried to get early action. Alec Burks was exceptional at creating early shots. With 3:39 to go, Collin Sexton grabbed a steal, Burks then quickly got the ball up to Ante Zizic for an easy layup. A few plays later Burks grabbed a rebound and went coast-to-coast for a layup. He was fouled, but couldn't convert the freebie. He had eight points and six assists when the game ended. The Cavs headed into the second quarter up, 25-16.
An AB 🌀 to force a timeout!#BeTheFight pic.twitter.com/dNis9HQxqc

— Cleveland Cavaliers (@cavs) December 20, 2018
The Cavs started the second quarter with a flurry of Nance . Nance went to the line to start the action after rolling and grabbing a Clarkson pass in traffic. A few possessions later, Burks used a Nance screen and weaved his way to the rack for an easy layup. Nance then dished an assist to Hood after freeing him with a screen for a mid-range J. He did the same for a Clarkson 3-pointer. Nance even used the threat of his passing to get up and under Hernangomez for a silky finger roll. That was the pretty stuff on offense. Once Nance checked out of the game because he picked up a third foul and the Cavs were up 13, Kemba Walker started to get hot and the Cavs offense started to get ugly.
Kemba hit his first shot with 4:51 left. He then hit four of his next five. He basically would not miss, no matter how tight the defense was. Fortunately for the Cavs, they slowed Charlotte's 14-6 onslaught with David Nwaba, Zizic, and Burks all getting to the line. The Wine & Gold entered the locker room up, 46-41.
Charlotte came out and sealed the game in the third quarter outscoring the Cavs 41-29. Kemba absolutely showed Collin Sexton that he has so much to learn in this league as he went 6-9 for 17 points. Kemba kept using screens and just getting Sexton on his back for easy shots. No one on the Cavs stepped up to run Kemba from his spots or to slow him enough for Sexton to recover. And, if Kemba wasn't doing what he wanted, someone else on Charlotte got too deep in the paint for the Cavs to stop them. 10 of their 18 makes were assisted on.
The Cavalier offense was actually pretty good. Cedi Osman got cooking getting 9 of his 13 points in the quarter. Nance was screening and facilitating per usual, and Blossomgame even added in two wide open 3-balls. They shot 57.1% from the floor. Yet, great offense beats out good offense. Charlotte hit five 3s and shot 69.6% from the floor!  The highlight of the quarter was when the Cavs trapped Charlotte rookie Mikal Bridges and got a slam out of it.
🚨 CEDI JAM 🚨 pic.twitter.com/1OFMKfDXP6

— Cleveland Cavaliers (@cavs) December 20, 2018
By the time the fourth quarter came around, the Cavs were down 82-75. They weren't able to muster enough offense to make a comeback. They got demoralized as the Hornets didn't let them back in. Tony Parker, yes the old French dude formerly of the Spurs, had seven points in the quarter. With 8:07 left, he came down the court and just drove in for a 3-point play. A play later, he had a circus layup. Then Kemba Walker stole the ball from Rodney Hood and Marvin Williams slammed the ball down to put the Hornets up 95-84. The Cavs called a timeout and reinserted their starters after that, but the game didn't get any closer.  The Cavs let them get to the rim with little resistance, as the shot chart below shows.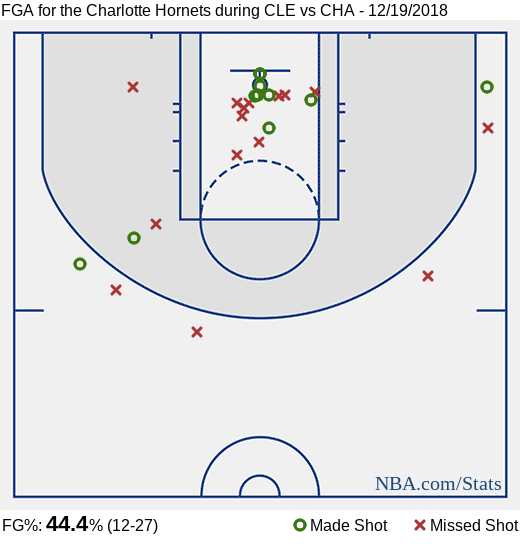 Gripes
The Cavs couldn't keep their energy up. Early on, they covered Kemba well and he wasn't feeling himself. Once he started to go off, they should have done more to get the ball out of his hands. They should have started trapping or placing someone other than Collin on him. A 17 point quarter for a guy should never happen.
Penetration killed the Cavs. They were outscored 60-42 in the paint. There was a lot of drive and drop the ball off stuff when the defense collapsed.
The Cavs also forgot to box out numerous times. They were out rebounded 51-35. The Hornets had 13 offensive boards for 13 extra points.
Larry Drew needs to really get on guys for their shot selection. There were numerous times tonight when the ball was moving and a guy caught the ball outside the 3-line open. They would pass up the shot, which was fine because someone was closing out on them, only to dribble into a mid-ranger instead of going all the way to the rack. Rodney Hood was 5-11 for 12 tonight. He took just three 3s. I'd rather he doubles that number and stops dribbling two steps in from the arc.
The refs were a bit ridiculous towards the end of the game. After Collin pulled up in transition for a foul-line jumper with the game out of reach, Kemba whacked him in the head. It was a no call. Collin went for a layup a few plays later and got  hit again. Larry Drew exploded after the first Kemba assault and was ejected for a proper reaction.
Collin Sexton had an awful showing going 5-15 for 11 points. He had three assists to go with two turnovers. Sexton must figure out how to get deep into the paint. He can't keep jacking up poor shots. Larry Drew needs to yank the Young Blood every time he dribbles into a long 2. It's a bad habit at this point and needs to be stopped.
The team needs to practice their post passes. Larry seems like he is going to be a large part of the offense going forward; he can only do that if the team gets him the ball. Guys need to learn the proper angles for entry passes. The Hornets poked the ball away quite a few times, and even though it didn't always result in steals, it stalled out the offense.
Hypes
.@JaronBgame keeps putting in that work 👏 #BeTheFight pic.twitter.com/xsDVpigs4P

— FOX Sports Ohio (@FOXSportsOH) December 20, 2018
When the Cavs got into their offensive sets, they looked like a professional NBA team. The ball moved very well and they had a lot of great looks. 24 of the Cavs 41 makes were assisted. They just need to practice post entry passes and not giving up when their first offensive action doesn't yield anything.
Larry Nance is going to be a steal if he keeps playing this way. A big that can get seven assists and 15 boards is an all-star. His contract extension starting next season is worth $44.8 million over a four year span. He easily could be the best contract in the NBA moving forward. He was the only Cavs with a positive +/- tonight.
The Cavs competed for some time on the second game of a back-to-back because of Nance's effort. If Matthew Dellavedova wasn't sidelined, there's a good chance the Cavs could have won this game.
Blossomgame is showing that he might be a solid contributor. He hits open 3s. He takes open 3s. He doesn't stall the offense. And, on defense, he isn't the one making mistakes. That's a role guy if there ever was one. He went 3-4 from deep. He even had a putback slam.
Cedi looked decent tonight. He had two nice drives and hit a 3-pointer. He was 6-10. Hopefully Cedi can continue to round back into form.
The Cavs will need him as they take on the Toronto Raptors this Friday.